New hidden disabilities programme introduced at Orlando International Airport
The Sunflower Lanyard Programme is an initiative which will help passengers with hidden disabilities get extra levels of customer service.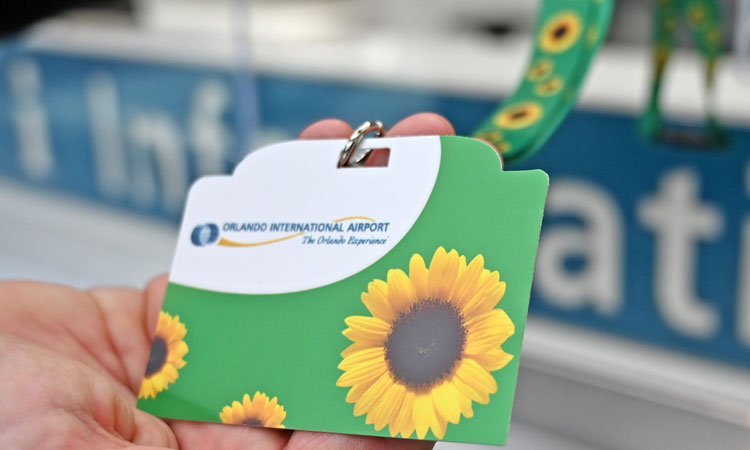 The Sunflower Lanyard helps people with hidden disabilities to self-identify if they require extra customer service at the airport
Orlando International Airport (MCO) has debuted a new customer service designed to assist travellers with hidden disabilities.
The Sunflower Lanyard Programme provides an extra layer of assistance to those coping with issues such as low vision, hearing loss, autism, anxiety disorders, dementia, Crohn's disease, epilepsy, fibromyalgia, lupus, rheumatoid arthritis, Asperger Syndrome, post-traumatic stress disorder, learning disabilities or mobility issues.
Director of Customer Experience for the Greater Orlando Aviation Authority (GOAA), Brian Engle, said: "Not all disabilities are visible, and this programme allows our staff to subtly identify those in need of an extra level of customer service and make sure that everyone, no matter what their circumstance, has a good Orlando experience."
It is a voluntary, self-identification programme, which was piloted by London's Gatwick Airport (LGW) in 2016 using colourful green lanyards adorned with sunflowers. The measure was also picked up by UK supermarkets, museums, railways stations and sporting venues. The same programme was also introduced earlier this year at John F. Kennedy International Airport (JFK)'s Terminal 4. 
Billy Caan, CEO of The Sourcing Group, said: "We are excited to partner with the Orlando International Airport on this growing initiative to offer the Hidden Disabilities Sunflower products in the south-eastern United States. This programme is a very worthy cause, and creates a more comfortable, positive airport experience for people who have disabilities that might not be visible."
The free lanyards are available to travellers at the third level information booths in the main terminal, just before entering security.
While they do provide a discreet signal to employees, wearing a lanyard does not guarantee the wearer fast-track through security or any preferential Transport Security Administration (TSA) treatment. Passengers are therefore encouraged to arrange any special assistance needed with their airline and TSA Cares.