Pioneering the advancement of air traffic management in the Asia Pacific
Ben Kiff, Managing Director, NATS, Middle East and Asia Pacific (MEAP) details the initiatives NATS are deploying globally – but specifically in APAC – to ensure quality ATM.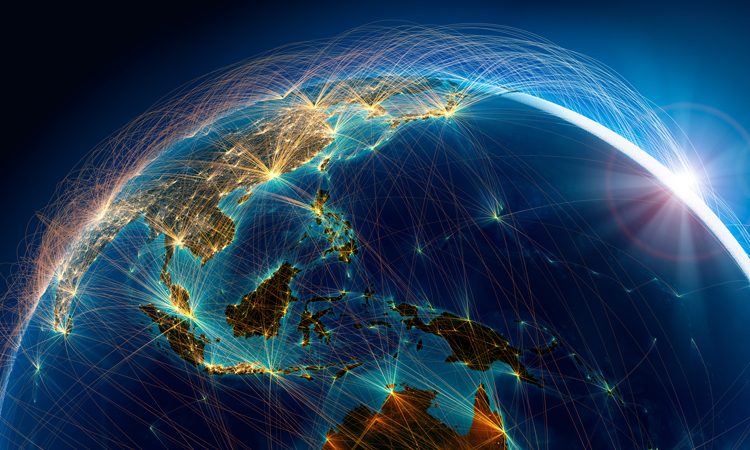 International air travel has grown rapidly in recent years and has played a huge part in facilitating economic growth, world trade, international investment and tourism. NATS endeavours to facilitate this further.
As a result, airports are seeing increasing passenger numbers, with IATA projecting the figure to potentially reach 8.2 billion in 20371. The Asia Pacific region is driving the biggest growth, with countries such as China, India, Indonesia and Thailand expected to rank in the top 10 of largest air passenger markets2.
Despite significant investment, airport infrastructure projects and the implementation of effective air traffic management (ATM) solutions across Asia Pacific have had to face the enormous challenge of trying to keep pace with this exponential increase in air travel. Airports in the region have announced expansion plans, and IATA has mentioned that upgrades in cities such as Bangkok, Manila and Jakarta would help address increasing air passenger traffic. ATM is the critical link which ensures efficient air traffic flow and optimises current airport capacities through technological and operational improvements. These bring about interoperability and harmonisation between air and ground, and ground-to-ground systems across both a regional and global level.
Progress in ATM has to be considered and measured due to high safety requirements, the harmonisation of standards and the relatively small global ATM-technology market. However, in recent times we have seen growing innovation in the sector, with the development of smart digital towers and the use of AI in airport operations. These technologies are creating exciting times for the ATM sector.
There have also been true breakthrough applications like Aireon's space-based Automatic Dependent Surveillance-Broadcast (ADS-B) service, an aircraft tracking system recently certified by the European Union Aviation Safety Agency3.
This game-changing technology allows aircraft to be tracked in real time across oceans or areas without surveillance infrastructure. Together with NATS and Nav Canada, Aireon is currently running a trial over the North Atlantic, safely reducing separation between aircraft to make routes more efficient, reducing fuel consumption, emissions and significantly improving flight safety. In June 2019, the three companies clinched the inaugural Civil Air Navigation Services Organisation (CANSO) Award of Excellence at ATM 2019 for the project, underscoring the significance of this trial in transforming ATM performance.
Harnessing the potential of ATM in APAC
With airports in the Asia Pacific region accounting for almost half the top 20 world airports for both passenger traffic and cargo in 2018 – according to Airports Council International4 – this volume of air traffic provides the impetus to drive the ATM industry in the region forward.
NATS is at the forefront of providing services to support airport expansion projects from Hong Kong to Australia and is constantly pushing the envelope in the development of the next generation of global air traffic technology, with the goal of improving safety and operation efficiency for our customers.
A prime example is our work for the Civil Aviation Authority of Singapore (CAAS) to develop a smart digital tower prototype for Changi Airport, which has 58 million passenger movements a year5. The airport is the largest and most complex in the world to trial the technology with a view to understand how it can meet challenging day-to-day operational requirements. This project presents one of the many opportunities for companies like NATS to test and develop global solutions right here in the Asia Pacific.
This is only possible through the strong partnerships NATS is developing with world leaders, not just in the aviation industry, but across complementary technological disciplines, in order to respond to the complex challenges and increasing demands that the industry is experiencing today.
Pioneering partnerships
Innovation is rarely achieved in isolation and the air transport industry relies on a wide range of players working together successfully to prepare for future needs. Collaboration between partners within and outside the aviation sector is vital as no single player can solve the pressing challenges the industry faces.
Today, pioneering partnerships are necessary, and we have witnessed interesting pairings in the past. For example, in the technology sector, the line between allies and rivals keeps shifting. Some of the biggest companies like Apple, Microsoft, Nokia, Amazon, Yahoo and Google can attribute much of their early success to smart partnerships with competitors.
At NATS, we put our customers first, and to solve their biggest and most complex challenges, we believe in developing strategic alliances with companies across multiple industries.
In terms of technological innovation, NATS is both a partner and investor in Searidge Technologies6, which delivers smart digital tower solutions to airports across the world to help reduce delays, increase efficiency and overall safety. At Heathrow, we're working to help the airport reclaim 20 per cent of lost landing capacity in low-visibility conditions in a way that is challenging preconceived ideas around how to apply digital tower technology.
Another example of how NATS has looked beyond aviation to develop cutting-edge solutions is our collaboration with McLaren Deloitte where we bring Formula 1 technology and data science into network and airport capacity management. During every F1 race, McLaren reviews millions of possible scenarios to model the outcome of a range of tactical decisions by drivers and their crew. Deloitte, on the other hand, uses data analytics to deliver large consulting projects globally. These capabilities, combined with NATS' experience in managing congested and complex airspace and airports, are now being used to help the aviation industry understand and accurately predict the impact of decisions before they are even made. 
These pioneering partnerships have made a significant positive impact on our customers. Intelligent Approach is a unique airport approach software tool that we have developed with Leidos that improves the rate and flow of aircraft landing at high-traffic airports. The solution provides enhanced time-based separation (eTBS) calculations which allow air traffic controllers to maintain optimal runway capacity and efficiency continuously, accommodating bottlenecks and poor weather conditions.
With these collaborations, NATS aims to utilise these beneficial innovations with transformative potential to drive far-reaching results, advancing aviation and keeping the skies safe.