Sustainability Series: How can airports reduce their plastic waste?
As plastic continues to plague the planet, large organisations are trying to reduce single-use plastics. But are airports doing their bit?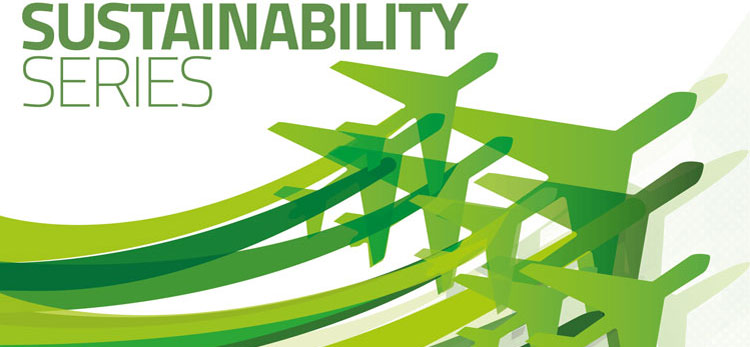 As global travellers, barely a day goes by when we don't see a story in the media, or experience first hand, the blight of plastic on our planet – its effect on wildlife, rising litter levels in our rivers and on our beaches, and the emergence of microplastics in some fish and seafood.
A prime contributor to plastic pollution is the single use drinks bottle – of the 13 billion plastic bottles used each year in the UK, 7.7 billion are plastic water bottles1 and consumption of water in plastic bottles has doubled in the last 15 years2. Only just over half of these bottles are recycled, while the rest are put into landfill, burnt or leak into the environment and oceans each day. Plastic bottles can take up to 450 years to break down once they reach the sea. Many of the popular bottled water brands consumed are also transported hundreds of miles from their source, contributing to the 350,000 tonnes of carbon dioxide released into the atmosphere every year by the bottled water industry in the UK. 
The travel industry is taking note – Thomas Cook pledged in November 2018 to remove 70 million single-use plastics from its resorts within 12 months, making it one of the world's largest holiday operators to do so, and the world's first plastic-free flight took to the skies just after Christmas. Operated by Hi Fly, a Portuguese airline that says it can "no longer ignore" the impact the single-use material has on the environment, the company replaced plastic cutlery and containers with bamboo and compostable alternatives.
Airline passengers generated 5.2 million tonnes of waste (including plastics) in 2016, most of which went to landfill or incineration according to estimates from International Air Transport Association (IATA). Airports too, have their part to play in contributing to plastic pollution – an estimated 5,000 tonnes of plastic waste is thrown away at UK airport security each year3. For more than a decade, passengers have not been allowed to take liquids of more than 100ml through security at airports – meaning they often resort to purchasing bottled water once airside.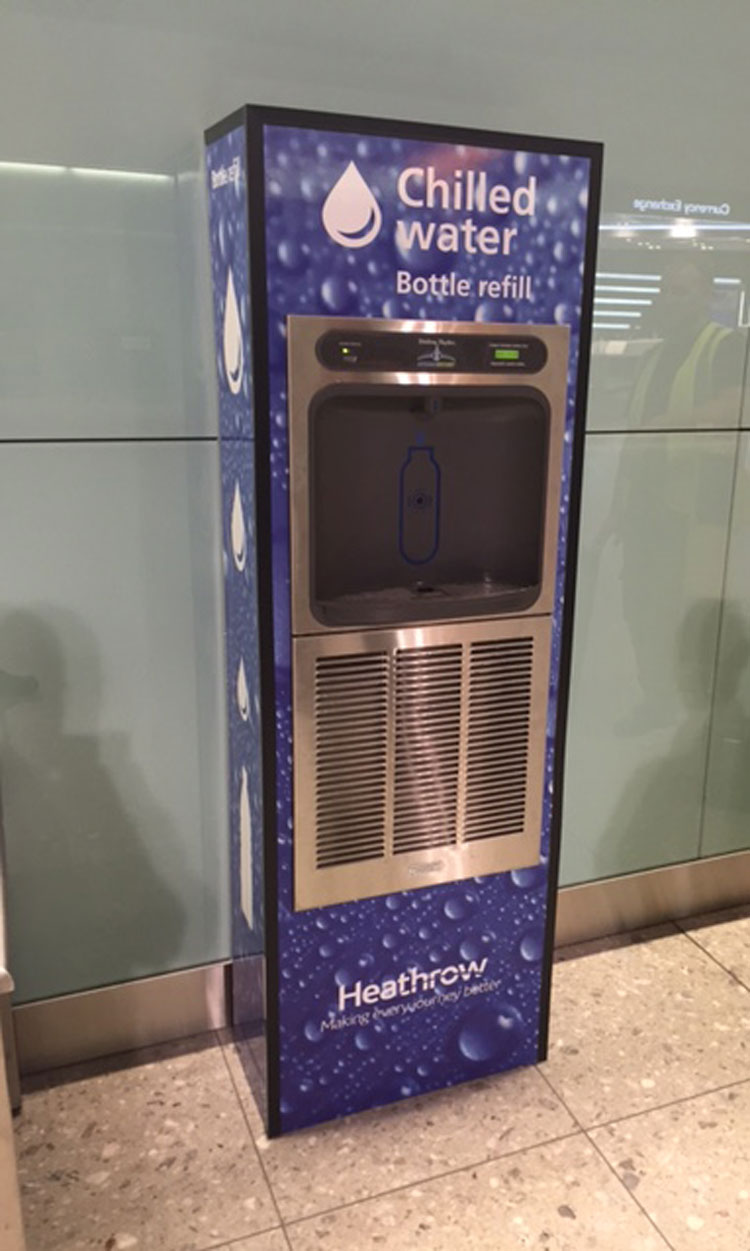 Blue Planet II and Blue Planet Live contributed to pushing the plastic pollution issue onto the front pages of national media and into the public consciousness – now passengers and staff are increasingly demanding that airports take action to reduce their plastic usage. Over the last couple of years this has led to more and more airlines and airports taking a stand against plastic water bottle waste. One on-the-ground solution is to look at installing contemporary free-to-use public drinking fountains in high traffic areas; both before and after security to avoid the issue of throwing single-use bottles away due to liquid infringement, only to buy another one once through to the departure lounge. 
It's clear that parts of the airline industry are taking steps to stem the tide of waste – for example Iberia Airlines and other Spanish companies aim to recover 80 per cent of cabin waste coming into Madrid's Barajas airport by mid-2020 through simple measures such as using trolleys designed for waste separation, low packaging meals and reusable cutlery. America's United Airlines has switched to compostable paper cups and in March 2018, Ryanair announced it would eliminate all non-recyclable plastics within five years as part of a new environmental policy.
Airports are also looking at how to reduce plastic waste. Gatwick has become the first airport to achieve a 'Zero Waste to Landfill' accreditation from the Carbon Trust. This new standard was established to provide a framework for verifying zero waste to landfill claims and recognises Gatwick for actively diverting its non-hazardous waste streams from landfill. Gatwick recycles all plastic bottles, all of its food and drink outlets offer free tap water, and it has water fountains available after security in both terminals. Heathrow also have accessible bottle refill stations across its four terminals.
Figures suggest that over 140 million tonnes of bottled drinks were collected at security checkpoints last year at Manchester Airport Group sites, including Manchester, Stansted, Bournemouth and East Midlands airports, which collectively serve around 42 million passengers annually, so it is heartening to see initiatives such as the national 'Refill' scheme, having an impact. Birmingham Airport has joined forces with Severn Trent and City to Sea to encourage passengers to reuse their water bottles rather than disposing of them at the security search area. The airport has installed a new water station adjacent to the main security search entrance area for bottles to be emptied and refilled after security at any of its bars, cafes and restaurants.
The Airports Authority of India (AAI) has also taken action, declaring 16 of its 90 airports free of single-use plastic products, meaning no such items are sold on site. It's also considering enacting a similar ban on all single-use plastic items at 34 airports, which together handle one million passengers annually.
I would encourage airports around the world to follow those who are leading the way on plastic reduction by rolling out drinking water facilities, and for those planning new terminals or buildings, to include public water provision at the design stage.
There was a time when free-to-use drinking fountains were found in every place of public gathering in the UK. Now they're making a comeback and it is apt that airports and commercial airlines worldwide, which carry just over 4.3 billion passengers each year, should champion the refill revolution to offer free public drinking water to passengers, visitors and staff.
Global travel destinations such as London are once again providing safe drinking water to people on the move, with the recent rollout of public drinking water fountains and bottle refill stations across the UK's capital. MIW Water Cooler Experts donated the water fountains and helped to jointly establish the London Drinking Fountain Fund with the GLA and #OneLess last year, with the aim of reducing the capital's reliance on plastic. The fund called on land and site owners across London to bid for a drinking water fountain. Bids were assessed and the fountains have been installed in high footfall areas in a mixture of busy shopping areas, business districts, universities, public visitor attractions, transport hubs, community spaces and open parks. We should also look to Australia – where residents of the town of Bundanoon in New South Wales voted to ban plastic water bottles in 2009 – or to the U.S., where in 2017 San Francisco banned packaged water on city property.
We have to remember that bottled water is a relatively recent phenomenon, in the 30 years since we founded MIW, we have seen vast changes in attitudes to single use plastic. Bottled water only became mainstream in the late 1970s following slick marketing campaigns, and initially consumers were sceptical about paying money for something they would normally get for free.
However, there are positive signs that we are starting to revert back to our refill heritage. More and more of us are switching to using a refillable water bottle, instead of hundreds of single-use bottles. In fact, according to a recent survey, 65 per cent of us wouldn't buy bottled water at all if tap water were more freely available.
The latest models of outdoor fountains are tougher, safer and more accessible than ever before. Manufacturers such as Halsey Taylor and Elkay provide fountains and bottle refill stations which are Water Regulations Advisory Scheme (WRAS) approved, they are hygienic and efficient, and can be plumbed into practically any indoor or outdoor space, delivering water without any of the waste, litter or expense associated with contained drinks. Clever design means that once they're installed – something that can usually be completed with minimal disruption if a sensible site is chosen – very little maintenance is required. Unlike their predecessors, current models of water fountain and bottle refill station are also vandal proof, weather-proof and corrosion-resistant, so there is very little in the way of on-going costs – and the evidence is that people love to use them.
In terms of sustainability reporting, airport authorities can track the number of bottles saved from ending up being bought and thrown away by using the device installed in the fountains and refill stations – an effective way of demonstrating the impact to passengers and key stakeholders.
While plastic waste is an issue that is not going to go away, we hope that we continue to see forward-thinking airlines and airports making bold decisions to help hydrate people whilst they're on the move – without the need for single use plastic.
Biography
Mike Winter, CEO of MIW Water Cooler Experts which was formed in 1989, now supplies over 7,000 businesses and public sector organisations with Water Regulations Advisory Scheme (WRAS) approved public drinking fountains, bottle refill stations and water coolers. For the last 30 years MIW has been developing and building innovative, high quality products for some of the UK's leading public and private sector clients including Heathrow Airport, Gatwick Airport, London's Borough Market, ZSL London Zoo, Greater London Authority, Wimbledon Lawn Tennis Club, Chelsea Football Club, Scottish Water and The Bank of England.
References
1. Source: House of Commons Environmental Audit Committee – Plastic bottles: Turning Back the Plastic Tide (2017)
2. Source: #OneLess Campaign
3. Source: Evening Standard https://www.standard.co.uk/futurelondon/theplasticfreeproject/imperial-college-london-single-use-plastic-ms-just-eat-a4063761.html