Baggage handling: Reducing congestion with innovative solutions
Checking in baggage is always an airport pressure point and a stressful part of a passenger's airport journey. With this in mind, Tampa International Airport in Florida embarked on a revolutionary system to enable passengers to remotely check in luggage. Maria Rhodes, General Manager for Bags, reveals how the service has greatly exceeded customer expectations.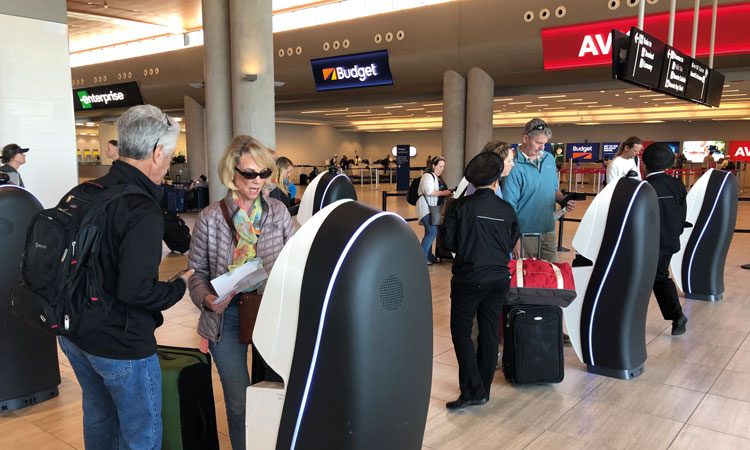 The remote baggage drop-off solution has been very well received
Airport passengers Margo Ayers and her husband, Robert, were finishing a successful spring break trip to Tampa when they rolled up to Tampa International Airport's new Rental Car Centre with three large suitcases and two teenage boys in tow. She knew they would need to navigate through the terminal, security and find their gate before they could head back home to Indianapolis. What she didn't know was that at Tampa Airport you can check your luggage in remotely at the Rental Car Centre.
When Tampa Airport's state-of-the-art Rental Car Centre opened on the 14 February 2018, the airport also debuted an innovative common use remote bag check – the first of its kind in a North American airport.
The service allows passengers aboard multiple airlines to print their boarding passes, tag their luggage and drop it off at the same location – before ever stepping foot inside the airport's main terminal. Tampa Airport saw this remote bag check system, which comes at no additional cost to passengers, as an important customer service enhancement and a way to accommodate its rapid passenger growth while maintaining high standards for customer care. Beyond easing passenger travel, the system helps to reduce congestion on our airport's trains, in the main terminal building and, importantly, at the check-in counters.
The popularity of the service quickly exceeded TPA's projections. In 2018, the remote check system handled 270,283 bags – roughly five per cent of the airport's overall baggage capacity and higher than initial projections suggested. As of mid-March 2019, the system had processed approximately 310,000 bags, and is up 28 per cent year-on-year.
Tampa Airport initially projected that it would process roughly 500 bags per day. However, since the system went live, the airport has averaged 875 bags per day, and during the busy Spring Break period, it processed an immense 2,400 bags per day.
The system now serves the airport's four largest airlines – Southwest, Delta, American and United – which collectively make up about 76 per cent of Tampa International Airport's passenger traffic. The remote bag check is available to all domestic passengers on those airlines, arriving up to 90 minutes before departure. Additional carriers are expected to join the system, which is operated by third-party contractor, BAGS Inc.
The remote bag drop is simple to use. Passengers simply have to head over to one of nine kiosks to print their boarding passes and bag tags. From there, they can tag their bags and walk to the nearby counter, where an attendant checks their ID and weighs the bag. An automated conveyor then delivers the bag from the customer area to a delivery room, where the luggage is transported, via conveyor belt, to a delivery room; giving passengers a seamless transaction that feels exactly like an airline ticket counter.
From the delivery room, luggage is then transported via a secure van to the main terminal where it is introduced into the airport's overall baggage system, where luggage is scanned and distributed to the correct airline.
From the moment a passenger hands their luggage in at the Remote Bag Check, it is tracked. Each bag is then scanned multiple times along its journey, including three times before it enters the airport's baggage system.
There are numerous benefits to this system. For the airline, congestion at the ticket counter is reduced, but for the passenger, the Remote Bag Check has the look and feel of a 'normal' check-in desk, so they feel confident with the system. The airport's third-party contractor handles the baggage for the four airlines and ensures that the chain of custody is maintained throughout the process.
BAGS Inc. also handles luggage services at Disney theme parks in Orlando, and normally charges $3 per bag for its handling service. Tampa Airport, however, pays the cost of handling bags for their guests in order to keep this as a free service, and to alleviate stress points during the travel experience.
Take up of the system has been very good and the airport is finding that once passengers have used it, they tend to use it again and again as it creates a stress-free experience.
The new remote bag check is a relatively small – but important – part of Tampa International Airport's three-phase Master Plan expansion that will ultimately allow us to serve 34 million annual passengers per year. In 2018, we served more than 21 million passengers – an all-time record. Phase 1 of the expansion centered on decongesting the main terminal and roadways by relocating the rental car operations 1.4-miles to the south part of the airport's property. This shift helped to remove 3.4 million vehicles from around the airport's kerbsides and main terminal.
To enhance the customer experience, Tampa Airport also linked the Rental Car Centre to the main terminal via a new automated people mover system, the SkyConnect.
Phase 1 was completed in February 2018 and Tampa Airport immediately kicked off the second phase, which will focus on a new south development area that will include a new office building and enhancements to the kerbside drives to further reduce congestion. Phase 3 features a new 16-gate airside that is expected to open in the mid-2020s.