Is passenger behaviour responsible for the decline in airport parking?
With increasingly good public transport options and ride-hailing services available, airport parking is becoming less popular with passengers travelling to the airport. Kelly Edwards from UK travel insurance provider, Staysure, examines the data from a recent UK research study and considers what effect this downturn has on airports themselves.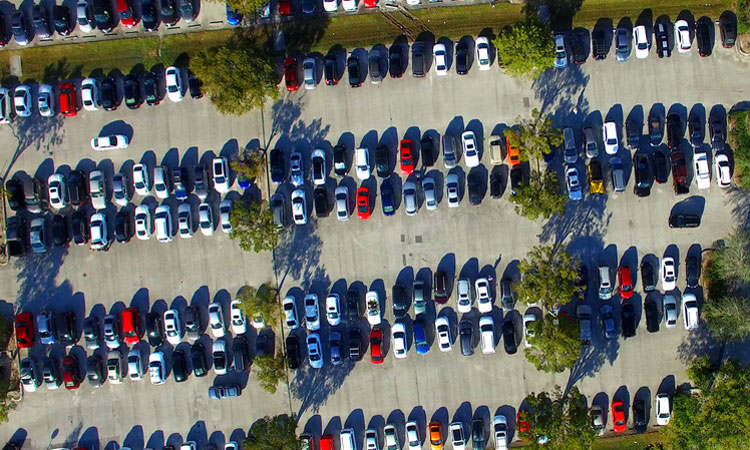 Research was recently commissioned by UK travel insurance provider Staysure  to find out the best time for passengers to book airport parking and how much money can actually be saved by pre-booking parking. The study analysed Google search data and airport parking sites throughout the UK.
However, data reveals that airport parking is now used by only a small minority of flyers.  
For example, study data showed that only 0.83 per cent of flyers at Heathrow seek airport parking each year – that's 647,000 out of 78 million. Bristol Airport was the most popular proportionately, with 10 per cent of annual passengers seeking airport parking – 582,691 of 5,826,916 passengers a year – in a region with less infrastructure and alternative airports.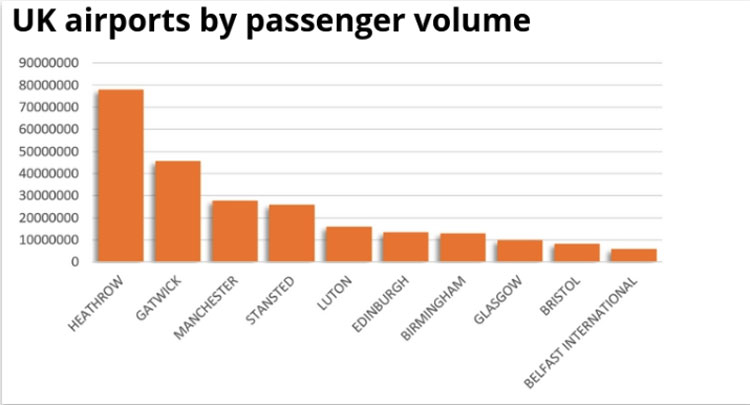 Why is airport parking only used by a small minority?
Most flyers simply want to get into and leave an airport as quickly and easily as possible. If they are going on holiday, they want the positive holiday feeling to start as soon as they leave their home. If they are travelling on business, they want to arrive at their location feeling refreshed and ready to work, and when they are on their way home, they want to get there quickly to be able to get back into the normal routine smoothly.
Driving to the airport means taking on the responsibility of traffic news and alerts. The driver has to make sure they take the best route, planning the correct amount of time. Sometimes there is no option but to travel in rush hour on the busiest roads and routes. This can be highly stressful for drivers when catching a flight.
Not only this, but drivers then often have extortionate car parking fees to pay when they arrive at the airport. Then, once they have parked their car, drivers can end up having to walk a long distance to reach the terminal building, taking in escalators, busy lifts and navigating through a maze of corridors – all with an element of urgency as they are often anxious about passing through security with enough to time to board their flight. 
Despite the Staysure study finding that pre-booking airport parking can save passengers a considerable amount of money, the cost of parking still adds up for flyers, in both time and money. 
Uber
Taxi journeys used to be a luxury, whereby passengers were charged high fares to be dropped from door to door. Booking a taxi could be hassle too, with taxi offices often operating strict opening hours and no way of contacting your driver to check their status once the taxi had been booked. Then Uber arrived, undercutting taxi airport fees and providing a quick and easy way to book via a quick swish of a mobile app.
There's no doubt that Uber is seemingly much quicker and easier than driving and paying for airport parking. And this has undoubtedly led to some of the decrease in airport parking, with cheaper fares and the convenience of having a driver drop you and your luggage off right outside the terminal door. 
Improved public transport
It's not just Uber that has effected this decrease though, many city dwellers do not own cars, it just isn't practical when living in a city, particularly one as big and congested as London, where parking spaces are at a premium and catching a bus, tube or train is much more convenient.
With London's Heathrow Airport, for example, travellers have many options. The Piccadilly line on the London Underground runs to Heathrow, and although it takes in numerous stops and is relatively show, it is the cheapest option to travel to the airport and therefore many passengers choose to arrive by tube due to its affordable ticket price. The Heathrow Express opened in 1998, running from London Paddington Station to Heathrow in just 15 minutes. However, this airport rail link is expensive and Paddington station is still a considerable distance away from the city for those travelling for business. The opening of Crossrail will further encourage flyers to use the train instead of a car, with faster journey times being made available – trains from Liverpool Street or Canary Wharf  to Heathrow Terminal 5 will take under 50 minutes.
Cities across the world are continually improving their public transportation systems to ensure airports are catered for.  
Location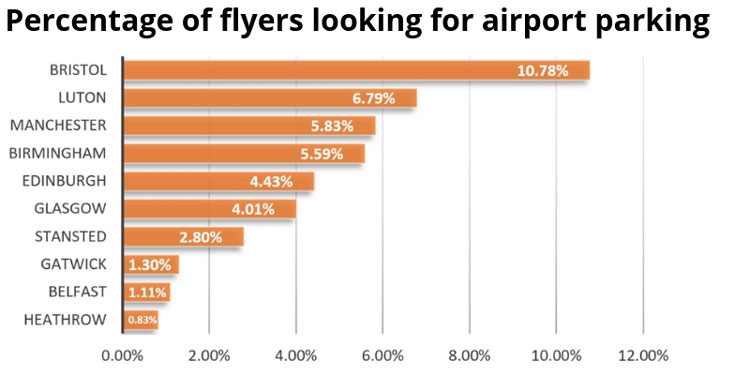 The graph above demonstrates the percentage of flyers looking for airport parking across a range of UK airports. London airports will naturally have less people looking for parking as those living in London are less likely to own a car and more inclined to use public transport. Compared to the rest of the UK, Despite the highest volume of passengers, airports in London will naturally have less people looking for a car parking space as those living in central London are less likely to own a car and more likely to use public transport. Likewise, tourists visiting London will tend to be travelling to and from the airport via the London Underground, taxis, buses or car hires.
UK airports such as Bristol see more people using airport car parks as passengers often drive from surrounding areas such as Dorset and South Wales. The study data showed that one in 10 flyers looking at Bristol airport are also searching for parking. Compared to the other top 10 UK airports, this was the highest number of flyers looking to park their car at the airport.
However, these areas are also seeing a rise in the popularity of Uber. Meanwhile Indian taxi giant Ola has now launched in Wales too, offering a competitor to Uber – this is a market which is just continuing to grow.
The environmental impact
The Mayor of London is leading an initiative to make London greener and reduce cars further. The target is to increase the current 64 per cent of passengers using public transport, walking and cycling to 80 per cent of journeys by 2041. This would mean three million fewer car journeys every day – including those airport runs.
One future trend that we may see increasing is the popularity of electric car hire schemes. One scheme is Bluecity which now has a 10 bay parking station at Gatwick Airport. Bluecity says that members can drive to Gatwick in an hour from London, so with four passengers it would cost just £2.50 each. This service will really benefit families who need to drive to the airport with babies and young children but can't afford the airport parking.
What can airports do to comply with this new trend?
This all looks pretty bleak for those making money from airport car parks. However, there are several things that airports can do in addition to exploring alternative non-aeronautical revenue streams.
Firstly, airports can utilise any disused areas specifically for Uber parking, which will help to avoid congestion outside the terminals, which are already hectic and congested, often with queues of taxis trying to drop passengers off and pick them up without incurring a charge of fine. Airports can also explore the potential of charging dropping off vehicles (be they taxis or family members) a fee. 
One thing is for certain; airport car parks are going to have to embrace the changes in flyer behaviour to survive.