Delivering the 'Manchester Airport Transformation Programme'
In June 2015, Ken O'Toole, Managing Director of Manchester Airport, unveiled a £1 billion transformation programme for the UK's third biggest airport. For International Airport Review, Ken covers how the 10-year phased investment programme will transform Manchester Airport, ensuring that it continues to thrive as a national asset and play an even greater role as the UK's Global Gateway from the North.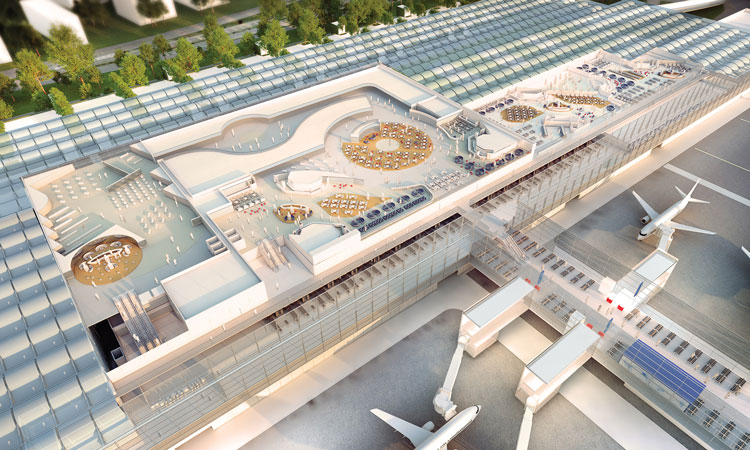 So why now?
In recent years, Manchester Airport has gone through a period of significant growth and this year reached an all-time record for passenger numbers. Our location in the North West, together with exceptional road and rail connectivity, means customers of Manchester Airport are drawn from as far north as Scotland, and as far south as the Midlands.
Whilst the debate continues about South East capacity, with all of the associated uncertainty as to when, or if, increased capacity will become available, it's my intention to ensure Manchester Airport continues to develop as a thriving international airport providing new direct services for the benefit of UK plc. Customers no longer have to fly through a London airport to reach their final destination and as we grow frequencies and new routes at Manchester, we're confident that the role we play in alleviating the country's airport capacity problem will increase further.
This year, Manchester Airport will serve almost 23 million passengers, providing them with a choice of over 200 destinations with over 60 airlines. We have more routes than any other UK airport and a network of long haul destinations such as Hong Kong, Singapore, Atlanta, Jeddah, Miami, Los Angeles and Boston (both from 2016) that are not accessible from anywhere else in the UK outside of London.
We want to build on the success and contribution the airport makes to the northern economy by investing £1 billion in transforming our facilities and the experience we offer to passengers. We are forecasting continued growth to existing destinations to the Middle East and North America; 30% of the growth is expected to be delivered by other full service scheduled airlines.
This programme will deliver a very different experience for passengers, airlines, the region, the country and our shareholders, offering even greater levels of customer service; increased airport resilience and reliability, and improved environmental performance.
What will it look like?
The 'Manchester Airport Transformation Programme' is a series of 60 enhancements that will provide the millions of passengers that use the airport every year with facilities that combine a contemporary look and feel with state-of-the-art services.
The key element of the Transformation Programme is the expansion and reconfiguration of Terminal Two, to become the airport's primary terminal building. Terminal Three will also be improved and expanded to cater for increased demand and an expanding flight schedule.
As part of the programme, all passengers will see significant improvements including the latest self-service check-in terminals, improved security processing, more e-gates and new lounges and stands. It will allow us to introduce the latest technology and systems to improve passengers' experience and make it easier to travel through the airport. New stands and piers will also be introduced, offering better departure gate facilities.
We will also be including a new transfer facility that will provide a direct airside linkage between Terminals Two and Three. With the relatively short distances between terminals, Manchester Airport will offer some of the shortest transfer times of any European airport, which we believe will be appreciated by both our passengers and airline customers alike.
We are already in discussions with the U.S. Department of Homeland Security about accommodating U.S. pre-clearance into the final design. This facility allows passengers to clear immigration, customs, and agricultural inspection before boarding their flight. Should this go ahead, we'd be one of the only airports in the UK to offer this facility, which will provide our passengers with faster entry upon arrival in the U.S.
We're also looking at how we can further improve the road system around the airport to make it easier for customers travelling to and from here.
The other important element of the project is that the improvements will all be delivered inside the existing footprint of the airport and are consistent with the established guidance provided by the Manchester Airport Master Plan; that growth will be phased, incremental and making best use of the existing terminal campus area.
These improvements should create a 'future-proofed' operational airport environment that provides greater flexibility and resilience to cater to evolving airline and security needs.
How will the transformation project be delivered?
We plan to commence the enabling works in April 2016. The initial focus of investment through to the summer of 2019 is to complete the works needed to provide sufficient infrastructure capacity to allow for the upgrade and modernisation of the facilities.
This work will include terminal expansion, the expansion of the apron to provide additional aircraft parking stands and provision of new car parking infrastructure; driven partly by growth but also by the replacement of car parking spaces lost to apron expansion.
This then allows us to upgrade other parts of the infrastructure to support product improvement later in the plan, by allowing parts of the infrastructure to be taken out of service without impacting Manchester Airport's ability to meet demand through the programme.
Terminal One opened in 1962 and has served us very well for more than five decades, during which time it has been developed and extended numerous times to meet the evolving needs of the airport. However, we do not think it can be developed further and so the reconfiguration of Terminal Two represents the best way to meet the future needs of our partners and passengers. Our plan is to reduce the capacity at Terminal One over time.
Terminal Two expansion will come on line from 2018/2019. A fully reconfigured and extended Terminal Two is scheduled to open in 2022 with all of the new stands and piers expected to be operational by 2025.
The airport will remain fully operational throughout the transformation programme. We have carefully planned the lifecycle of the programme to minimise any disruption to passengers, airlines or the community in which we operate.
Over the 10 years, works will be commissioned and completed in phases, giving us control over timings and budgeting, so should we need it, we can adjust for eventualities such as changing market conditions.
A transformation programme of this length and scale will have a significant, positive impact on employment opportunities in the region and we expect it to support 1,500 jobs on site. It will be a major boost to the construction industry in the North West.
All airports have on-going asset investment programmes and we are bringing forward some of our existing 25-year capital expenditure plans into this 10-year project period. This makes sense because we can then grow in a far more flexible way and offer superior facilities and services to our passengers and airline customers.
The future
The Chancellor and the Secretary of State for Transport have both recently highlighted Manchester Airport's key role in the creation of a Northern Powerhouse. Over the long-term, this role will be strengthened further with the delivery of high-speed rail both to and across the North, enabling the airport to offer more passengers direct connections to a wider range of destinations.
The airport currently creates £1.8 billion every year in economic activity in the local and regional economies. The airport already has over 20,000 people employed on site and supports a further 25,000 jobs indirectly.
This £1 billion expansion will allow Manchester Airport to provide even greater economic stimulus into the region and in doing so, support the vision of a Northern Powerhouse becoming a reality. World class transport infrastructure is the lifeblood of every successful economy and for the Northern Powerhouse to really take off, it is imperative that the strong foundations that are already in place are built upon.
The Transformation Programme is a long-term, forward looking project that we have given a considerable amount of thought to over recent years.
This is an exciting time for Manchester Airport as demand for air travel continues to rise. The Transformation Programme will enable us to capitalise on this demand from airlines and passengers whilst transforming the customer experience and delivering a world class airport that is the Global Gateway from the North.
Biography
Ken O'Toole joined the Manchester Airports Group plc (MAG) as Chief Commercial Officer in 2012. In this role he was responsible for the key commercial activities across each of the airports of Manchester, London Stansted, East Midlands and Bournemouth. In his new role as Managing Director of Manchester Airport, he has overall responsibility for the running, operations and commercial elements of the UK's third biggest airport. Prior to joining MAG, Ken was Director of New Route Development for Ryanair. Ken qualified as a Chartered Accountant with Deloitte, prior to working with Credit Suisse, First Boston and Musgrave Group PLC.