A focus on PRMs: Passengers with restricted mobility and their rights
Passengers with restricted mobility (PRM) represent a significant demographic for airports and airlines. But how do we define a PRM passenger, and what rights do they have?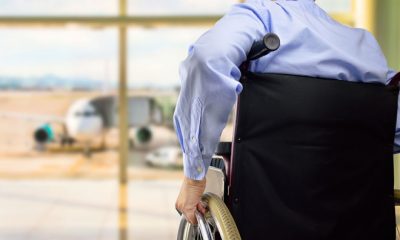 PRMs or Passengers with Restricted Mobility represent one of the fastest-growing demographics in aviation with annual growth in passenger numbers often at least six times that of the overall rate of passenger growth at many global airports. As one example, Heathrow reported that approximately 1.2 million PRMs travelled through the hub in 2016 to give you an idea of the sheer volume of traffic.
As an increasingly significant part of their customer base, you would have thought airport and airline alike would begin to prioritise this section of their customer base. That said, International Airport Review recently reported on the mistreatment of PRM passengers. Stories litter the press such as that of a BBC journalist who didn't receive sufficient care when travelling by air and budget airliner Easyjet has been fined more than £50,000 by a French court after it ruled the carrier discriminated against a disabled passenger. 
It is clear that the issue is ongoing and the industry faces many challenges to try and make air travel safe and enjoyable for all.
In the first part of a three-part series on PRMs that will include a case study of what Omniserv are doing at Heathrow to mitigate the challenges facing PRMs experience amelioration, International Airport Review will look at the definition of PRMs and regulation in place to protect those who require special assistance when flying.
What is a passenger with restricted mobility?
As defined by Monarch, a British low-cost airline based at Luton Airport, a passenger with restricted mobility is someone who might be: 
Unable to walk long distances– A Buggy (where available) or a wheelchair should be provided at the airport to assist with the long distances.
Unable to ascend stairs– A Buggy (where available) or a wheelchair should be provided to escort the passenger up to the aircraft steps, where then a lift on/off the aircraft should be available by the use of an ambilift.
Completely immobile– A Buggy (where available) or a wheelchair should be provided to escort the passenger up to the aircraft steps, where then a lift on/off the aircraft should be available by the use of an ambilift.
Many airports have differing definitions in terms of the vocabulary used to systematically categorise PRMs, but these three categories are largely those into which most passengers can be considered in order that the airport or airline can provide an ordered response plan when aiding PRMs.
Know your rights
It is important that all PRMs know their rights when travelling by air.
The Civil Aviation Authority provides a simple written explanation on its website that describes precisely which rights a PRMs in the UK is entitled to:
If you're a passenger with a disability or reduced mobility you are legally entitled to support, commonly known as 'Special Assistance', when travelling by air.
This means airports and airlines must provide help and assistance, which is free of charge, and helps ensure you have a less stressful journey.
Special assistance is available to passengers who may need help to travel such as the elderly, those people with a physical disability, such as wheelchair users, and those who have difficulty with social interaction and communication, such as those with autism or dementia.
Your right to special assistance is stipulated in EU law and applies when:
You fly on any airline from an EU airport
You fly on an EU registered airline to an EU airport
Passengers who want special assistance should aim to give their airline 48 hours notice of the help they require.
Help is available from the moment you arrive at an airport and can cover:
your journey through your departure airport
boarding the aircraft and during the flight
disembarking the aircraft
transferring between flights
and
travelling through your destination airport.
Source: UK Civil Aviation Authority
EU legislation and their rights
This CAA's section of explanatory text is mainly a response and simplification of EU Regulation No 1107/2006 aimed at British passengers that provides an EU-wide entrenchment of the rights of European passengers that require special assistance.
As detailed by Air Passenger Rights:
Regulation (EC) No 1107/2006 is part of a general plan to reinforce passenger rights on all forms of transport. Persons placed at a disadvantage by reduced mobility, whether caused by disability, age or another factor, should have opportunities for air travel comparable to those of other citizens. The Regulation on the rights of persons with reduced mobility when using air transport prohibits operators from refusing reservation or boarding to persons because of their disability*.
There are certain exceptions and derogations, however, particularly for justified safety reasons established by law. An air carrier may refuse to accept a reservation from or to embark a person with reduced mobility or request that a travelling person with reduced mobility must be accompanied by another person, in order to meet applicable safety requirements duly established by law or if the size of the aircraft makes it physically impossible to embark that person.
Within five working days of refusing a reservation or embarkation or requiring a person with reduced mobility to be accompanied, the air carrier must inform in writing the person concerned of its reasons for doing so.
Persons with reduced mobility are entitled to receive assistance free of charge in airports (on departure, arrival and during transit) and on board aircrafts (for example, the transport of wheelchairs and the carriage of guide dogs for the blind). The managing bodies of airports should provide this assistance and fund the services by levying charges on airlines.
*"Disabled person" or "person with reduced mobility": any person whose mobility when using transport is reduced due to any physical disability (sensory or locomotor, permanent or temporary), intellectual disability or impairment, or any other cause of disability, or age, and whose situation needs appropriate attention and the adaptation to his or her particular needs of the service made available to all passengers.
Source: European Commission
While in the case of EasyJet and the BBC reporter the story made headlines, it is a far from an issue that specifically affects this particular airline and airport in question, Gatwick.
A spokeswoman for Easyjet told the Guardian following the report Mr Frank Gardner, the reporter in question, that the airline was "sorry that Mr Gardner was delayed disembarking upon arrival at London Gatwick last night.
"We have taken this up with OCS who are the special assistance provider to all airlines at London Gatwick airport and are in contact with Mr Gardner about his experience."
However, as stated by Mr Gardner, whose comments seem indicative of a wider issue – unless the complaints gain significant and consistent media coverage, the problems that PRMs face is unlikely to go away…
Coming up in the next part of our series on PRMs, International Airport Review will report exclusively from Heathrow, where Omniserv, the company that fronts the UK hub's special assistance facility, grants us a tour of their site and operations and details why they believe what they're doing in London is leading the industry in terms of providing PRMs with the service they deserve.