A partnership that delivers unparalleled social impact
Alberto Martin, CEO of London Luton Airport Operations Ltd and Graham Olver, CEO of Luton Rising came together to discuss two decades of collaborative work to better the airport's surrounding communities and how they plan to keep up to speed with the shifting social and sustainability climate.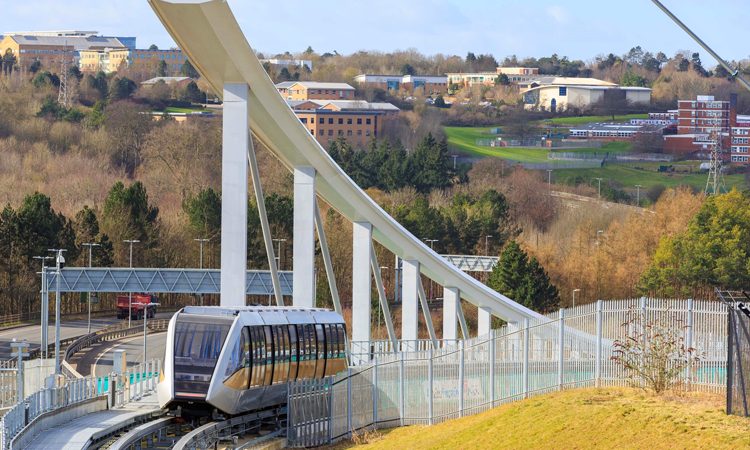 The Luton DART crosses the Gateway Bridge with a view back towards Capability Green. Credit: Luton Rising
The coming year will see us celebrate the 25th anniversary of an outstanding partnership, one that has meant that an airport has made probably the greatest social impact in UK aviation history.
It was in 1998 that London Luton Airport Operations Ltd (LLAOL) began its remarkable arrangement with the airport company owned by Luton Council, today called Luton Rising. As the current CEOs of both companies, we think the experience at Luton can illuminate the path forward for our industry, as we all find our feet again after the pandemic and develop a more sustainable future.
At two recent industry events, the International Airport Summit and the Ricardo Sustainable Airports workshop, Olver was able to touch on a key differentiator in our approach – namely, social responsibility – or, to put it another way, the unique positive contribution London Luton Airport makes to people's lives in our communities.
In providing 53p per passenger for community causes in 2019, and a sum exceeding £450 million over two decades, Luton delivers on a scale that is 20 times greater than any other UK airport. And it enables unique benefits.
Fighting back against COVID-19
Looking first at business resilience, this summer saw more than 4.3 million passengers passing through our airport between 1 June and 31 August, compared with two million in the same period a year ago.
Flying to 142 destinations, the average wait time in security was just nine minutes, with 96 per cent of passengers rating their experience as good, very good or excellent. Our airport was also once again named 'Second Best in the UK' by readers of Conde Nast Traveller.
This didn't happen by accident.
Working in close partnership, and with Luton Rising's shareholder, Luton Council, we looked together at how we could stabilise our whole airport system and win the recovery in a balanced way. A prudent investment resulted in the lowest possible number of redundancies through what was an extremely turbulent period, and a customer-positive airport that significantly out-performed others across the UK as business began to recover.
Not all airports can match our ambitions and achievements. Each has its individual circumstances, strengths and weaknesses, and we have a head start with our unique public ownership – private operation model"
At LLAOL, Martin was able to begin his recruitment drive as early as autumn 2021. His team has focused as a priority on maintaining high levels of operational and customer service excellence to ensure a consistently smooth and friendly travel experience.
And as the airport owner, Luton Rising has been able to maintain at an incredibly high level the industry-leading positive social impact investment it makes to support our local communities.
It's this funding for Luton's incredible voluntary and charitable sector that helps individuals to move out of homelessness or supplies shoes and coats for dozens of schoolchildren from families who can scarcely afford them. This support in fact, enables an estimated 75,000 positive interventions for vulnerable people in Luton experiencing all kinds of need every year.
This is critical in a town that is a priority for levelling up, where nearly half of young children are growing up in relative poverty and is in addition to the revenue that has supported frontline services in Luton for more than two decades amid very challenging times for local authorities.
The sisterhood of social responsibility and sustainability
Social responsibility is a key pillar of our approach to sustainability as well. All airports, whether they are planning for growth or not, are working to mitigate impacts on climate change, noise and air quality. Colleagues across the sector are working to make more efficient use of water, protect ground sources, and get people to and from our terminals in cleaner ways.
Luton Rising's expansion plans for London Luton Airport anticipate the full spectrum of impacts and are unique in setting clear limits through its Green Controlled Growth proposals that will make sure the development is delivered in the right way and which gives surety to our neighbours.
The forthcoming Luton DART will be another game-changer for our airport when it opens next year (2022), with a seamless journey from London St Pancras in as little as 32 minutes that will encourage more people to leave their cars at home and use the train instead, reducing their carbon emissions by 70 per cent.
On this project too, social responsibility has been forefront in delivery. Stipulating that more than 80 per cent of our contractors' materials spend and recruitment would be sourced from within 20 miles of Luton, construction supported around new 500 jobs across a range of disciplines, created 80 full-time posts for local apprentices, graduates and other new entrants, and provided construction skills training for 720 people, of whom over 40 per cent were drawn from traditionally under-represented groups.
It is perhaps too easy to think chiefly about carbon when considering sustainability. From London Luton Airport – the fifth biggest in the UK, sustaining 10,000 direct jobs and another 17,000 in the local and regional supply chains – the message is that it is also about communities and about people. This is what makes our airport's growth proposals stand out from the rest.
Not all airports can match our ambitions and achievements. Each has its individual circumstances, strengths and weaknesses, and we have a head start with our unique public ownership – private operation model.
Our example, nonetheless, provides a strong way forward and can inspire others to do more in this space. As an industry, and a society, we would all benefit.
Biographies

Before becoming CEO of Luton Rising, the owner of London Luton Airport, Graham Olver held senior roles in Skanska, RWE Thames Water, ALSTOM and WYG plc.
Working for over 30 years on pioneering projects in the infrastructure, international development and professional services space, he understands the nature and challenges of larger organisations and their supply chains. He brings commercial experience, positive energy and creative thinking to design, problem solving and project delivery in complex political, commercial and contractual environments. Graham has contributed to, and been responsible for, over 75 complex projects and programmes in over 50 countries, ranging from $1 million to $7 billion.

Alberto Martin is the CEO at London Luton Airport Operations Ltd, holding the post since 2018. He joined the airport as Planning and Investment Director, where he was responsible for the delivery of its £160m expansion project. Alberto has more than 20 years' experience in airports, holding a variety of executive roles across Europe, including Managing Director of Gran Canaria and Fuerteventura airports. During his time at Gran Canaria, it saw record growth in profitability and passenger numbers, and successfully delivered improved airport facilities. Alberto has an MSc in Aeronautical Engineering and was previously Chairman of the Regional Airports Forum of ACI-Europe.