Another permanent emergency? Biosecurity and airports after COVID-19
Kirk Goodlet, Director, Facilitation and Product Development at Winnipeg Airports Authority, reflects on how biosecurity measures have been impacted by the pandemic, and intriguingly, the extent to which they will influence airport systems in the future.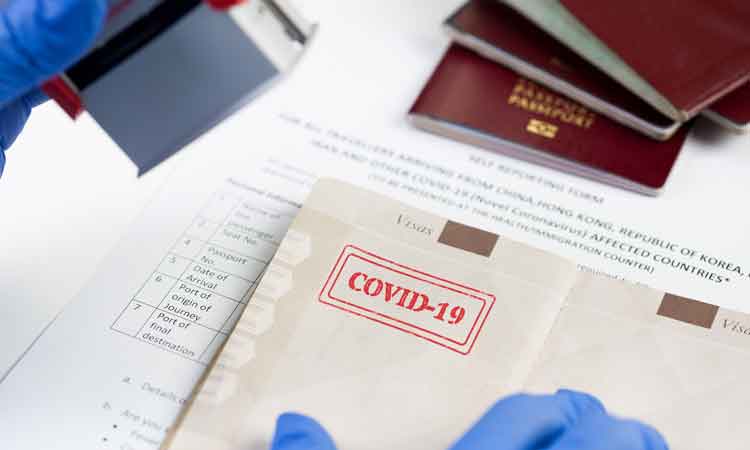 In their book, Permanent Emergency: Inside the TSA and the Fight for The Future of American Security, Kip Hawley and Nathan Means explore the development of our current aviation security system.1 While focused on aviation security in America, so much of our global security standards and practices are grounded in a system established in the immediate post-9/11 world. This has had vast implications for how airports plan, and very often retrofit, terminal infrastructure and processors. Subsequent terrorist attacks or plots to commit unlawful interference have resulted in changes to security regulations or state security programmes, which help maintain the bureaucratic momentum that defines much of what we experience at airports today. 
Many industry professionals have drawn parallels between physical security after 9/11 and the various, and often fragmented, measures put in place during the COVID-19 pandemic. As the aviation industry moves to exit COVID-19 and rebuild, to what degree will biosecurity and health measures remain with us for years to come? What impact will they have on how airports conceptualise new designs, processes, and support non-aeronautical revenues? How might we better harmonise regulatory requirements or redundant mandates?
Some countries, such as Canada, have greatly expanded public health agencies to support biosecurity and health measures against COVID-19. The Public Health Agency of Canada (PHAC), for example, increased spending by $8.8 billion in 2020-2021 compared to the same period of the previous year. From 2021-2022, PHAC's spending increased to $14.6 billion compared to 2020‑2021.2 Overnight in 2020, international airports in Canada needed to accommodate evolving mandates and requirements to support biosecurity measures, often without technical design standards or nationally consistent approaches. Agencies without any experience in processing passengers or facilitating goods now overlapped or competed with border authorities and technologies.
In some ways, the most effective means of security are the ones that passengers do not see. These include leveraging advance passenger information (API), biographic, and biometric data to which border authorities or agencies can assign a risk rating or profile, and other methods. As one article put it in 2009, 'security theatre' refers to measures that make people feel more secure than improving one's security.3 The same idea may well apply to some COVID-19 measures, such as plexiglass barriers at airline check-in positions, which recent research suggests interferes with normal ventilation patterns and potentially inhibits airflow.4
What is important is that these measures greatly influence the way in which airports establish processes for airlines and passengers. They shape how airports design terminals and passenger experience. Centralised pre-board screening enables airports to drive traffic through large duty free and retail spaces, while screening-at-gate approaches often provide limited options once through security screening and in a sterile zone. Maintaining additional outbound controls or testing will require airports to envisage a future in which biosecurity and physical security are here to stay. At the very least, and if biosecurity measures are not here to stay, then COVID-19 has taught airports about the importance to maintain flexibility and resilience in facilities and the workforce.
The context in which COVID-19 has taken place is radically different from that of the early 2000s. Technology has transformed the industry's ability to process passengers and baggage. Biometrics, machine learning, and artificial intelligence have vast potential for both inbound and outbound controls. But, as Airports Council International – World outlines in the NEXTT vision, the industry will benefit from pushing processes off-airport, such as travel authorisation and border controls.5 This also includes the ways in which passengers are screened prior to departure and the goal of risk‑based security screening.
In June 2003, ICAO outlined measures to mitigate the risk of SARS, namely temperature checks, asking three health-related questions, and providing face masks to passengers who are coughing. In March 2020, when the World Health Organization (WHO) declared COVID-19 a pandemic, many governments reverted to the lessons learned after SARS, regardless of what evidence existed to support them. While digital certificates for vaccination or testing was a step in the right direction, failing to adopt or adhere to an interoperable standard meant a proliferation of new apps or solutions designed to verify a credential that was often not biometrically anchored to an identity. This presented airlines, airports, and agencies with immense challenges and rendered self-service kiosks and other technologies useless.
As governments lift restrictions and pre‑pandemic passenger volumes return to airports, the industry should continue to plan for how best to facilitate biosecurity measures during the next communicable disease outbreak. While COVID may not be a second "permanent emergency," airports must remain flexible, resilient, and develop robust technical capacities on which to support future biosecurity needs. 
References
1. Kip Hawley & Nathan Means, Permanent Emergency: Inside the TSA and the Fight for the Future of American Security (New York: St. Martin's Press, 2012), 14.
2. Public Health Agency of Canada (PHAC), "Public Health Agency of Canada 2022-2023 Departmental Plan," see Planned spending and human resources.
3. See for example Bruce Schneier, "Is aviation security mostly for show?" CNN (December 2009).
4. Shengwei Zhu et al, "The Influence of Plastic Barriers on Aerosol Infection Risk during Airport Security Checks," in Sustainability 2022, 14(18), 11281.
5. Airports Council International-World, New Experience Travel Technologies (NEXTT), (accessed 28 September 2022).

Kirk Goodlet is Director – Airports at the Winnipeg Airport Services Corporation (WASCO), where he oversees the delivery of programmes and services at regional airports throughout Canada. Goodlet is also responsible for the diversification of revenue streams for Winnipeg Airports Authority (WAA). Among other initiatives, he is actively engaged in digital identity at both national and international levels and is a member of ACI World's Facilitation and Services Standing Committee, where he leads a working group focused on the future of travel at airports.