Promoting seamless travel through the launch of digital twin technology
North America's best airport is connecting its employees, community, and economy to data, ideas, and new technology. Lynette DuJohn, Vice President, Innovation and Chief Information Officer at Vancouver International Airport explains more.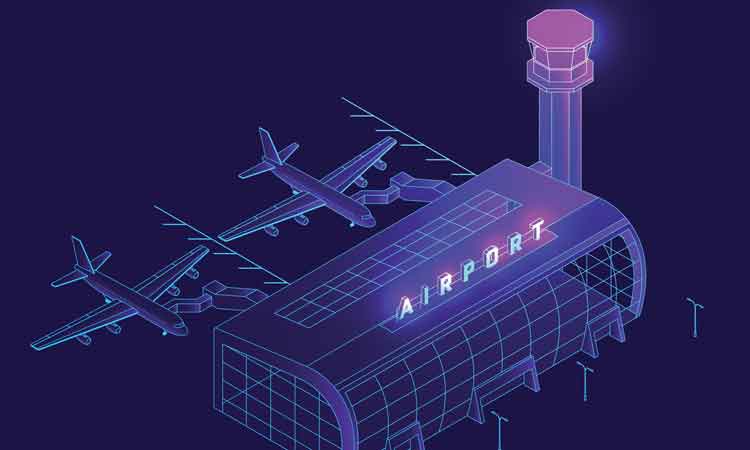 At Vancouver International Airport (YVR), we have a long history of innovation, making a global impact through the release of various industry leading technologies such as YVR's awardwinning BorderXpress™ kiosk solution, helping more than 250 million passengers safely clear the border. As the pandemic hit, we recognised an opportunity to not only continue innovating the aviation industry, but to expand our role in our local economy, eager to solve challenges outside of aviation and even other industries around the world. This is YVR's vision for its role as the 'gateway to the new economy' and the driving force behind YVR's Innovation Hub.
The first major marker borne of YVR's Innovation Hub is our digital twin. YVR's digital twin platform is a virtual, real-time interactive representation of YVR's terminal and airfield located in the Vancouver region of Sea Island, the traditional territory of the Indigenous Indian Band, Musqueam. The platform was designed as a people-first technology, making its value limitless for YVR's front-line workers and community. A digital tool that allows training, optimisation, future planning, simulation, testing, and more, the digital twin can present key information through 2D or 3D visualisation, enabling data-driven decision making and collaboration which has never been available before. While the COVID-19 pandemic, and subsequent hit to the aviation industry, accelerated our desire for digital transformation, our vision for the digital twin is bigger than our operation, it's centred around people – our employees, passengers, our Musqueam friends and the community we serve.
A seamless experience
With the return to travel, passenger traffic at YVR continues to rise. As we welcome passengers back to our airport, we're focused on delivering a safe and seamless experience for travellers. To help our passengers move through our airport with confidence, we want our employees to have the tools they need to succeed in a dynamic environment and the digital twin technology solves many airport-related challenges. For example, if there's congestion at major processing points including security, customs or vehicles delayed on curb side, an alert is generated which we can click into to see live information about what is going on. This allows our operations and security team to address potential issues with corrective action, allowing our employees to find efficiencies through technology, creating a better experience for travellers. Another way YVR is trialling the use of its digital twin is through modelling aircraft movements and activity on the airfield to understand opportunities to reduce GHG emissions, as part of YVR's initiative to become the world's greenest airport. Additionally, together with Musqueam, YVR is on a journey to provide training and skills development opportunities for indigenous people.
Optimisation of resources
As we look to be a more sustainable and efficient operation, the physical size of our terminal is under ongoing consideration. Putting the digital twin into the hands of our maintenance teams by way of our enterprise work order management system, those teams can see the locations and status of outstanding work orders, unassigned work orders, or work orders in progress allowing us to have a better handle on our resources throughout our extensive operation, as such, creating more efficiencies.
Any technology that can be tested and trialled, can be tested and trialled at an airport. And what's more, not only can we test and trial in the physical world, but we can do so in the digital world. As one of the first airports to fully realise this potential, YVR is utilising its Innovation Hub and digital twin to look at its assets in new ways to lead the economic recovery in our region. As an example, through our Innovation Hub, we've partnered with Teck Resources, a natural resource company headquartered in Vancouver, to become the first airport in Canada to incorporate antimicrobial copper to enhance the cleanliness and sanitisation of our terminals.
The digital twin was created in collaboration with two key partners: Unity Technologies, a leading real‑time 3D development creator based in San Francisco; and GeoSims, a local Vancouver company who are experts in large-scale precise 3D modelling. These partners provided us with the support and innovative approach to take the concept of a digital twin off the ground, while amplifying the spirit of our airport in the 2D and 3D replica.
A digital twin won't create data in of itself. A platform founded on data must first be created; from there, you build specific use cases that add value to an organisation. For us, the airport is an epicentre for data and the digital twin allows us to use this information in new ways with privacy and security by design. Leading the way for airports, YVR's digital twin will transform how our airport serves our employees and passengers. In the coming months, YVR, its partners, and stakeholders will advance ideas and action solutions, supporting the community and delivering industry disruption through the endless use-cases developed on the digital twin leveraging our Innovation Hub @YVR. We encourage other airports to follow our digital twin journey on yvr.ca.

Lynette DuJohn is the Vice President, Innovation and Chief Information Officer at Vancouver International Airport. She is responsible for all aspects of information technology and innovative travel solutions including YVR's digital twin platform and BorderXpress products. DuJohn also leads the Innovation Hub at YVR, providing an innovation platform that supports sustainable aviation and our community.