Inside SEA Milan Airports' baggage handling systems
Alessandro Fidato, Chief Operating Officer of SEA Milan Airports, outlines how baggage handling systems are re-inventing the passenger experience across the airport network.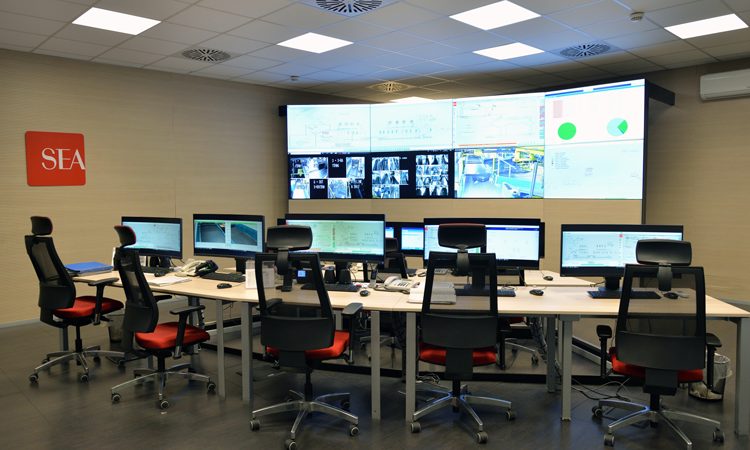 The new BHS Control Room in Milan Malpensa Airport (MXP)
Sorting baggage at an airport means to transport baggage from the passenger's hands (check-in time) to the handler's hands (at the carousels), as well as to ensure that all is loaded on time for your flight. To do this, it is necessary to have a fast and reliable automatic sorting system, this is the baggage handling system (BHS).
BHS is a complex technological system able to interpret the IATA information printed on the bag's label and send all luggage, without stopping the bag, through transporters, curves, vertical/horizontal diverters, security check to the carousels where the handling's agents load it on the unit load device (ULD) to be sent to the airplane.
In Milan Airports, BHS systems can sort both transit and local baggage on the same system and in an automated manner; this allows SEA to better manage the baggage process, as well as to check and register all baggage transiting in both Linate and Malpensa airport.
The most complex and largest baggage handling system in Milan Airports is certainly Malpensa Terminal 1, which is composed by two separate sorting systems: a conveyor sorting system and a tray sorting system. These two systems work independently but allow the manager to use them in different ways:
Simultaneously, sending part of the traffic to one rather than the other, thus making the most of the available capacity.
Using only one to the detriment of the other in case of anomalies, recovery or allowing energy-saving manoeuvres.
Have the flexibility to exclude part of one or the other due to anomalies or to allow maintenance interventions, all this without compromising the normal operation of the airport.
In addition to these two sorting systems, we must also consider the hold baggage screening (HBS), which is a highly efficient system to ensure the security of the baggage on each flight. In fact, on every departing bag that crosses the airport we will perform an X-ray and a tomographic check before loading on your flight.
Another system that we have is the early baggage storage (EBS) where transfer baggage that arrives at the airport before their outgoing flight must be safely stored until this flight opens.
In Malpensa Airport Terminal 1, all these systems connect the 301 check-in desks with the 21 departure carousels and the four departure piers through about 22km of conveyors and over 6,000 motors.
SEA has always developed and invested in our systems to guarantee the best performance and high levels of service, particularly through investing in technology and innovation. The recent works to improve both Milan airports (Linate and Malpensa) HBS systems, was to ensure that they meet the European safety standards introduced by European Civil Aviation Conference (ECAC).
HBS upgrades
In fact, the HBS at both Linate and Malpensa airports have been recently upgraded at the new standard 3 ECAC in compliance to the European standards on airport security. The EDS machine provides performance capabilities-based detection dual-energy X-ray line scanner with a proprietary single energy volumetric computed tomography (CT scanner). The data generated by the two technologies in the EDS provide the highest resolution images possible to optimise detection performance.
SEA has always developed and invested in our systems to guarantee the best performance and high levels of service, particularly through investing in technology and innovation"
These new EDS machines installed at SEA airports can recognise a greater variety of dangerous materials and can detect a smaller amount of them, improving airport and flight security.
The HBS has been designed as a multi-level system screening:
The first level is made using EDS standard 3 ECAC machines, capable to automatically detect explosives and explosive devices inside bags
At the second level, images of bags considered 'not clean' by the EDS machines are checked on analyst station monitors by security operators for a maximum time of 30 seconds
At the third level, the images of bags considered 'not clean' by the second level security operator are checked on expert station monitors by a different security operator for a maximum time of 180 seconds
The fourth level entails baggage inspections, using multi-view X-ray machines (for detecting explosive traces)
At fifth level in case of need, bags are opened in presence of passengers.
In order to improve the reading rate of baggage labels, SEA installed a new automatic tag reader (ATR) system for automatic reading of the baggage tag. This new ATR uses two combined technologies: laser scanner and image generator, which has many advantages such as advanced barcode reconstruction technology, a 360 ° omni-directional reading, improvement to reading rates on 'ruined' codes, and mechanically contained dimensions.
Passenger experience
To improve the passenger experience and reduce the waiting time during the check-in procedures, SEA installed 21 self-bag-drop desks (one step mode) in Malpensa Airport, and other two self-bag-drop desks (two steps mode) with four kiosks at Linate Airport.
In this way, the passengers are guided through the check-in operation via the touch screen display until printing the label that they will apply to the baggage sent autonomously and automatically into the BHS system. This allows us to reduce average waiting times and queues at check-in desks.
To obtain high reliability and operational availability, it is necessary to reduce maintenance times that can be achieved only with a high level of monitoring and diagnostics.
To manage and control the process and the BHS status in real-time, SEA has different control rooms. Recently in Malpensa Airport Terminal 1, we welcomed a new control room for the supervision of the 400 cameras installed, as well as the performance and the system's parameters. All of this information is monitored by wall screens and operator stations. In the SEA BHS control rooms, the recovery and the baggage flow are monitored 24 hours around the clock and 365 days per year, to ensure maximum efficiency and operational availability.
From a maintenance point of view, the baggage handling system is a very complex system that requires ordinary maintenance and repair, emergency and extraordinary maintenance. For example, the BHS in Terminal 1 requires 36,000 hours/year of ordinary maintenance to ensure the necessary availability, and up to 39 technicians per day for the operations of the systems.
SEA will continue investing in passenger experience by leveraging innovation and technology and improving airport security.
For this purpose, SEA has already installed at Linate Airport the new hand luggage security control equipment EDS-CB certified C3, coupled with automatic tray return system, to optimise one of the most time-consuming processes for the passengers. The same installation is currently under construction at Malpensa Airport Terminal 1.  
Biography

Alessandro Fidato has more than 25-years' experience in the transport industry. He began his career in the high-speed railway construction and then moved to Rome Airport (ADR), where he was responsible for several projects related to the last large airport expansion on both Fiumicino and Ciampino plans and regarding both airside and landside infrastructures.
In 2010 he joined Naples International Airport (2i Aeroporti) as Technical Director, as well as Operations Director and Accountable Manager from 2014 and Chief Operating Officer from January 2018.
He has been the Chief Operating Officer and Accountable Manager for SEA Milan Airports (Municipality of Milan and 2i Aeroporti) since March 2019.