The future of baggage security inspections on domestic flights
Robson Freitas Head of Operations, Security and Emergency at Belo Horizonte International Airport, outlines the importance of a sturdy airport security infrastructure to ensure an efficient passenger experience.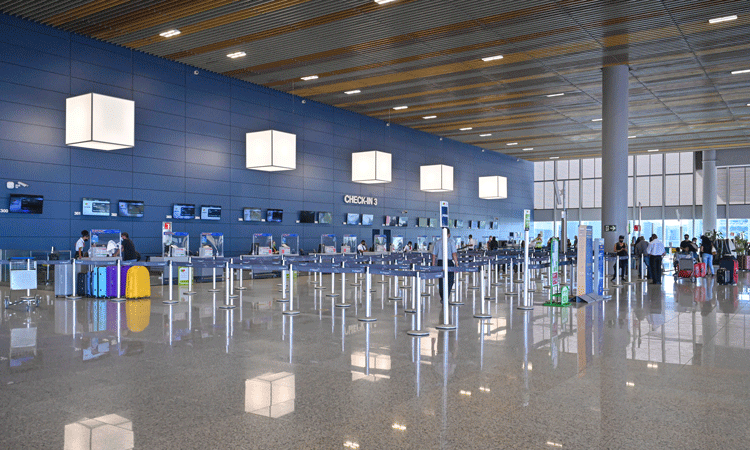 Check-in at Belo Horizonte International Airport (CNF) (Credit)
Security activities are a key component to operations at Belo Horizonte International Airport (CNF). With the capacity of an individual airport in mind, most airports receive thousands of passengers and their luggage per day. Therefore, it is important that an airport has a robust security infrastructure that meets international requirements and recommendations and, mainly, ensures the protection of civil aviation through a rapid and accurate baggage and passenger process.
Since the 9/11 terrorist attacks back in September 2001, the International Civil Aviation Organization (ICAO) increased security measures for both baggage, passengers, and flight crew. However, national regulation in Brazil for many years has not required baggage onboard a domestic flight to be scanned by X-ray and explosives detectors. Recently, the Chamber of Deputies Brazil has agreed to an increase in international relations, which, arguably, has heightened the country's attractiveness as a target for terrorist threats from both external and internal sources. Thus, the Brazilian Project Law 4257/21, has implemented mandatory rules to inspect checked baggage on domestic flights from August 2023 onwards, in with Brazilian Civil Aviation Regulation (RBAC) guidelines.
RBAC guidelines:
RBAC 107 – Civil Aviation Security against Acts of Unlawful Interference – Aerodrome Operator, provides, through requirement 107.143(b), states that the aerodrome operator must provide the necessary physical resources for air operators to carry out the inspection of baggage dispatched on domestic flights, according to the conditions and deadlines defined by Brazil's civil aviation authority (ANAC) through the Civil Aviation Security Directive against Illicit Interference Acts (DAVSEC No. 04-2021)
RBAC 108 – Civil Aviation Security against Acts of Illicit Interference – Air Operator, provides, through requirement 108.59(b), states that the inspection of checked baggage as required by ANAC through Civil Aviation Security Directive against Illicit Interference Acts (DAVSEC nº 04- 2021).
Due to these new requirements, Brazilian airports began projects for the construction of spaces and acquisition of BHS equipment. The physical structure of the air terminal and concentration of flights helps decide the corporal arrangement of inspections baggage resources, as commonly airports are often forced to cope with too little space in their baggage makeup areas. Furthermore, much can be learnt from the warehouse practice of batch building, which ensures plenty of space for operators to utilise and over control baggage flow.
While designing the baggage handling system, baggage delay must be key, providing the airport an advantage in terms of operational efficiency and high cost-effective. With this in mind, the segregation process is faster, the possibility of damage and mishandled baggage is reduced, and the lack of human interaction increases security. The more automated the baggage handling process, the higher the level of security.
In addition, the airport operator must ensure the co-ordination between both the baggage handling system supplier and the operations actors, as it is vital for a successful procedure, technique, and operation. During the operational readiness activation and transition (ORAT) process, the opinions of all stakeholders should be sought, and a system flow should be determined in accordance with the operational procedures, national legal rules, and regulations.
Defining baggage inspection
Baggage inspection is, undoubtedly, one of the most important procedures to be performed inside an airport when it comes to security. Most incidents involving the transportation of unauthorised materials and illicit goods, occur inside personal baggage, which means baggage inspection is an indispensable procedure in all international and domestics flights. In most cases, the inspection is performed before entering the airside area. That is, even though it is possible to enter the airport premises without passing an inspection, it is not possible to board an aircraft without passing through the security verification terminals.
The more automated the baggage handling process, the higher the level of security"
The public authorities, as well as private airport management companies, have had to modernise the infrastructure, which will invest in new technologies and resources to prevent risks and ensure the peace of mind of all those using the airport system transport. It is from these investments and modernisation projects that baggage inspection is most efficient, reliable, and agile today, meeting the security needs of such a complex environment like an airport. The major difficulty in the baggage inspection process is to ensure agility without impairing its efficiency. This is because this procedure needs to be fast, while also relying on thorough analysis to avoid security failures and breaches.
However, the flow of passengers can be intense at most, therefore, requiring not only trained personnel but a host of additional resources to support the inspection activity. It is at this point that technology becomes so necessary and useful.
Using X-rays throughout
The new technologies of security available are one of the main allies. By providing high-end inspection and monitoring equipment and artificial intelligence (AI), security teams and airport managers can increase visibility into everything that happens within an airport infrastructure, whether focused on the passenger or cargo terminals. This equipment and software are responsible for ensuring a thorough assessment of baggage, packaging, and any objects that passengers may be carrying. Without the need to open your bags or perform any invasive procedures, X-rays ensure a thorough inspection of the contents of these items. This makes it easier for operators to identify hazards and threats, with also great precision in the procedure without invading the user's private sphere without abuse or disturbances.
 Step-by-step at baggage inspection
The baggage inspection at airports operates when the volume passes inside the equipment. The radiation beams are emitted through the baggage and an image is displayed on the operator's screen showing what is inside the luggage. Therefore, identifying any dangerous items such as knives and other weapons. To view the internal objects of a volume per image, the visual representation is divided by colours, depending on the composition of the item. For example, organic items, metals, and light metals are detected in different colours due to their different densities and chemical characteristics.
Relying on data analytics
Data analytics is an essential component of BHS. A data-driven approach to baggage handling systems has for a key impact on operational expenditure (OPEX) savings. With an improved understanding of baggage handling process trends, this data can be cost saving for the airport. The sensors of AI and devices in BHS equipment can provide much data, for example, to help predict maintenance issues. Also, it helps refine operational decisions, or even facilitate the automatic execution of decisions. Real-time data can also be used to assist management in its forecasting, planning, and reporting functions, such as staff forecasts based on passenger data.
Biography

Robson Freitas is Head of Operations, Security and Emergency at Belo Horizonte International Airport. Freitas began his career as Flight Operations Office during the early 2000s and worked for several Brazilian airlines. He worked at the FIFA World Cup Organizing Committee Brazil, where he was responsible for supporting all nation teams air operations. During the RIO2016 Olympic and Paralympic Games, Freitas was responsible for the tactical operation of the Airport Operations Centre (AOC) at Rio de Janeiro International Airport.
Since 2018, he has been the Head of Operations, Safety, and Security, responsible for ensuring the passenger experience, operational efficiency, the ACDM process and regulatory compliance; positioning the airport as the 'Best Brazilian Airport' in the category above 10 million passengers in 2021 in passenger evaluation.