The airport of today
Alex Peric, Vice President and Chief Operating Officer of Gerald R. Ford International Airport Authority, tells International Airport Review how investments in innovative technology have, already, shaped the future airport environment.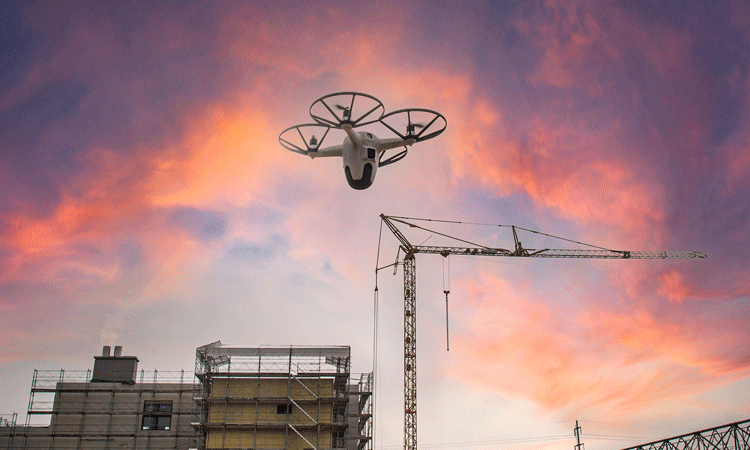 Credit: Gerald R. Ford International Airport Authority
In today's technologically advanced world, airports can offer much more to their local economy beyond connecting passengers to their desired locations. As our team looked to modernise our airport, we began having discussions with our state economic development organisation and airline partners on how we could become more innovative and service our community in new ways. When the pandemic hit, these discussions accelerated and led to an opportunity to be the first airport test site for new autonomous robots that disinfect large spaces using ultraviolet technology, providing a holistic solution to combat the spread of COVID-19.
After the success of those products, our team began to ask, "how can we incorporate more innovative solutions into the airport?" When I think of high technology start-ups and where they flourish, the words 'incubator', 'accelerator' and 'lab' come to mind. But why couldn't 'airport' also make this list? With millions of passengers travelling every day, airports can introduce start-up companies to a global market, providing them with a vibrant workspace in their infancy stage to scale their products and services. It can showcase disruptive technologies, offering opportune times to evaluate the fit of their business model into various scenarios. I believe technology start-ups will play a critical role in shaping the future of the airport experience and wanted to open our doors to offer them the opportunity to test and validate their products in a live airport environment. This led us to launch one of the first airport-based initiatives in the nation, the Ford Launchpad for Innovative Technologies and Entrepreneurship, or FLITE.
FLITE
With support from the Michigan Economic Development Corporation and Southwest Airlines, FLITE provides grants and testing opportunities to companies focused on bringing emerging air travel solutions to market. This initiative encourages the design, development, and pilot testing of new products and services to eventually meet the demands of larger airports while improving the overall experience for guests. This is only the beginning, as the goal is to expand the financial support of FLITE by adding sponsors and other supporters, including venture capital firms, interested in investing in air service technology being developed.
The first round of companies supported through FLITE featured Aurrigo, a software platform that creates a 'digital twin' of airside operations, WHILL, an autonomous wheelchair, and Sunflower Labs, a remote autonomous drone-in-a-box security system. Currently, Aurrigo has created a virtual model of our airport where they will simulate airside operations to identify targeted metrics to increase operational efficiency and cost-saving measures. WHILL is helping to reduce wait times for wheelchair requests and increase passenger independence, with a cost-saving benefit of $6,100/month on our airport operations. We are the first airport to host the Sunflower Labs technology, which is used for operational inspections, progress monitoring, and security purposes. Since it is remote, interaction is simply limited to selecting a point on a map to have a drone patrol, eliminating the need to drive to the selected site and increasing staff member capacity.
As we come into a transformed industry, we have the capacity to alter the traditional perception of an airport and act as a platform for new ventures that open passengers' eyes to different possibilities"
As an economic catalyst in the region, it was a natural fit to introduce FLITE as it is proven that where companies test, they often invest, hire local, and add value to the business community. This supports our state goals of bringing global tech companies to West Michigan to create more jobs and attract talent. As we continue to recover from the COVID-19 pandemic, it is important now more than ever that we work together with our state business and economic leaders to expand the opportunities available to our community members and build a competitive economy that is ripe for investment.
Investing in innovative and new technologies
Our passengers want a first-class experience that is seamless and intuitive with minimal disruptions. By investing in innovative technologies that supply efficiencies and enhance the airport environment, we can deliver that to them and so much more. Additionally, since these technologies are supplementing on the operational side our team members have more capacity to focus on other priorities. This provides a better workplace culture, offers a solution to staffing shortages, and removes stressors that could have limited team members or caused additional strain.
Airports must look to invest in new technologies that allow their workforce to be more efficient, their passengers to receive a higher level of service and a better experience, their region's economy to thrive, and the industry to evolve. Now is the time to think critically about our space, about our role in the community, and explore the potential to provide a centre where ideas can be shared and developed. As we come into a transformed industry, we have the capacity to alter the traditional perception of an airport and act as a platform for new ventures that open passengers' eyes to different possibilities. By implementing new technological opportunities into the airport, we can ensure that we are at the forefront of innovation and investment. 
Biography

Alex Peric manages the daily operations of the Airport Authority by directing facilities, engineering and planning, public safety, business, information technology and operations functions. Peric is charged with being the catalyst for the Authority's growth in business development, economic development, nonaeronautical revenue, and innovation.
He is an accredited airport executive with the American Association of Airport Executives and a member of the Airports Council International North America, National Association of Industrial and Office Properties and Aircraft Owners and Pilots Association.