Baggage handling at Australia's best terminal
Simon Hickey, CEO of Western Sydney International Airport, spoke to International Airport Review about how the new airport terminal will employ next generation technology in its baggage handling system and reduce pain points in this crucial aspect of the passenger experience.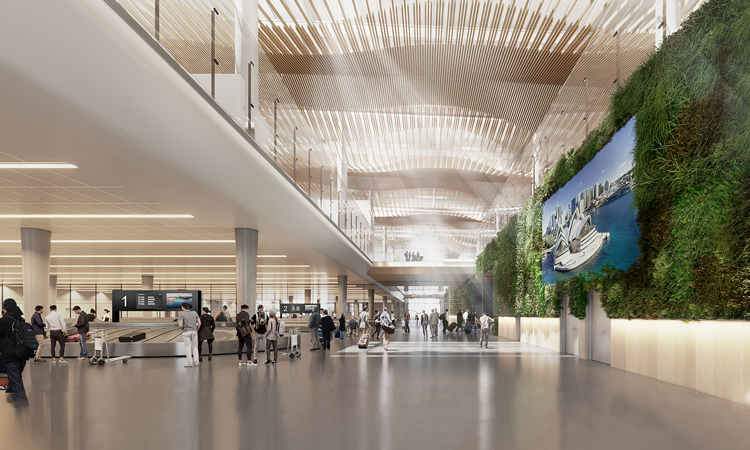 It is the anxious moment that many travellers know all too well – standing around the baggage carousel not knowing when, or if, your bag will emerge on the conveyer belt. It can be one of the biggest pain points in any customer's airport journey.
But Sydney's new airport is planning to change the baggage claim game.
Western Sydney International (Nancy-Bird Walton) Airport will be home to Australia's first modern baggage handling system when it opens in late 2026.
Western Sydney Airport (WSA) announced earlier this year (2021) that it has contracted Vanderlande Industries Australia, a subsidiary of Toyota, to design, build and maintain its cutting-edge tote system. Vanderlande's baggage handling systems (BHS) are used in 600 airports worldwide, including 12 of the world's top 20. The BHS will be integrated into the new terminal, which is being built by Multiplex.
The BHS system will use digital technology to track, load and move baggage more efficiently than at other Australian airports.
It is the next generation in baggage handling and it is a revolutionary leap ahead in customer experience according to WSA Chief Executive Officer, Simon Hickey.
"Baggage handling systems at other Australian airports, and indeed airports around the world, are based on technology that hasn't really changed much in half a century – it's like comparing a go-cart to a Tesla," said Hickey.
"We said from the beginning that Western Sydney International will be Australia's best airport terminal, setting a new benchmark for air travel in Australia.
"Given that the baggage handling system is the heart of any airport passenger terminal, this is our first proof point in demonstrating that WSI will offer our passengers and airlines a world-class experience unrivalled in Australia."
Making lost luggage a thing of the past
The new airport's tote baggage system will provide 100 per cent bag tracking, giving passengers and airlines confidence that luggage will arrive safely, at the right place and at the right time.
"We're aiming to make lost luggage a thing of the past," added Hickey.
While traditional BHS are reliant on manual handling operations, such as lateral belts, ground handlers and labour-intensive operations, Western Sydney International's system provides assisted loading and will be compatible with advanced robotics, reducing the manual baggage handling burden on ground staff.
It creates a safer working environment for staff whilst reducing the mishandling of bags.
The system can 'batch-build', automatically grouping luggage for easier delivery to the airside baggage make-up area for loading onto aircraft quickly. It is great news for passengers, but it also delivers huge efficiencies for airlines, reducing delays at departure gates, lowering operating costs and getting more use out of aircraft.
The system has also been future-proofed, with the flexibility to easily expand as the airport does to meet capacity needs and the ability to keep up with emerging technology into the future.
When Western Sydney International opens in 2026, it will cater for 10 million passengers annually. By the 2060s, it is expected to be one of Australia's biggest gateways, catering to 82 million passengers per year.
Delivering a seamless passenger experience
The airport is being designed with the future of seamless travel in mind and its baggage handling system is no exception.
Passengers arriving at the airport will be able to track their bags via an app so they know exactly when they will arrive on the carousel.
Lonely bags circulating on the carousel could be a thing of the past, with the possibility for bags to arrive at reclaim when the owner does.
It is about removing the usual pain points that create frustration and anxiety for passengers at most airports.
"As we're designing Western Sydney International, we're thinking forward and considering how tomorrow's technology will come together with great design and customer service to create the seamless, stress-free experience that travellers expect and deserve," Hickey continued.
"This innovative approach to baggage handling is just a taste of what passengers and airlines can expect when they catch a plane from WSI."
As Sydney's new international airport, Western Sydney International will mean that for the first time, airlines and passengers will have a choice about which airport they want to use.
For the first time, Sydney will have 24/7 air operations with no movement caps, opening the city up to a world of opportunities that have never existed.
WSI will also be a long overdue airport for the Western Sydney region itself. Already Australia's third largest economy, Western Sydney International will bring a new era of jobs and business opportunities to the region. The airport is backed by $15 billion of supporting infrastructure investment for connecting roads and rail.
Construction and installation of WSI's baggage handling system will commence in 2022. Western Sydney International is on track to begin international and domestic passenger services and cargo operations in late 2026.

A senior executive of more than 30 years across aviation, construction and retail, Simon Hickey leads the team developing the business and infrastructure for Sydney's new airport, Western Sydney International. With a focus on transformational customer experience and big data, Hickey approaches the once-in-a-generation challenge of building a greenfield airport, determined to set a new benchmark for passengers, airlines, and air cargo operators, as well as inspired by the project's purpose as the catalyst for socioeconomic uplift for the people of Western Sydney.