Resilience and a quick reaction during the coronavirus pandemic
On 1 June 2021, Quito International Airport celebrated the first anniversary of its resumption of operations after an all but total industry-wide shut down due to the COVID-19 pandemic. Ramón Miró, Quiport's new President and CEO, reveals how this airport became the first in Latin America to resume operations during the pandemic in 2020.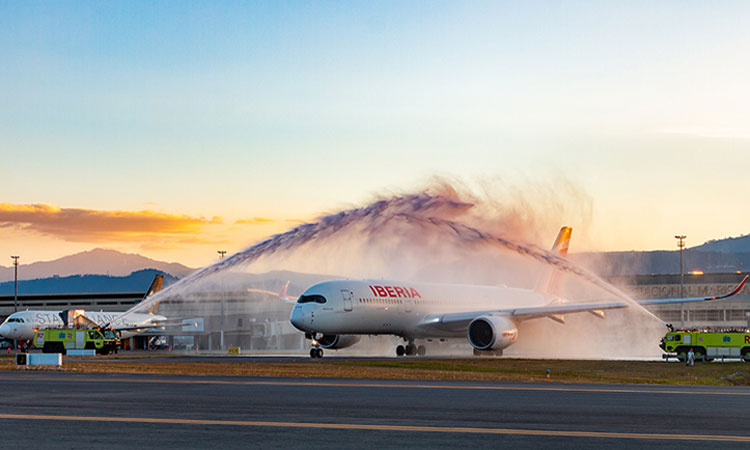 credit: Quiport
On 11 March 2020, Ecuador's Vice-President and Principal Authority of the National Emergency Operations Committee convened to confront the then still new coronavirus and declared that all international and domestic flights in Ecuador were to be grounded indefinitely. This harsh measure, never seen before in the country's modern era and replicated the world over, was an enormous sacrifice to attempt to slow the spread of the SARS-CoV-2 virus, more commonly known as the COVID-19 virus.
The Quito International Airport (UIO), officially named 'Aeropuerto Internacional Mariscal Sucre', was inaugurated in 2013 and since then had seen unprecedented growth in air connectivity in Ecuador and the development of world-class airport services in the region. 2019 was a record-breaking year: we launched direct flights to Paris with Air France; Santiago with LATAM; Toronto with Air Canada and Dallas with American Airlines, growing our global connectivity to 26 international destinations. Passenger numbers were on the rise and the same occurred with cargo operations, where, for example, exports for the 2019 Valentine's Day season broke historic records, with the highest number of Ecuadorian flowers ever shipped to every continent.
Riding the wave of growth
Quiport, the company in charge of the construction, administration, operation and maintenance of the Mariscal Sucre International Airport, was executing the expansion of the passenger terminal building and the renewal of its public halls. Our goal was to continue offering the highest quality service in the country's best and newest airport. In summary, we were riding a wave of growth, expansion and connectivity.
No one expected the COVID-19 shutdown. No industry was prepared for what was to come. Just like in Ecuador, in mid-March 2020, the commercial air transport sector slowly came to a halt with strict travel bans and international air travel moratoriums. From that moment on, Quiport staff began to research sanitary provisions emitted by international health and industry organisations like the World Health Organization (WHO), the International Civil Aviation Organization (ICAO), Airports Council International (ACI), Ecuador's Ministry of Public Health and others.
Adapting to the new normal
In order to be prepared to resume commercial operations as soon as possible, efficient and co-ordinated work was diligently carried out between Quiport and representatives of the city and the national government. We carefully worked to adapt a number of procedures to transform the way the airport operated in order to conform to the strict international recommendations on passenger, user and worker safety.
A touchless and personalised airport experience
At Quito airport, technology has always been a priority – now maybe more than ever. While historically, it has greatly eased and simplified our passengers' journeys, with the pandemic we leveraged it to reduce risks and to help enforce bio safety measures. During 2020, we overhauled our airport's smartphone app to interface with our self-check-in kiosks to add a touchless feature, where the passenger has full control by using their mobile phone. We also revamped many of our bathrooms to be touchless as well, keeping customer comfort and safety in mind. Aside from this, we established an association with Rappi, Ecuador's most popular shopping app, to include our Duty Free's commercial offering so that our users could buy online and simply pick up their orders while passing through the store at the airport.
During the first few months after the shutdown, our once busy airport was used only for repatriation flights, along with cargo operations, which never stopped and were essential both for importing medical supplies and for managing exports. Although we had only 225 outbound flights with a little more than 20,000 passengers in a two-and-a-half-month period after the shutdown, this 'repatriation phase' – as we called it – was of extreme importance in that it allowed us to implement and perfect the procedures and protocols we had been preparing since the airport officially closed in March.
Once local authorities inspected our updated installations, along with the new procedures and passenger flows, they gave us the green light to resume commercial operations, which we did on 1 June 2020, thus becoming the first airport in Latin America and the Caribbean to reestablish commercial air connectivity.
At the time, while serving as President of HAS Development Corporation – one of Quiport's shareholders – along with the other Quiport Board members, we fully supported the company's decision to reopen, although with some hesitation given the magnitude and complexity of the situation, but trusting the excellent preparatory work the Quiport team had undertaken.
The lessons learned during the repatriation operation, the diligent work carried out in researching and setting up new protocols and procedures, along with the additional pandemic investments made by Quiport and other Quito airport stakeholders, ensured that our operation was not only up and running as soon as possible, but also that our airport did so following the highest biosafety standards, all the while not losing focus on the 5-star passenger experience we so carefully developed.
Maintaining a world-class passenger experience
In 2020, Quito International Airport became the first in all of the Americas to be awarded Skytrax's 5-star airport rating based on the audit carried out in 2019, a wonderful accomplishment that under other circumstances would have been greatly celebrated.   Instead, the challenge of a pandemic forced us to forego the celebration and instead to re-focus on how to ensure a world-class airport service while complying with reduced capacities and traffic, new procedures and stricter biosafety protocols. This task was carried out professionally by our team, ensuring that every detail – from the signage to the friendliness of airport staff – was put in place to continue offering great service regardless of the effort, even under these extreme circumstances.
Although the passenger traffic recovery has been slow, yet steady, the rewards were immediate. Our airline partners affirmed that the 'case study' of our airport was influential in their decision to promptly restart their operations, not only at UIO, but also throughout the region, thanks to the success of the procedures and protocols set in place in our airport.
2020 put us to the test: it made us aware more than ever that during times of crisis, like the COVID-19 pandemic, we must all work in unison in a supportive and resilient manner, with the same objective of overcoming all odds, thus fulfilling Quiport's mission "to provide efficient, safe and high-quality airport services that offer the best user experience".
It is my intention, as President and CEO of Quiport, to ensure that Quito airport continues to be a source of development and prosperity for the city and country. With diligent and passionate work, we can confront any crisis and continue to set in place a fine-tuned balance between technological development, high-quality customer service and the ever important social and environmental responsibility in our operations.
Biography
Ramón Miró is a seasoned airport executive, with multi-decade international experience in airport concessions and privatisations, complemented with banking, power-deregulation and management consulting work, among other areas of expertise. He is passionate about the sustainability triple-bottom-line: people, environment and economics. 
He is known for his expertise in leading interdisciplinary teams in a creative, analytical and results-focused manner; adeptly navigating the industry's constant changes; nurturing interpersonal relationships, emphasising trust and responsibility; and his optimism which allows him to focus on practical and win-win solutions for all parties.
Ramón strongly believes that airports play a critical role in creating enduring and successful communities, being engines of great economic growth, creating jobs and supporting the city/country brands; particularly in emerging markets where their impact is that much more material.