Using operational efficiency to develop a low‑cost transit hub
Sanjay Khanna, Chief Executive Officer of Ras Al Khaimah International Airport, shares insights on scaling operational efficiency at a rapidly growing transit hub in the northernmost Emirate of the United Arab Emirates.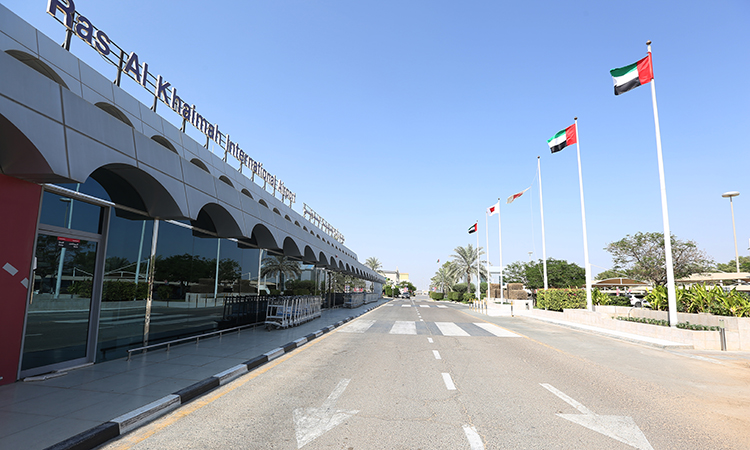 Credit: Ras Al Khaimah International Airport
After a year of unprecedented challenges, the aviation industry faces a long journey back from the devastation caused by COVID-19. To recover from such unparalleled disruption to air travel, we know that a surge in tourism will be essential for the recovery of the industry. For Ras Al Khaimah International Airport (RKT), a small but growing transit hub in the northernmost Emirate of the United Arab Emirates (UAE), the key to thriving during the return to travel lies in operational efficiency.
The coronavirus pandemic struck at a pivotal moment for the aviation industry in the Middle East. The region had captured the attention of low‑cost carriers due to its strategic location between Europe, Asia and Africa, resulting in an influx of new carriers to the airport. This included Kazakhstan's SCAT Airlines, which commenced passenger operations with Ras Al Khaimah International Airport in March 2021, with eight flights per week to and from the Emirate of Ras Al Khaimah. 
Competing with bigger hub airports
Attracting low-cost carriers is an incredibly competitive space for an airport. Especially when considering this challenge from a Middle East perspective, where major transport hubs such as Dubai and Abu Dhabi often dominate international awareness. Our well-known neighbours are a great asset, as they drive huge volumes of air traffic to the region, which benefits all industry stakeholders, but it means that we have to re-double our efforts to carve out a niche for our airport as a low-cost and time-effective alternative in the region. Operational efficiency is key to sustaining this reputation.
A few years ago, Ras Al Khaimah Airport was a small cargo thoroughfare. Faced with the challenge of establishing an independent reputation from our well-known counterparts in the UAE, we identified a crucial area in which we could set a new standard: operational efficiency. 
The ability for an airport to adapt and respond quickly and effectively to a growing industry is the linchpin of success"
The ability for an airport to adapt and respond quickly and effectively to a growing industry is the linchpin of success. Transit hubs are relied upon by passengers, partner airports and carriers, as well as a range of land-based and seaborne transport providers, as a convenient stop‑over destination between points A and B. By ensuring operations run as efficiently as possible when managing a constant flow of passengers, cargo and even livestock, operators will catalyse their airport's growth.
This can be seen clearly in our own recent history. Providing a high-quality and efficient service has resulted in our boutique airport expanding into a sought-after landing point for low-cost carriers, acting as a more affordable destination in the UAE. The launch of SpiceJet's first international hub in Ras Al Khaimah is expected to reap immense economic benefits for business communities in both Ras Al Khaimah and India, who now benefit from enhanced connectivity; a connection which was further cemented by the airport's success in repatriating more than 53,000 Indian citizens from the UAE during the pandemic.
Despite the growing difficulties that the aviation industry is suffering as a result of the pandemic, we forecast a surge in passenger numbers over the next five years facilitated through a steady stream of new airline partnerships.
We all know that airports and airlines have faced probably their greatest challenge since the pandemic began, and so rarely will you find anyone looking at expansion, yet that is exactly what we are doing. In last 90 days, we have opened 23 new routes to/from Ras Al Khaimah – namely, SCAT (eight routes), Rossiya (nine) and SpiceJet (six), and we have just had the inaugral flyEgypt flight from Cairo on 6 May 2021. Going forward, we will be adding a further five new routes in the next 60 days.
Our growth as a business depends on our reputation as both a low-cost and time-effective transit hub. With many more partnerships in the pipeline, including a major European low‑cost carrier, it is our commitment to high quality operational efficiency that has grown our reputation as the gateway to the UAE. 
Passenger experience
For any airport that serves as a major stop-over destination, ensuring that passengers can travel through the airport quickly and easily should be central to the operational strategy. As a smaller airport, we have the opportunity for processing times to be significantly shorter than in larger airports, when resources are managed diligently. From the check-in counter to the boarding gate, passengers are processed in just 18 to 20 minutes at Ras Al Khaimah International Airport, according to a recent time and motion study conducted by Omnex.
Results from the International Air Transport Association's (IATA) 2019 Global Passenger Survey show that, for passengers, time is of the essence, and the majority of them seek a maximum wait time of three minutes to drop off a bag and up to 10 minutes for queueing at immigration or customs. We expect quick turnarounds to remain a passenger priority as international travel reopens after COVID-19, and it will certainly remain a key focus area for us as operations expand.
This turnaround time is particularly important when you have passengers looking to make a connecting flight. A crucial step to facilitating this passenger traffic is to streamline processes; to de-populate congestion points and defuse crowded areas. We are able to achieve this by creating more immigration counters for passengers and introducing check-in and baggage drop facilities at hotels and city checkpoints in Ras Al Khaimah, where many of our passengers stay, to cut down processing times so that travellers can head straight to immigration services on arrival. 
Carrier experience
Quick turnaround times are not only important for passenger satisfaction, but also for attracting business from airline carriers. 
While it typically takes around an hour to turn around a narrow body aircraft, on average, we do this at Ras Al Khaimah airport in 30 to 45 minutes – even achieving a record turnaround of 28 minutes during a trial run. It is this agility and efficiency that helps us to attract new low-cost carriers, as time‑saving efficiency directly equates to cost‑savings for the airlines. 
Effective resource management is the key to successfully streamlined processes. Going back to basics, airports must deploy personnel according to expected passenger numbers and make sure that there are enough staff on the ground to offload and re-load baggage and catering services straight away.
Quick turnarounds are not just a customer ideal but a business imperative. Reduced taxi time and prepared staff result in increased fuel efficiency and planes spending more time in the air, where they are making money, than docked on land. It is this profitability through efficiency that carriers seek in an airport.
Collaborative partnerships
While you may not immediately associate industry networking with operational efficiency, it can prove crucial to the smooth running of the airport. 
As a growing transit hub, we rely on our carriers, partner airports and other transport providers to provide reliable, quality services so that we can remain an efficient and well-connected stop‑over destination.
The value of this approach can be seen in the recent agreement that we fostered between Fly Egypt and SpiceJet – partnering on connecting flights to open up a broader range of destinations for their customers. Ras Al Khaimah International Airport will play a vital role as the connecting airport for these routes, made possible through our role as an efficient and collaborative transit hub. 
Ensuring a presence at events like the recent 2021 Arab Aviation Summit, held in Ras Al Khaimah in March 2021, is key to reinforcing such partnerships – these events provide ample opportunities to strengthen the industry as a whole through collaboration. 
Looking at cargo operations, we know that many businesses require both aviation and shipping facilities at different stages of their supply chain, and this is why we work closely with the network of ports in Ras Al Khaimah – with a total cargo handling capacity of over 100 million tonnes – to identify opportunities to support their cargo clients with aviation needs. Our cargo operations have remained strong, even amidst the chaos of the pandemic.
Long-term planning
When an airport plans to grow and expand, the question of impact to operational efficiency is often one of the most challenging. How can a larger airport provide the same speed and efficiency as a boutique airport? 
That is why we decided to dedicate significant resources, both monetary and personnel, to long‑term planning, to ensure that we can manage our forecasted growth without comprising on efficiency. 
Prioritising operational efficiency during periods of growth is essential for airports in order to offer an optimum experience"
As we continue to progress with early-stage partnership discussions with many airline carriers, our growth forecast shows that we do not have time to wait when it comes to expanding the airport. We plan to open a brand new terminal by 2025 to expand our capacity levels.
Prioritising operational efficiency during periods of growth is essential for airports in order to offer an optimum experience. Growth cannot come at the expense of the customer or cargo's journey; an efficient, hassle-free journey for the passenger is the product of an effective, profitable airport business. 
Sanjay Khanna brings 27 years of global experience as a strategic business leader and has been involved in the aviation industry for over 25 years. He currently works as the Chief Executive Officer (CEO) of Ras Al Khaimah International Airport, where he heads the overall operations, senior staff activities and business development initiatives. His broad knowledge in the aviation industry covers experience across airport operation and revenue streams, including aeronautical, non-aeronautical, real estate, cargo and commercial business activities. 
Over the years, he has acquired extensive exposure to all domains of the aviation industry, including domestic and international airlines, airports and service providers. He is widely recognised as a dynamic thought leader who has achieved top line growth and bottom line improvement across various organisations. Under his leadership, he has proven his competence in setting up operations and scaling them up for sustainable business growth. Previously, he held executive leadership roles, varying from being a Chief Commercial Officer, Strategic Business Analyst and financial management expert, as well as a CEO.