Cleaner, Greener Airports: Making Aviation More Sustainable – Munich Airport
In the next instalment of International Airport Review's exclusive series, Jost Lammers, Chief Executive Officer of Munich Airport, explains the initiatives, work and thinking that is driving the airport in its goal to achieve carbon neutrality by 2030, and addresses the need for social and economic factors to also be considered in sustainable aviation.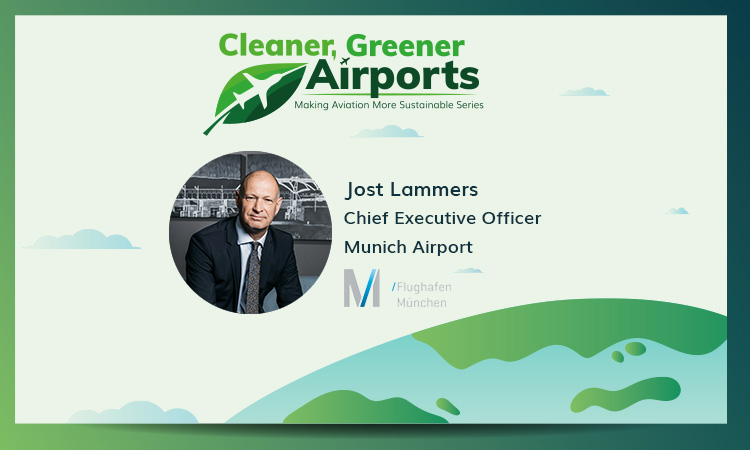 Leading European aviation associations presented a strategy paper to the European Commission (EC) in Brussels in February 2021, outlining options for achieving CO2-neutral aviation in Europe through the joint efforts of all aviation partners – from airports and airlines to aerospace manufacturers and air traffic control (ATC). With the position paper, 'Destination 2050 – A Route to Net Zero European Aviation', the European aviation industry presents a roadmap for realising sustainable air transport. Munich Airport (MUC) is one of more than 200 European airports that officially committed, in 2019, to reducing the CO2 emissions that can be directly controlled by airports to 'net zero' by 2050.
Carbon neutral by 2030
As early as 2009, we began enforcing an ambitious climate protection strategy and reducing our annual CO2 emissions with the objective of operating Munich Airport in a CO2-neutral manner by 2030 at the latest"
As early as 2009, we began enforcing an ambitious climate protection strategy and reducing our annual CO2 emissions with the objective of operating Munich Airport in a CO2-neutral manner by 2030 at the latest. We will invest a total of €150 million to achieve our climate targets by that time. At this point, we have already come a considerable step closer to achieving this goal. For example, CO2 emissions per passenger have been cut by almost half in the period from 2005 (5.67 kg/pax) to 2019 (3.08 kg/pax) – even with enormous growth in passenger numbers (28.6 million in 2005 to 48 million in 2019).
It is worth noting that, in addition to an increased passenger volume, the gross floor capacity at the airport has also grown by more than 370,000m2 in the same period, e.g., due to the opening of the new mid-field terminal (satellite) in 2016. We have a clear focus on our climate target – CO2-neutral airport operations by 2030 – and we will gradually reduce the CO2 emissions that we can influence by 60 per cent through our own measures. The remaining 40 per cent will be offset through compensatory measures, mainly on a regional basis.
To date, around 280 individual measures have been successfully implemented. These include new air curtains in Terminal 1's hall doors to the apron, which help to reduce heat loss and save over 1,000 tonnes of CO2 per year. A further 700 metric tonnes of CO2 can be saved annually by optimising the baggage handling system in Terminal 2. Converting the air-conditioning system in the Munich Airport Centre to multi-motor technology saves 661 metric tonnes of CO2 a year. New centrifugal fans for the ventilation system in Terminal 1 Module D not only provide fresh air, but also significantly improve the CO2 balance. Further ventilation systems in Terminal 1 with state-of-the-art fan drive technology are to follow in the next few years.
Munich's climate focused mid-field terminal
CO2 emissions produced by the satellite are around 40 per cent below those of Terminals 1 and 2 together"
The construction of the mid-field terminal (satellite building), which opened in 2016, already used advanced building materials and innovative technology. As such, CO2 emissions produced by the satellite are around 40 per cent below those of Terminals 1 and 2 together. The climate facade of the satellite building also contributes to high efficiency: on the long sides, a 4.5m wide walkable 'climate buffer' was built into the glass facades to better insulate the air-conditioned building against cold and heat. According to the 'principle of the thermos bottle', the layer of air in the so-called climate buffer serves to provide better insulation. This interior space houses the escalators that passengers can use to move between the three terminal levels. In addition, the innovative special coating on the glass facade protects the terminal from excessive heating caused by solar exposure.
Green technology
Another significant area of investment is electro-mobility. Currently, more than 135 electric vehicles and 276 electrically powered ground handling equipment – such as baggage tugs, de-icing vehicles, conveyor belt trolleys, lift trucks, passenger stairs and stackers – are in use on the apron at the airport. This means that low-emission electric or electric-hybrid vehicles already represent 38 per cent of the entire vehicle fleet. Munich Airport is likewise focusing on biofuels. Vehicles are being powered increasingly by fuels from renewable energy sources, such as a passenger bus that runs on liquid biomethane, which won the German Gas Industry Innovation Award in 2020 for its innovative engine concept.
We are proud of the fact that we were the first major airport to convert its entire apron lighting to energy-saving LED technology. LED scores with minimum consumption and maximum energy efficiency. In addition, the already economical LED lamps can be adjusted to the respective lighting conditions during the course of the day and regulated as necessary. The lighting replacement alone will save 16,400 metric tonnes of CO2 annually at Munich Airport. The conversion of the lighting in the parking garages, on the parking lots and on the airport roads to LED technology will follow gradually and contribute to a further reduction in emissions. I expect that, in the coming years, we will intensify our focus at the airport on expanding systems for generating renewable energy.
Munich Airport is also working on setting up the necessary infrastructure prerequisites for sustainable aviation fuel (SAF).
Preconditioned air systems
Another successful measure that we have taken are our preconditioned air systems (PCA systems), which supply fresh air to aircraft at parking positions and reduce the need for aircraft auxiliary power units (APUs) for air conditioning. Our 64 PCA systems at parking positions close to the terminal buildings reduce aircraft fuel consumption and associated CO2 emissions by up to 23,500 metric tonnes per year. In addition, noise emissions from parked aircraft are significantly minimised.
Munich Airport has developed its own innovative design for wide-body aircraft – a hose cart in the form of a y-shaped distributor. This distributes the conditioned air from one hose simultaneously to two ports on the aircraft to air condition the cabin. The PCA system is controlled fully automatically. With an interface to the flight plan data, the system knows exactly which aircraft is docking and supplies it with the appropriate amount of energy.
Generating Munich's own energy supply
The centrepiece of Munich Airport's energy supply is our own block-type heating and power plant. This generates more than half of our electricity supplies in-house using environmentally friendly natural gas. The waste heat from this alone covers almost all of the airport's heating and cooling demand – without any additional energy consumption. A photovoltaic system on the roof of Terminal 2 adds to the environmentally friendly energy supply.
The technical nexus is a smart building control system: ventilation and cooling of the terminal buildings are automated. Sensors monitor air quality, room and outside temperature, the number of people in the room and solar radiation. Ventilation and shading of the glass facade react fully automatically.
For the regular monitoring of air pollutants at and near the airport, we rely on biomonitoring (plants) and honey monitoring, in addition to measurements with stationary and mobile instruments. Last but not least, I would like to point out one very special environmental protection feature of Munich Airport – our airport site is part of a designated bird sanctuary. So, we are committed to meeting the challenge of harmonising flight operations and bird protection.
Sustainable goals
Our ambitious goal is to achieve a 100 per cent reduction in CO2 emissions by 2050 at the latest. The remaining CO2 emissions will then no longer be compensated for as in the past, but will be eliminated from the atmosphere through technological measures.
Despite enormous challenges caused by the global pandemic and its consequences, the development toward sustainable aviation remains our most fundamental project for the future. However, a consistent and successful sustainability strategy for airports includes not only climate protection, but also responsibility for socially responsible, service-oriented and economically sound growth.
The Munich Airport Group has been adopting this holistic sustainability strategy for many years. Together with the Airports Council International (ACI) Taskforce "Sustainability Strategy", consisting of selected airports, we are working on the idea of putting sustainability on broader shoulders by integrating the social, economic and ecologic side. Today, ACI is widening the term 'sustainability' by focusing on social and economic issues, in addition to ecological aspects.
Social, economic and ecological elements of sustainability
The field for sustainability engagement is wide, so I would like to point out some issues, that have been pushed forward in the last years: within the field of employee experience, the discussion on diversity is still ongoing. In 2020, Munich Airport signed the "Charta der Vielfalt", a German initiative for the acceptance of diversity within a company. This Diversity Charter advocates for recognition, appreciation, inclusion and respect in the German corporate culture. Since we benefit from the diversity of our employees, we as an enterprise respect the cultural heritage, religion and sexual orientation of all of our employees, taking into account their diverse interests and needs. About 25 per cent of Group employees (the total workforce, including apprentices, but excluding workers in minor employment, temporary workers and interns) come from more than 80 different countries. We also have committed ourselves to successively increasing the proportion of women in management positions.
This Diversity Charter advocates for recognition, appreciation, inclusion and respect in the German corporate culture"
Looking at the field of economics, within the supply chain, we award contracts on the basis of cost-effectiveness and put particular emphasis on the utilisation of materials and products that are durable and produced with limited natural resources. For investment goods, any subsequent costs for servicing and maintenance (life cycle costs) are also considered, where necessary. Two years ago, we assessed our framework contract partners according to the following criteria: the quality of the product or service, reliability of delivery, service and price trends, as well as the company's certification according to quality and environmental standards. For example, the bidding documents for the airport uniforms included a provision that the contractor must guarantee compliance with ethical obligations (no child labour; environmentally sustainable manufacturing and processing of substances and materials; and healthy working conditions in the workplace at the manufacturers).
To conclude, you can say, sustainability for airports is still mainly driven by the ecological aspects of sustainable development, but the social and economic components are just as important, since the airport is an integral part of a global society.
Born in Oldenburg in 1967, Jost Lammers started his professional career in the aviation industry in 1998 at HOCHTIEF AirPort GmbH. After holding positions at Düsseldorf and Athens Airports, the graduate economist headed Budapest Liszt Ferenc Airport from 2008. Since 1 January 2020, Lammers has been President and CEO of Flughafen München GmbH. He was elected President of Airports Council International (ACI) Europe in 2019.