Nashville International Airport flies high for passengers
Nashville International Airport has an extensive array of initiatives dedicated to enriching its passengers' experience. Although the global pandemic has postponed some of these activities, the airport informed International Airport Review of how the journey at Nashville is above the rest.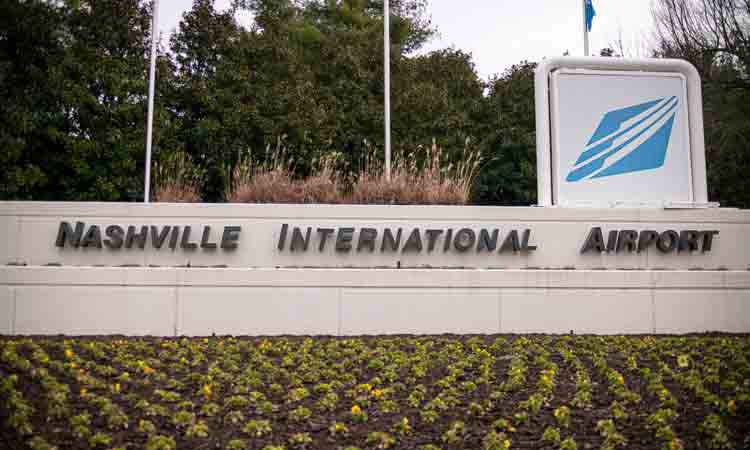 Providing a warm, comfortable and friendly environment that is easy to navigate is a top priority for Nashville International Airport (BNA). Over the years, the airport has developed a variety of initiatives to meet that mission and has earned accolades from various outlets.
As with airports across the world, the COVID-19 pandemic has impacted operations at BNA, which will be addressed after an overview of pre‑COVID-19 programmes.
One long-standing tradition designed to assist passengers is the 'Flying Aces' programme. The Aces are a group of volunteers easily visible in their BNA uniforms and equipped with informational notebooks. These cheerful representatives assist travellers with a variety of needs, from directions and airport information, to answering security questions and providing foot coverings to those who request them. 
Showcasing Nashville through art
In keeping with Nashville's well-deserved reputation as a hub for creativity, particularly when it comes to arts and music, BNA embraces the opportunity to showcase the sights and sounds of the community through 'Arts at the Airport'. Selections are made based on artists who are reflective of the city and the region. Musical artists perform throughout the terminal daily and also bring attention to notable observances, such as Black History Month and the American Civil Rights Movement. BNA has also been a participant in the Make Music Celebration held in more than 120 countries across three days in June. Additional events have included puppet shows, dance performances and craft demonstrations. This is just a small sample of BNA's welcoming environment. Also, another part of Arts at the Airport is a range of exhibits that include arts and crafts, murals and enormous art sculptures that hang from ceilings. Art is also found in one of BNA's terminal garages and in a new display coming soon to the rental car facility. 
The entertainment doesn't stop with the arts
BNA's Customer Experience team offers opportunities for passengers to engage with and further enjoy the airport through activities such as a cupcake giveaway on National Cupcake Day, St. Patrick's Day activities, social media giveaway contests, Halloween costume contests, trivia games and karaoke. All of these initiatives are focused on enriching the passenger experience and strengthening the relationship between airport and traveller.
Another way for passengers to literally connect with the airport is through BNAShop.com – an online merchandise shop offering BNA memorabilia, such as shirts, socks, hats, coffee mugs and doormats made from the fan-favourite terminal carpet. It's hard to find a better way to showcase the important tie BNA has with the community and beyond. 
Catering to the passengers' needs
Attention to customer service begins in Nashville International Airport's parking garages, which boast electric vehicle (EV) charging stations and tire inflation stations"
No airport would be complete without amenities that make the passenger experience one that meets their needs. BNA has a long list of such offerings that continues to grow through BNA Vision, the airport's dynamic expansion and renovation plan. Attention to customer service begins in its parking garages, which boast electric vehicle (EV) charging stations, tire inflation stations, accessible parking, pay-on-foot and car locator kiosks, dynamic Park Assist guidance systems and a streamlined valet service. One of the garages has earned a 'Parksmart' Bronze certification, making it one of only 35 parking structures in the world and the first in Tennessee to earn this distinction for sustainable design, construction and operation. 
As guests continue into the terminal, they will find service animal relief areas, a mother's room, an adult changing table, water bottle filling stations, family restrooms, Wi-Fi and device charging stations. Furthermore, additional facilities designed to meet passenger needs within the airport experience are massage chairs, a nail salon and massage bar, smoking areas and shoeshine services.
COVID-19
It will come as no surprise that the COVID-19 pandemic has had an impact on passenger-facing programmes. The safety and wellbeing of stakeholders – passengers, employees, business partners – is BNA's highest priority, and its immediate response has been to adhere to local health guidelines and those from the Centers for Disease Control (CDC). This crisis has impacted the Aces, music and special events and personal services – all of which were on hold at the time of publication. But BNA's attention to these stakeholders continues in the form of a heightened cleaning protocol, raising awareness about the preventative measures the airport is taking and a call for everyone to work together to help prevent the spread of germs. A special web page1 has been designated to keep the public apprised of BNA's actions and the impact that the virus has had on operations, such as concessions and other temporary closures. 
Signs reminding visitors of Nashville's face covering requirement and the importance of social distancing and handwashing are placed throughout the terminal, in garage elevators and restrooms. Free face coverings are available at the entrance to security checkpoints and BNA information kiosks. Hand sanitising stations are found in the terminal and intercom announcements featuring Nashville's mayor and local health officials remind guests of preventative measures. 
Nashville International Airport's commitment to providing a comfortable, friendly environment remains stronger than ever during these challenging times, as it reinforces its role as a vital part of the community and a welcoming door to the world. 
Reference
https://flynashville.com/press-releases/covid-19-updates
About the airport
With nearly 18.3 million passengers in 2019, Nashville International Airport (BNA) has been one of the fastest growing airports in North America. According to a recent study, in 2019 alone, BNA generated more than $8.1 billion in total economic impact, supported more than 76,000 jobs in the region and produced more than $443 million in state, local and federal taxes. BNA receives no local tax dollars.