Airports are tailoring measures to assist everyone
Jean-Sébastien Pard, Senior Manager of Facilitation and Passenger Services at ACI World, highlights how accessible airport operations are imperative, even more so during these difficult times.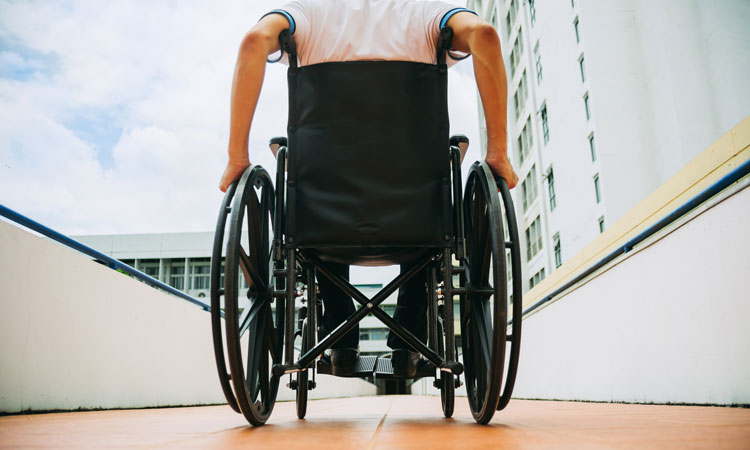 As we start to see a gradual recovery from the impacts of COVID-19, and as health and sanitary measures are being implemented on the ground and in the air, it's important to ensure that we don't forget the implications that these measures have for individuals with disabilities, including those with reduced mobility (PRMs).
Airports, airlines and regulators will need to continue to work together to provide the best possible experience for PRMs, arguably even more so now, given the current climate in which all passengers appreciate added reassurance.
New reality of health measures and technology opportunities
In an airport environment, assisting passengers with disabilities usually implies close physical contact between the assistance agent and the passenger. Certain people, depending on their needs, may be impacted more significantly by COVID-19. The World Health Organization (WHO) advises that people with disabilities may be at a greater risk of contracting COVID-19 or be at a greater risk of developing more severe cases of COVID-19 if they become infected. This impact can be mitigated if appropriate actions and protective measures are taken by key stakeholders, and this is where some technologies can help.
It is important that physical distancing requirements are respected, but this distancing cannot always be met, as close contact between the assistance staff and the passenger is sometimes unavoidable. For example, setting limits on the number of people in electric minicars or using the elevators in the terminal at the same time has been implemented by airports.
For others, like Abu Dhabi International Airport (AUH), providing autonomous wheelchairs to allow travellers with reduced mobility to move around the airport without the assistance of a staff member is one of many ways to surpass the challenges. Equipped with sensors to identify potential dangers or obstructions, and an automatic stop function, this solution is made available for people who may want to move around the airport independently or who would prefer to avoid close contact with others as much as is feasibly possible.
These are just a few of the new procedures – along with providing staff with the necessary protective equipment and enhanced cleaning and disinfecting measures – that airports have been deploying over the past few months to reassure the travelling public and health authorities that the journey through airports is safe.
Touchless processes, existing and new, have become even more important. Touchless washroom doors and handwashing fixtures are more common in this day and age, but some technology solutions are going even further to enable airport restrooms to become intelligent data-collecting environments; alerting cleaning staff of potential issues and using data to adapt and improve the way they work.
The pandemic has certainly advanced touchless payment processes in various areas of the airport terminal, even in parking facilities where some airports offer dedicated lanes for PRMs to assist efficiently with adapted payment equipment. Furthermore, food and beverage (F&B) concessions and retailers in airports have very quickly provided technological solutions where one can order and pay from a phone before arriving or whilst in the airport; enabling a completely contactless transaction.
For those passengers with hearing challenges, the use of face coverings and physical distancing measures now implemented globally may limit their ability to lip read and hear well. To help with this situation, airport staff are using special masks with a transparent film that allows one to lip read. While this may not be considered 'cutting edge', this new need will push innovators to accelerate the creation of tools that can assist those with special needs during these times.
New wayfinding apps are also making their way to the market, along with assistive services for individuals who are blind or partially sighted, to make navigating an airport possible for those who are having more difficulty when using the more traditional signage and information displays. This type of service is just one of the accessibility technologies offered by Vancouver International Airport (YVR) to provide passengers with 24/7 access to a live agent who can help them navigate the airport through their phone or video-equipped smart glasses.
The importance of training and communication
Before airports can adequately assess the effectiveness of many emerging and existing technologies, it is, as always, essential to give airport staff an awareness of, and appropriate responses to, customers with physical, sensory, mental and hidden disabilities. Training and communication are essential elements in providing great customer experience.
To address this need for continued education, ACI's Online Learning Centre offers two online training programmes related to universal access and accessibility. The Certificate in Airport Accessibility is designed to assist airport operators in making their airports more accessible for persons with disabilities, including those with reduced mobility. This course covers the key infrastructure and architectural factors to consider when designing new airport facilities or improving existing ones, while also addressing operational and organisational measures designed to improve the travel experience for persons with disabilities.
To complement this course, the Disability Sensitivity Training for frontline personnel provides participants with an awareness of, and appropriate responses to, customers with physical, sensory, mental and hidden disabilities, as well as those using service animals, covering various methods of communication with people with hearing loss, vision loss, speech disabilities and cognitive disabilities.
So far, employees from more than 90 airports around the world have enrolled in these training programmes, demonstrating the importance of universal access for airport operators and their commitment to providing the best possible experience to all their customers and staff.
Coupled with bespoke airport initiatives, such as the award-winning training offered by London Gatwick Airport (LGW), employees can feel more confident and informed about making the best possible decisions. Gatwick aims to be the 'UK's most accessible airport' and won ACI Europe's Accessible Airport Award in 2019 for their suite of offerings. Their hidden disability lanyard has also been adopted by several large retailers in the UK, showing that the efforts made in the airport industry can be shared to help the wider community.
Looking ahead
The current COVID-19 pandemic has provided many challenges for the industry, but has also brought up much needed opportunities for a fresh look and a push towards accelerating the creation and employment of technologies that can help make airports as accessible as possible. Aviation, like all other means of transportation, recognised the growing numbers of persons with disabilities who were flying due to the steady increase in life expectancy globally. Good airport design and construction alone cannot ensure that persons with disabilities, including those with reduced mobility, are able to board an aircraft smoothly and easily. Adequate operational and organisation procedures to assist them in the airport environment are of equal importance, even more so during these difficult times.
The ACI World Airports & Persons with Disabilities Handbook includes best practices to accommodate passengers with sensory disabilities; content on technology and innovative solutions for flight information displays, check-in kiosks, mobile platforms, online tools and phone apps; and examples of cutting-edge practices, such as accessible toilet facilities, sign language videophone booths, wayfinding and signage. The handbook was reviewed by the International Disability Alliance (IDA) and takes into account guidance from international entities, such as the International Civil Aviation Organization's (ICAO) Manual on Access to Air Transport by Persons with Disabilities (Doc 9984), and the United Nations' (UN) Convention on the Rights of Persons with Disabilities (UNCRDP).

Jean-Sébastien Pard provides guidance and support to the airport community, represents airports' interests with various stakeholders and encourages industry collaboration to identify improvements in passenger processes and the overall seamless travel experience. As part of his responsibilities, Pard is the Secretary of the ACI World Facilitation and Services Standing Committee (WFSSC). He is also leading the development of best practices, implementation strategies and initiatives in the areas of passenger process improvement and simplified passenger travel solutions.