Toronto Pearson's Healthy Airport programme protects passenger health
As part of its efforts to restore passenger confidence in the aviation industry, the Greater Toronto Airports Authority has implemented its Healthy Airport programme at Toronto Pearson Airport to limit the spread of COVID-19 and keep the safety of passengers as its top priority.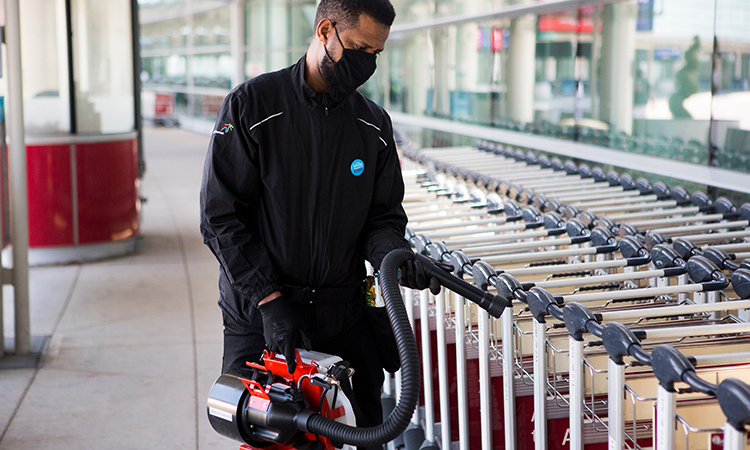 Credit: Toronto Pearson International Airport
All options were on the table for the Greater Toronto Airports Authority (GTAA) when developing its response to the COVID-19 pandemic. As the manager and operator of Canada's largest airport – Toronto Pearson International Airport (YYZ) – the GTAA knew it would need to go above and beyond industry standards to ensure that passengers are safe and protected when flying.
We knew our response would need to be all-encompassing in order for passengers to feel safe travelling through our airport"
"Toronto Pearson is an international leader in the aviation sector, having set the standard for exceptional passenger service among large North American airports for three years in a row," said Deborah Flint, President and CEO of the GTAA. "When the pandemic began and we saw the effect it was having on the industry, we knew our response would need to be all-encompassing in order for passengers to feel safe travelling through our airport."
In June 2020, Toronto Pearson unveiled its Healthy Airport programme, which is designed to protect the health of passengers and airport employees by following internationally accepted guidance and using innovation and new technology to change the airport experience and minimise the risk of COVID-19 exposure. It includes five commitments:
Making passenger and employee health the top priority
Working with partners to set strong, consistent standards for passenger and airport worker health
Deploying multi-layered tools and adjusting quickly to changes and current intelligence
Ensuring the approach is best in class and aligned with international aviation standards
Exploring all innovative and technologically advanced solutions for ensuring the safety of passengers and employees.
The implementation of the Healthy Airport programme means that the passenger experience is now much different than it was prior to COVID-19.
The new passenger experience at Toronto Pearson
Upon arrival at the terminal, face coverings are required for all passengers and employees in all public areas. There are exceptions for children under the age of two, people who are unable to remove a face covering without assistance and for people who have trouble breathing. Passengers and employees eating at food and beverage locations are permitted to temporarily remove their masks.
To help limit the number of people in the terminals, only travellers flying that day and employees on duty are allowed to enter. Exceptions are made for passengers who need mobility assistance and for unaccompanied minors. Staff are stationed at entrance doors to help enforce this rule and the arrival pick-up kerbs are currently closed for a trial.
To create separation between passengers and airport workers, plexiglass barriers have been installed at check-in counters and screening areas. Barriers have also been installed at point-of-sale locations in shops and restaurants in the terminals. Approximately 600 airport taxis and limos are receiving plexiglass barriers to help protect both the passenger and driver.
Floor decals encourage passengers to remain two metres apart and selected self-serve kiosks have been turned off to ensure physical distancing. Kiosks and self-serve bag drops have also been updated with touchless technology.
For those restaurants that still offer sit-in dining, tables and chairs are appropriately spaced and decals are in place on the floors to ensure that physical distancing requirements are always met. Payment pin pads are disinfected regularly and, wherever possible, contactless payment options are available.
Sanitisation and hygiene
Sanitisation is a major focus of the Healthy Airport programme, and Pearson is utilising a four-level approach using Tersano, Oxivir, Ultra-Lyte and Microbial/Probiotic, as recommended by the contracted industrial hygienist. Locations such as bathrooms, escalators, moving sidewalks and other high-contact areas are cleaned continuously. Baggage carts are sanitised before each use by fogging machines and check-in counters and baggage drops are sanitised regularly. Hand sanitiser stations are also located throughout the airport in convenient locations.
Innovation
Inside the terminals, passengers will see autonomous robot floor cleaners that are programmed to continuously clean the floors using disinfectant. The robot cleaners are capable of learning a route and are equipped with safety features, so that they don't run over items, such as luggage.
A walk-through disinfectant tunnel is being trialled in a high traffic area of Terminal 1. Passengers are able to walk through the tunnel with their luggage, where they will be misted with a saltwater solution (sodium chloride) that will disinfect clothing, luggage and more. It is non-toxic and leaves a fresh, clean smell. Employees are also encouraged to take advantage of the disinfectant tunnel.
As part of the Healthy Airport programme, Toronto Pearson has also entered into a strategic partnership with BlueDot to predict and monitor infectious disease risks. The Canadian technology company's world-leading insights platform will power the GTAA's commitment to preparedness and resilience.
Finally, airflow patterns in the terminals have also been optimised to improve flow and ventilation. Two air quality monitoring stations have been installed – one in Terminal 1 and one in Terminal 3 – to continually monitor air quality in the terminals. Data from the air quality monitoring stations is available to the public via a system designed by Rotek Environmental.
Additional changes by Toronto Pearson Airport partners
Passengers will also experience changes to regular processes, such as security screening; security agents are now using contactless technology to check boarding passes and departing passengers will have their temperatures taken by the Canadian Air Transport Security Authority (CATSA), as mandated by Transport Canada. If a passenger has a temperature of 38˚C or higher and does not have a medical certificate to explain a medical or physical condition that would result in an elevated temperature, they will not be permitted to continue their travel and will need to self-isolate for 14 days. Employees are also having their temperatures taken when entering the secure area. Should an employee's temperature be at or above 38˚C after two confirmed temperature readings, the employee will be asked to leave the premises and self-isolate for 14 days, and their restricted area access will be suspended during this time.
Passengers will also experience changes to regular processes, such as security screening"
Airlines are also mandated to take the temperature of passengers travelling to Canada at their point of departure.   
For international travellers arriving at Toronto Pearson, an isolation document must be filled out, regardless of citizenship, and travellers must provide contact information. To help speed up this process, the Canada Border Services Agency (CBSA) has developed a secure app, called ArriveCAN, that allows travellers to fill out the isolation document prior to arrival using their smartphone. Plexiglass barriers have also been installed in the CBSA area to help limit person-to-person contact.
Going forward
Toronto Pearson isn't done making enhancements to protect passenger and employee health. As government restrictions on air travel begin to be lifted and flights increase, the airport knows it will be even more important to have the right measures in place to keep passenger and traveller health the priority and to build confidence in flying in a post-COVID-19 world.
Toronto Pearson isn't done making enhancements to protect passenger and employee health"
As Flint said: "Everyone who works at Toronto Pearson is dedicated to playing a leadership role in fulfilling the health protection measures and adapting quickly to changes and future standards. We are dedicated each day to providing the pathway for Canadians who are dreaming of the day they can travel again."