Bengaluru Airport introduces F&B and retail COVID-19 safety measures
The heightened safety measures include an emphasis on contactless service, ensuring that passengers can travel safely during the COVID-19 pandemic.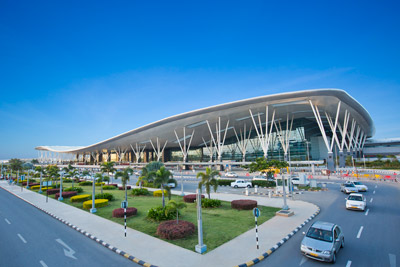 Bangalore International Airport Limited (BIAL) – operator of Kempegowda International Airport Bengaluru (BLR) – has announced that it has introduced heightened safety measures to ensure that food and beverage (F&B) and retail outlets are safe for passengers during the COVID-19 pandemic.
All retail stores will follow stringent hygiene measures, including fumigation and sanitisation. The staff and passengers will be screened on entry and a safe distance between staff and customers will be ensured. Passengers will be encouraged to use digital payments.
Measures include: Pre-ordering food to minimise waiting time; seamless takeaway or at-location delivery; contactless payments; and ensuring superior training of hygiene standards for all staff. All F&B outlets have contactless options to help travellers avoid unnecessary human contact at outlets and eliminate queues by pre-ordering through their smartphones.
Both food and beverages can be pre-ordered in a multitude of ways, including through the airport's website, by using self-ordering FSTR kiosks or by scanning the QR code displayed throughout the terminal, with the option to have it delivered to a location of the passenger's choice. Payments can also be made digitally at the time of placing the order.
As an environmentally-conscious organisation, BIAL has placed special emphasis on packaging materials that are eco-friendly. Food will be packed in hygienic biodegradable containers that could easily be carried into the aircraft.
As part of the new hygiene procedures, staff will be equipped with masks and gloves and have been trained to maintain a safe distance whilst attending to customers. The menus will be entirely digital, as well, for the convenience of passengers. Cutlery and crockery will be sterilised after every use.
Other measures that have been implemented include:
Strict standard operating procedures have been laid out for staff working at the outlets, including temperature checks and screening
Disinfecting all food contact surfaces after every use
Stores will be sanitised thoroughly every 30 minutes
Groceries will be brought in after thorough cleaning
It will be mandatory for staff at the dishwashing section to wear gloves to avoid contamination
Food waste will be properly segregated in the bins and disposed responsibly
All kitchenware will be sterilised after every use
The temperature of the food in bain-maries will be monitored regularly
Staff have been educated on hand washing norms, as per the Food Safety and Standards Authority of India (FSSAI) guidelines
Employees from hotspot areas to be de-rostered
Complimentary hot water will be available across all outlets.