Aviation is a dynamic industry, says CEO of Lithuanian Airports
Marius Gelzinis, CEO of Lithuanian Airports, discusses the impact of COVID-19 on the operator's airports, as well as what the future of aviation looks like, in the latest instalment of International Airport Review's CEO series.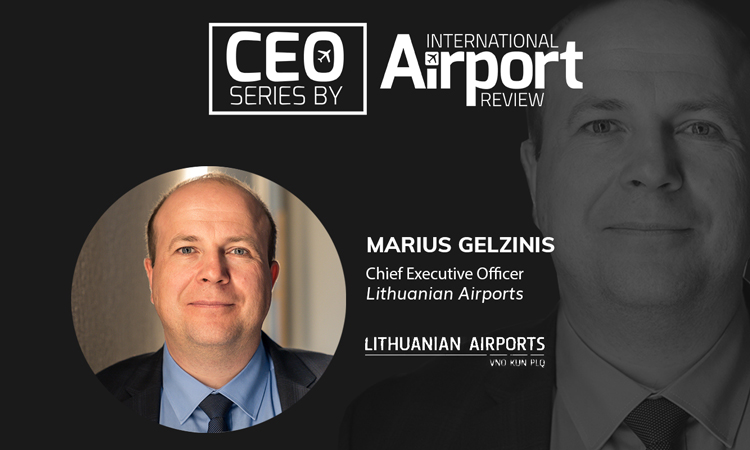 How did your career in the aviation industry begin?
I started my working career as an engineer of medical equipment. Later on, I simultaneously worked at two jobs, one of which involved working as a check-in agent at Lithuanian Airlines, the national carrier at the time. There, I learned how an airport works and fell in love with aviation. I realised this was the field I wanted to work in, and I left my previous position in medicine and focused all of my attention on aviation.
Before becoming the CEO of Lithuanian Airports – the state enterprise that unites and manages Vilnius International Airport (VNO), Kaunas International Airport (KUN) and Palanga Airport (PLQ) – I was the Head of Palanga Airport. That is why, I believe, I am well acquainted with the organisation I now lead.
What is the most rewarding aspect of being an airport CEO? On the other hand, what is most difficult?
My greatest motivator is having important responsibilities to manage and difficult decisions to make, both of which can cause ripple-effects in the aviation industry. It is a great opportunity to foster creativity, teamwork, challenge your colleagues and see how tasks are completed. It is a privilege to be able to impact the results of the company and watch it grow.
Coming to terms with losses that are caused by external factors is the hardest – take crises as an example. For me, it is hard not to take these issues personally.
Can you give us an overview of the three most exciting developments currently happening at your airport?
Currently, multiple infrastructure projects are planned and already under way at Lithuanian Airports. The projects include: Enhancing flight safety by reconstructing one apron at Vilnius Airport; renovating existing taxiways; and modernising the passenger terminal. Moreover, we will expand the passenger terminal of Kaunas Airport and renovate the runway and apron of Palanga Airport. These are the projects we have already started.
What is the biggest challenge your airport is having to tackle?
Most airports around the globe are being affected by the ongoing COVID-19 pandemic. Without a doubt, the loss of passenger numbers is one of the greatest challenges for airports to date. Other challenges also arise amid the pandemic – maintaining financial balance, securing existing work positions, continuing necessary expansion projects, investing into safety procedures and equipment and so on. For us, retaining all of our existing staff is key. On the bright side, so far, we have managed to successfully overcome these challenges.
At this moment in time, what do you see as the biggest disruptor to the aviation industry?
I would say that the uncertainty about the near future and the situation globally is the greatest challenge. Aviation is a global industry, so we are very dependent on how countries around the world cope with the challenges brought by the pandemic.
In your opinion, how does the aviation industry need to adapt to secure its place in the future?
Aviation has already shown countless times that it is an important part of our lives. Mobility will remain one of the most important aspects of current and future times. It is very likely that, in multiple spheres, we will see new safety measures and processes developed, but I do not see that as a roadblock for aviation. We work in a very dynamic industry that is able to adapt and does so very fast.
What does the future of the aviation industry look like to you?
I think that aviation will continue to dominate as the fastest mode of transportation. Of course, aircraft and airports will become more and more modern. I do not rule out that, someday, airports may transform into places only for aircraft to take-off and land, whereas all other procedures will be done at home or on the go. Without a doubt, the industry will its face ups and downs – that is natural, since generations and behaviours change over time. But people will continue to travel, and as long as they do so – and aviation remains the fastest means of transport – I am sure that airports, in one way or another, will remain relevant.