Future air transport will be exciting, says San Francisco Airport Director
As part of International Airport Review's exclusive CEO series, San Francisco International Airport's Director, Ivar Satero, emphasises the importance of an airport's local community and the significance of sustainability.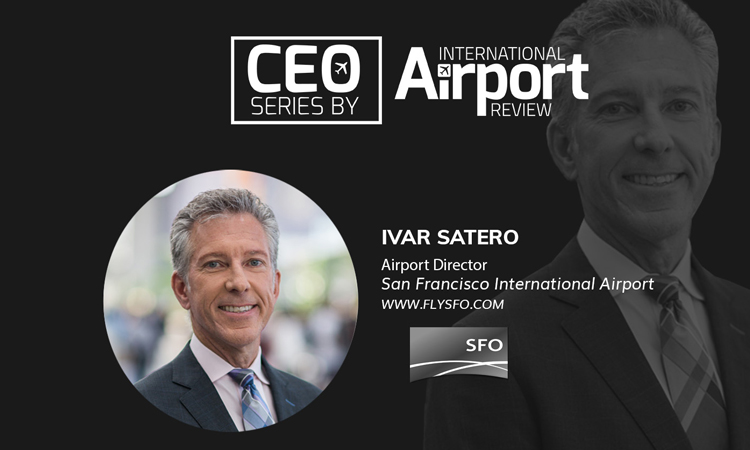 How did your career in the aviation industry begin?
My aviation career truly began in 1994, when I joined San Francisco International Airport (SFO) as a Project Manager, leading programmes under the airport's $3 billion Master Plan expansion programme. My responsibilities included transit projects, such as the creation of the AirTrain light rail system and the San Francisco International Airport station for the Bay Area Rapid Transit (BART).
Although this was my first aviation position in my professional career, aviation always held a fascination for me. I grew up in a city adjacent to San Francisco International Airport, so you could say I grew up around aviation, and I received my private pilot's certificate in my early 20s. Although I hadn't flown in 30 years, during 2019 I began to do so again, and will continue to enjoy aviation on a personal level.
What is the most rewarding aspect of being an airport director? On the other hand, what is most difficult?
Running an airport is truly a team sport; it requires the engagement of so many different players, from different companies, organisations and agencies. Operating as one team is a tremendous challenge, since every group has their own structure, objectives and goals. But putting in the hard work to collaborate as one towards a common goal is tremendously rewarding, and I'm very proud of how our airport community truly is one team.
Can you give us an overview of the three most exciting developments currently happening at San Francisco International Airport?
There are a lot more than three exciting developments but, if I had to choose, I would say firstly our $7.4 billion Capital Plan, comprised of a series of projects that will truly deliver a world-class airport experience for our guests. We are currently at the peak of investment in this programme, which has already delivered an iconic new air traffic control tower, the Grand Hyatt at San Francisco International Airport, the first phases of Harvey Milk Terminal 1, and ongoing improvements to Terminal 3 and our International Terminal.
Secondly, our sustainability efforts, which continue to position San Francisco International Airport as an airport industry leader in this field. We have set an ambitious goal to be the first airport in the world to achieve what we call 'triple zero' – meaning zero waste going into landfill, a net-zero energy airport campus, and carbon neutrality. We've already implemented some ground-breaking initiatives to support these goals. In 2019, we became the first U.S. airport to prohibit the sale of bottled water in plastic packaging. We also achieved the first certified net-zero energy airport facility in the world, and signed a landmark agreement with airlines and fuel suppliers to advance the adoption of sustainable aviation fuel (SAF), which emits 30 per cent less greenhouse gasses than traditional jet fuel.
Thirdly, our service to communities around our airport, including programmes to make San Francisco International Airport accessible to small business owners in the San Francisco Bay Area. We are creating pop-up retail concepts that make it easier for these businesses by San Francisco International Airport developing move-in ready spaces that reduce the initial build-out costs. We're also working to reduce the noise impact that our operations have on surrounding communities, by expanding programmes to provide noise insulation to nearby homes, and investing in new technologies that could allow aircraft to fly higher or further offshore from communities around San Francisco International Airport. We also created our 'SFO Unites Against Hunger' food donation programme, which partners with web-based marketplace Waste No Food to connect airport restaurants who have excess food to donate with local charities in need of such resources. Lastly, supporting Mayor London Breed's Opportunities for All campaign. This programme provides internships for City of San Francisco high-school-age kids from the most disadvantaged areas of our city. During 2019, the airport, along with our airlines and service providers, employed 300 high-school kids in meaningful jobs at San Francisco International Airport. This, again, speaks to our one team culture.
What is the biggest challenge San Francisco International Airport is having to tackle?
Our biggest challenge is meeting growing passenger demand in the future with little to no room for expansion. San Francisco International Airport is bounded on one side by a major highway, and by the San Francisco Bay on the other. This requires us to make very efficient use of the space we have.
At this moment in time, what do you see as the biggest disruptor to the aviation industry?
Technology can be both a disruptive, and an enabling, force, and airports must be ready to respond to the changes that technology can bring. San Francisco International Airport was the first airport in the U.S. to permit app-enabled transportation, like Uber, to operate. It also required us to create our own mobile app to allow our staff to track and monitor this ever-growing activity. As of February 2020, we received our U.S. patent on the technology we developed in-house to manage these operations. Also, drones, autonomous vehicles and urban air mobility will soon evolve and mature to the point where they must be integrated into existing airport operations.
In your opinion, how does the aviation industry need to adapt to secure its place in the future?
I believe that regions served by multiple airports, like the San Francisco Bay Area, will need these airports to work together to plan for the future growth of air traffic in the area. Space will continue to be a challenge, and building a completely new airport is very expensive. It will become more important with increased congestion, and the community issues that arise, that regional political bodies take up the challenges of serving their regions with air service for the long term. As any major infrastructure project, like a new airport, will take 15 years to accomplish, it is the time for airport leadership to advocate to these political bodies the need for long-range planning. 
What does the future of the aviation industry look like to you?
I believe the future of air transport will be very exciting. Travel will continue to get safer, aircraft will get quieter, carbon emissions will continue to be reduced and the experience for passengers will continue to improve. I also believe that other modes of transportation, like high-speed rail, will emerge as an effective alternative to air travel, especially in short-haul markets. Regarding carbon emissions, I'm hopeful that more airport and airline leadership emerges which focuses on the advancement of SAF development and influencing state and federal legislation to support this. This is a critical step for the future health of aviation, as more and more communities demand an improvement in quality of life issues caused by the air travel industry.
Ivar C. Satero was appointed Airport Director of the San Francisco International Airport on July 21, 2016. Satero began his career with the airport in 1994, managing projects of the airport's $3 billion Master Plan Expansion Programme. From 2003 to 2014, Ivar served as Deputy Airport Director for the Design & Construction Division, overseeing the implementation of the airport's Capital Improvement Program (CIP).  In April 2014, Satero was appointed as Chief Operating Officer. 
Satero currently serves on the Board of the San Francisco Travel Association and on the Executive Committee of the Bay Area Council. He is the current Chair of the Gateway Airports Council, ans is also President of the Board of the International Partnering Institute. 
Satero has a Bachelor of Science degree in Mechanical Engineering from San Jose State University and an MBA in Finance from San Francisco State University.  He is a Registered Professional Engineer in the State of California. He also holds a private pilot's license.
If you are a Chief Executive Officer, General Manager or Director of an airport and would be interested in participating in this series, please contact Leah Hockley, Junior Editor of International Airport Review.