Vienna Airport smashes 30 million passenger barrier
Another stellar performance was recorded by the Vienna Airport Group in 2019, with a record-breaking set of traffic results seeing the group's airports approach almost 40 million annual passengers. However, its rapid growth is being managed in an environmentally-sensitive way, as its Austrian hub significantly reduced its energy consumption per passenger during 2019.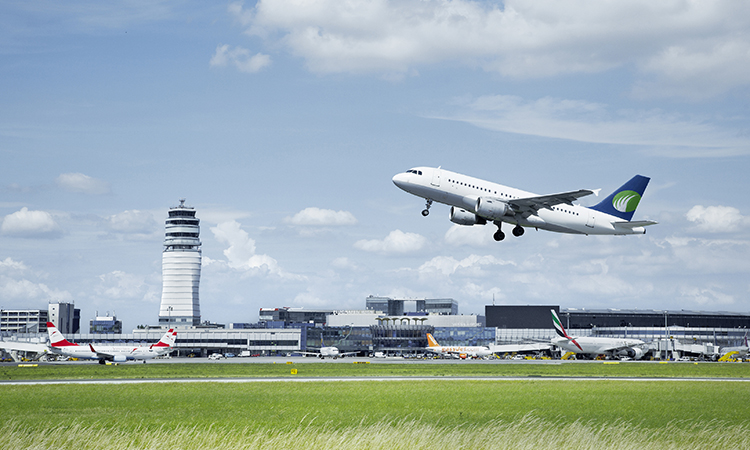 For the first time in its history, Vienna Airport – the gateway which serves the geographical centre of Europe – did not just break through the 30 million barrier in 2019, but smashed it, as a massive 17.1 per cent growth spike pushed last year's annual throughput figures up to 31.7 million. However, after such rapid traffic increases comes slower growth, as a restriction on peak time slots will limit the airport's anticipated growth for 2020 into the three to five per cent range. In order to unlock the future expansion potential of the Austrian capital city hub, the airport's plans for a third runway, due to open no earlier than 2030, are more critical than ever.
"Vienna Airport handled more than 31 million passengers in 2019 for the very first time," explained Julian Jäger, Member of the Management Board of Vienna Airport. "As a result, we rank among the 20 busiest airports in Europe. Following the discontinuation of operations by the Air Berlin Group, the catch-up effect on the part of low-cost carriers which began in 2018 will level off. We anticipate a significantly lower passenger growth rate of three to five per cent at Vienna in 2020."
Long-haul lifts off – again!
In 2019, Vienna was served by 77 airlines, offering flights to 217 destinations in 68 countries. Local passenger traffic developed positively in 2019, rising by 20 per cent versus 2018, while transfer traffic increased by 7.6 per cent.
Drilling down into the passenger traffic detail, the airport's long-haul routes, once again, had a positive impact on last year's performance, as a result of the new flight connections and frequency increases from its serving airlines. Leading the pack was North America, which set a blistering pace in 2019 for the other global regions to follow, growing by 30 per cent year-on-year. However, not far behind was Africa, which delivered an almost as impressive result of 22 per cent annual traffic increase. The Middle East and Far East were far from sluggish, both posting double-digit improvements of 16 and 13 per cent, respectively.
Away from intercontinental markets, traffic to Western Europe saw a 15 per cent improvement to 10.7 million passengers, with volumes to Eastern Europe rising even faster, by 22 per cent, to 2.8 million. The highest number of passengers to any single destination was provided by London with 707,237 departing passengers, followed by Frankfurt (562,166) and then Berlin (514,974). Bucharest was the number one Eastern European destination, attracting 312,843 departing passengers, ahead of Moscow (301,126) and Kiev (250,744). Bangkok was the most popular long-haul route, attracting a total of 178,010 passengers, ahead of Taipei (131,829) and Tokyo (108,814).
The air freight business at Vienna felt the effects of a global slowdown in air cargo, like many other airports in 2019, as the airport reported a total cargo volume (including trucking) of nearly 284,000 tonnes; a 3.9 per cent decrease when compared to 2018.
Vienna Airport Group's (VAG) other airports also delivered strong performances, with the three facilities processing 39.5 million passengers (15 per cent increase) combined. Malta Airport again reported record traffic results, handling over 7.3 million passengers (7.4 per cent increase), while VAG's Slovakian investment, Kosice Airport, processed over 555,000 travellers in 2019, up by 2.9 per cent.
More modest 2020
With an eye on the rest of 2020, Jäger clarified where he feels that this year's limited traffic growth is likely. "From today's perspective, initial impetus to growth is likely to be provided by the launch of the service to Boston by Austrian Airlines, and new shorthaul and medium-haul flight connections offered by Belavia, Lauda, Wizz Air and other airlines." Belavia will resume its Minsk service to Vienna on 29 March 2020 with a daily E175 sector – a route which it last operated in 2002. Wizz Air has recently announced the addition of London Luton, Castellon, Alghero, Corfu, Faro, Podgorica, Saporischschja and Suceava from July.
In spite of the higher number of passengers, the gateway succeeded in improving punctuality in collaboration with Austrian Airlines, said Jäger. "Vienna was the third most punctual airport of its class in Europe in 2019, and 15th in the world. This shows that our quality enhancement measures are having a positive impact, and we are resolutely moving ahead with our efforts to become a five-star airport." The airport has embarked upon a four-year journey, which, once complete, will hopefully deliver this much sought-after industry accolade.
Improving the airport's infrastructure is key to delivering the top SkyTrax rating. "Our terminal development programme is an essential element in this regard and is already well under way. The modernised Terminal 2 will open at the end of 2020 and, starting in 2023, the modernised Pier East and new Southern Enlargement project will offer passengers a new, high-quality experience for them to linger, shop and eat," confided Jäger.
Green credentials
While Vienna's growth has been meteoric of late, in an age of 'flygskam', the airport is aware of improving its green credentials. With that in mind, last year Vienna reduced its energy consumption per passenger by more than 20 per cent and succeeded in cutting back on CO2 emissions. A large-scale photovoltaic initiative will be launched, starting in 2020, when more than three million kWh of electricity will be generated – in the coming years, this will be increased to about 30 million kWh. "Vienna Airport will be CO2 neutral before 2030. Our objective is a clear one – to become the leading green airport in all of Europe!" concluded Jäger.