Delivering a smart solution for automated border control
As airports prepare to fulfil the new security and data collection requirements outlined by the EU, Chris Gilliland, Director of Innovative Travel Solutions within Vancouver International Airport, talks about how automated, self-service border control solutions must be considered.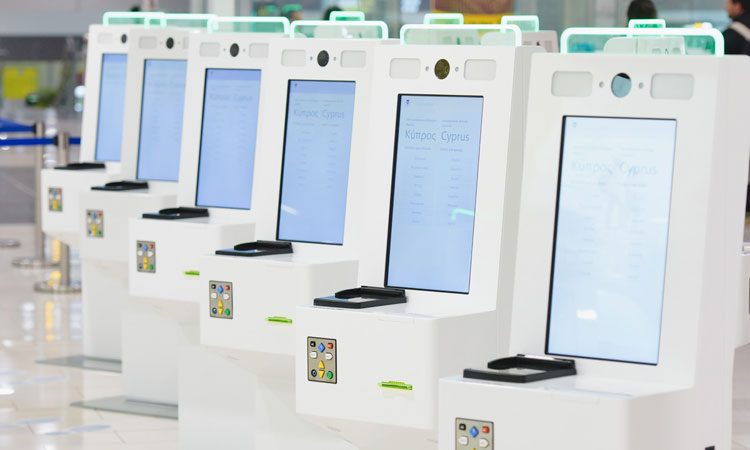 Across Europe, border agencies, governments and industry decision-makers are faced with a major challenge: To evolve and innovate border management amidst increasing passenger traffic and changing government regulations.
According to the European Commission, 887 million travellers are expected to cross into the EU by 2025. With the exponential increase of traveller volume, the EU is implementing an Entry/Exit System (EES) to enhance security at border crossings.
Self-service kiosks are an adaptable and effective solution for those who recognise the importance of future proofing and can play a critical role in navigating changing regulations.
Smart border initiative
The EES is a part of the Smart Border package introduced by the European Commission. It will be fully operational in all the Schengen countries by the end of 2021. The Schengen Area is comprised of 26 European states that have officially abolished all passport and other types of border control at their mutual borders. The main purpose of the EES is to register data on entry, exit and refusal of entry of third-country nationals crossing the external borders of all Schengen member states through a central system. The additional handling processes associated with biometric data collection, paired with increased passenger volume, may lead to increased wait times, impacting the overall traveller experience.
Lack of space and resources required to undertake the critical security screening of passengers is a key issue impacting border control worldwide. At Innovative Travel Solutions (ITS), the team at Vancouver International Airport (YVR) strongly believe that kiosk technology is the way forward.
Self-serve kiosks
To keep pace with the increasing demand for air travel and evolving government regulations, automating border control is the smart solution. Over 10 years ago, we developed an end-to-end border control solution that uses self-service biometric-enabled kiosks to expedite the border control process. We implemented this solution first at YVR in 2009 and saw incredible success, reducing passenger wait times by more than 60 per cent.
Through automating administrative functions, airports can increase efficiencies, minimise interventions and deliver outstanding passenger experiences, all without compromising security screening and border control. Self-serve kiosks provide a modern and efficient experience and are a smart choice for airports and governments as they help to reduce overall operating costs and allow airports to expand passenger traffic without having to add additional space or staffing resources. In fact, we have managed to increase our arriving passenger traffic at YVR by over 200 per cent without having to expand our immigration facilities or add resources.
Self-service kiosks benefit both passengers and border control agencies alike. In a recent whitepaper by InterVISTAS, a study concluded that the use of kiosks for border control significantly outperforms traditional immigration processing with a border officer. For airports operating existing eGate technology, a hybrid model can be deployed to maximise efficiencies. A hybrid approach combines the use of eGates for passengers who are eligible to use them, along with a two-step kiosk process for non-eligible passengers that may require interaction or user input, such as third-party nationals. Using a hybrid combination of eGates and kiosks can reduce overall border control time by 81 per cent for all passenger types – a superior solution to the traditional booth and eGate model.
The kiosks are simple and efficient, and they provide better exception handling, are fully accessible to passengers with reduced mobility, and can be set up with all required languages. They are also highly intuitive and can process any passenger, including families travelling as a group.
The entire process takes place in a safe, secure and monitored environment. The typical entry process will have travellers select their language, scan their travel documents and answer a few simple questions. The kiosk captures biometrics if needed, such as an image of each passenger's face which can be compared with and verified against the photo in their electronic passport or a scan of their fingerprints. The kiosk then produces a token that is either printed off or sent electronically to the border control agency for them to make the final decision on entry.
Experience matters: Delivering smart solutions
After seeing great success in airports across North America and the Caribbean, in July 2018 74 kiosks were implemented at Pafos International Airport and Larnaka International Airport in Cyprus. This represented the first implementation of permanent kiosks for Entry and Exit border control in the European Union and was a major milestone. Initial feedback from both airports shows that lines have essentially been eliminated and there are positive results across several key customer satisfaction metrics.
Following this, a six-month pilot programme was launched at Keflavík International Airport in June 2019 to simulate the impending requirements of the EES. The pilot will yield information for airport operator Isavia that will make the process easier for when the EES regulations are fully implemented.
This illustrates that European airport operators have tremendous potential to utilise this technology given their growth in population, increase in air travel frequency and growing concerns over border security. Our unique airport perspective as well as our demonstrated experience as a trusted partner in over 43 airport, seaport and onboard sites globally – and having helped more than 250 million passengers safely and securely clear the border – ensures we are positioned to guide airports and governments as they prepare for EES.
Built with today's passenger in mind and the capability to evolve with the airport experience of tomorrow, it's time to think smart and innovate with an adaptable and effective process for border control.
Biography

CHRIS GILLILAND is the Director of Innovative Travel Solutions within Vancouver International Airport (YVR), specialising in delivering industry-leading travel technology to transform the traveller's experience.