One million passengers have used Birmingham Airport's self-service bag drop
Birmingham Airport has 61 SSBD kiosks available, with 52 that allow passengers to print boarding cards and check-in, and nine that allow them to inject their bag.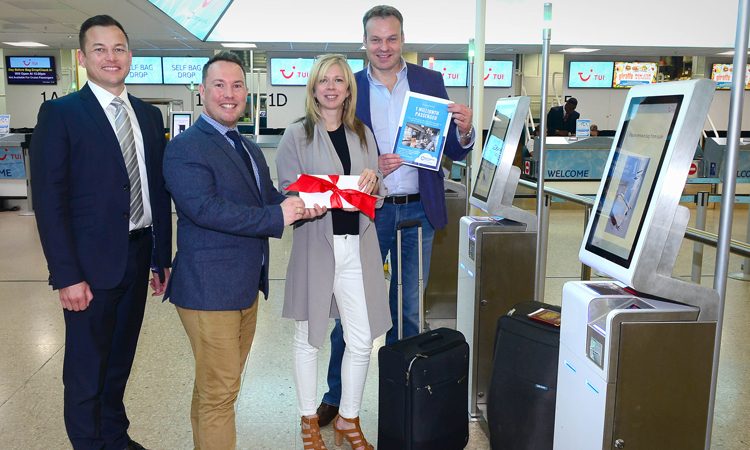 From left: Andrew Thompson, Primary Airports Manager for TUI UK, Stuart Haseley-Nejrup, Head of Customer Experience at Birmingham Airport and passengers Niki Poyner and Giles Poyner from Coventry
Birmingham Airport has witnessed the one millionth passenger using its Self-Service Bag Drop (SSBD) – the automated self-service bag drop technology officially launched across the airport in January 2018.
Designed to reduce passenger check-in times, SSBD allows passengers to print bag tags and boarding passes and inject their bag into the baggage system using a simple, customer friendly user interface. The SSBD service has decreased queue times, increased customer satisfaction and provided an improved customer experience whilst allowing staff to support passengers who might need assistance elsewhere.
Chris Wilson, Head of Capacity & Performance at Birmingham Airport, said: "We are always looking into ways to make our passengers' journeys as seamless as possible. This is something which is not only important from the very moment a passenger enters our terminal doors, but also to the very moment they leave.
"This is especially significant as passengers are looking for ways to enable them to control their own travel experience more than ever. Whether this be through apps where many airlines allow passengers to check in prior to reaching the airport for example, or through using systems like the ePassport gates providing an automated route through the UK Border."
At the bag drop point, passengers place their bag on the scales to start. They are then prompted to scan their boarding pass where a set of instructions are displayed on the screen. Each tag will have any details of connecting flights, priority or heavy bag information automatically printed, along with a receipt.
Anna Rusted, TUI UK's Director of Operations, said: "We are very excited that a TUI customer is the one millionth passenger to check in using the Self Service Bag Drop at Birmingham Airport. Our bag drops are very popular with our customers who can enjoy the benefits of easy-to-operate technology allowing them a quick and smooth check-in process. Working with Birmingham Airport we aim to deliver an effortless airport experience for all customers flying with TUI."