Major maintenance will see the runway at Schiphol closed for six weeks
The runway at Amsterdam Airport Schiphol will be closed for works on the taxiways, markings and lighting; flights will redirect to other runways to ensure as little disruption as possible.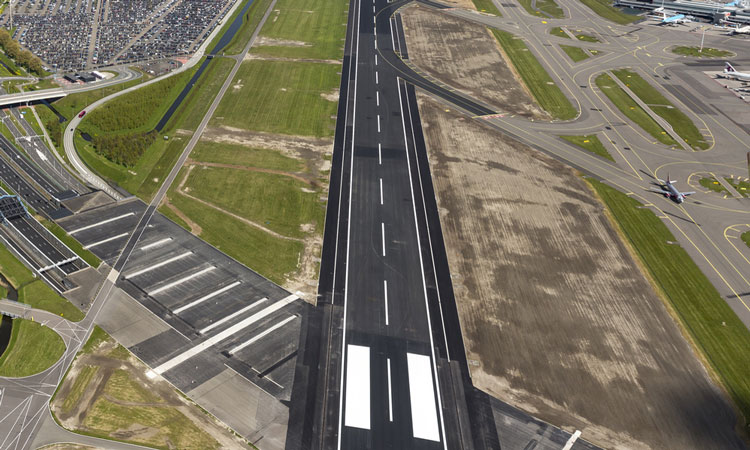 Amsterdam Airport Schiphol will see runway 18C-36C closed for scheduled maintenance between 10 March – 21 April 2019. During this maintenance work, runway 18C-36C will be closed to air traffic and aircraft will need to take other flight routes to and from Schiphol. To ensure that this period does not last any longer than strictly necessary, Schiphol will be carrying out various maintenance works on the runway, taxiways, markings and lighting simultaneously.
Modified runway allocation during maintenance work
While runway 18C-36C is closed for the maintenance work, air traffic will use runway 09-27 flight routes more frequently, depending on weather conditions. In very exceptional cases, aircraft may need to use runway 18L-36R during night-time hours. Schiphol has agreed with the municipality of Aalsmeer and residents' associations that aircraft will only be allocated to runway 18L-36R if runway 06-24 cannot be used owing to weather conditions. Such a situation is not expected to occur more than once or twice. The Ministry of Infrastructure and Water Management has granted an exemption for the change in runway use.
Following the end of the major maintenance work on runway 18C-36C, sweeping work is scheduled to take place over10 nights in the period from 21 April – 9 May. The effect of these activities is expected to be minimal on runway use given that runway 18C-36C is not used frequently at night.
Scope of the work
As part of the maintenance performed on runway 18C-36C, Schiphol will be renewing asphalt, markings, lighting and cabling. Runway lighting is to be replaced by sustainable LED lighting wherever possible. Amsterdam Airport Schiphol will be carrying out these activities in collaboration with Heijmans. Around 200 employees working in different crews 24-hours a day will ensure that runway 18C-36C is not closed any longer than is strictly necessary.