Gatwick becomes first UK airport to open sensory room
The new, free-to-use sensory room provides a calming space for passengers with special needs to relax in before their flight.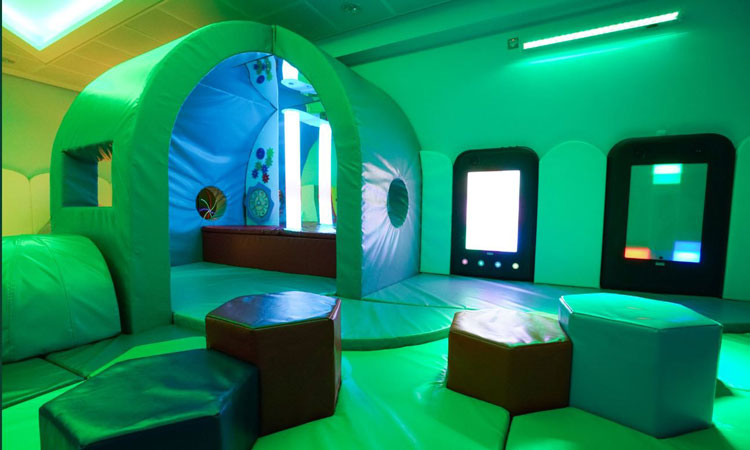 Credit: Twitter - @Gatwick_Airport
London Gatwick has announced it is the first UK airport to open a sensory room for its passengers, offering a relaxing, private and fully interactive environment to calm people who may feel overwhelmed in busy and unfamiliar airport surroundings. 
The new space in the North Terminal has been designed for passengers with autism, dementia, cognitive impairment or other special needs who would benefit from a designated place to help them feel at ease before their flight.
Passengers using the sensory room have the option to transform it from a calming and relaxing environment to a stimulating interactive space full of light and sound with just the flick of a switch.
The 'chill-out zone' for those needing calm includes floor cushions, bean bags and digital display panels, which generate colourful visual wall features. The separate 'interactive zone' stimulates the senses through tactile panels, textures and a game to improve memory, motor skills and encourages learning.
Activities to experience in the room include:
Catherine Wheel Panel – colour and sound displays including firework effects
Abstract Tactile Panels – raised and recessed fluid shapes in contrasting textures
Colour Match Panel – classical music, mood lighting, and game to improve memory, colour recognition and motor skills
Sound to Light Showtime – sounds converted into a dazzling light show of colour
Waterless Rainbow Tube – colour wheel with both calming and stimulating effects
Interactive Giant Causeway – step on each segment to activate colourful lights
Activity Board – activities encouraging motor movement, coordination and sensory skills
Infinity and Beyond Panel – visual and auditory effects using range of shapes, sounds, patterns and speeds
The free-to-use room is available only to departing passengers and their families or carers, who can book a 45-minute session at the North Terminal's special assistance desk after they've gone through security.
The desk is part of a new airline lounge style area, which opened earlier this year for passengers who require special assistance – one of the biggest of its kind in any European airport.
The special assistance area has capacity to seat up to 90 people and has been designed with a premium lounge feel, providing bespoke chairs and soft furnishings to provide a quiet, calm environment for passengers to relax in before their flight.
Gatwick Airport's Head of Terminal Operations, Andy Pule, said: "We recognise airports can be stressful environments for some passengers, which is why we are extremely proud to offer this new space for them to relax in and enjoy before their flight. Gatwick is committed to providing passengers who have a disability of any kind with the support and services required to ensure their time at the airport is as comfortable as possible and this remains a key area of focus for the airport."
Chief Executive of the National Autistic Society, Mark Lever, said: "There are around 700,000 autistic people in the UK and they and their families want to access the same opportunities others often take for granted, and this includes holidays and travel. But many rely on routines to make sense of an often confusing world and can find the busy and unpredictable airport and flight environments distressing and disorientating. This is why we were delighted that London Gatwick, who achieved our prestigious Autism Friendly Award in 2016, have gone a step further and created a fantastic new sensory room for autistic travellers. A calming space like this can help autistic people to decompress and relax before departure, helping them to better manage their anxiety during the flight. Supportive spaces like these play an essential role in opening up the world for autistic people and their families."
Autism Ambassador for Gatwick Airport, Maria Cook, said: "I cannot thank the whole team involved in this project enough for making it a reality. Working closely with Gatwick I explained the vast benefits of having such a wonderful facility available and the positive impact it has for people with complex conditions and their families and they did not hesitate to create something very special indeed. It is the most amazing Sensory Room I have ever seen. To have somewhere like this to explore and reduce anxieties before boarding a flight for someone with Autism, Dementia, a learning difficulty to name but a few conditions, is so important for the person themselves, their carers and accompanying family and it could very well make the difference between someone actually getting on the plane or not at all because it had become too stressful."