car2go expands its services to Amsterdam Airport Schiphol
It is hoped that having car2go at Schiphol Airport will improve accessibility at the airport while providing a sustainable and flexible car sharing service.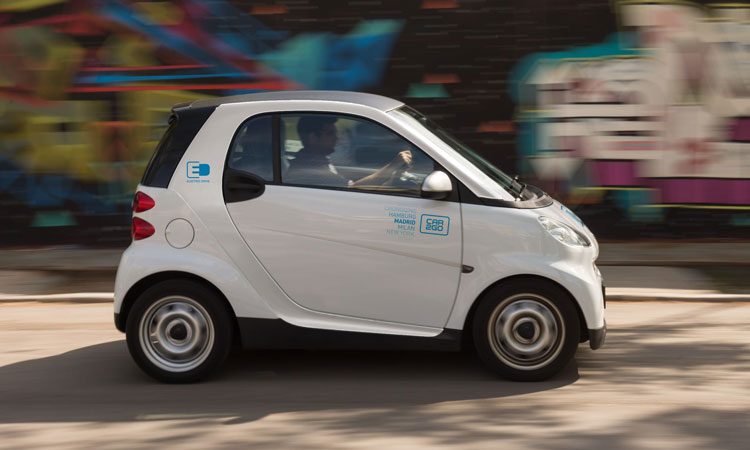 With the opening of 16 parking spaces with eight charging stations in the public parking garage of the World Trade Center at Schiphol, Amsterdam car2go customers from now on can take or park an electric smart fortwo at Schiphol Airport 24/7. Users who want to park or pick up a car2go car find the new hub at walking distance from the terminal. To enter or leave the parking garage easily, the gate opens automatically by recognising the license plates of the car2go cars.
For the first time free-floating car sharing is operating with a fleet of 350 electric smart fortwos in Amsterdam. The opening of the parking hub at the airport is a big milestone for the company and its 63,000 customers.
Oliver Reppert, CEO of car2go said: "For us, Amsterdam is a very important and future oriented market. It is one of our three fully electric operated locations and we are very happy to see how more and more people in Amsterdam are convinced of our sustainable and flexible car sharing service. car2go is determined to offer users the best and most comfortable experience. It is therefore only logical that we steadily expand our services. We are very proud that, in addition to the cooperation with the municipality of Amsterdam and Amstelveen, we now have a new partner with Schiphol to serve members who live, work or travel in Amsterdam."
Dieme Ketel, Senior Manager of Parking & Mobility Services at Amsterdam Airport Schiphol said: "It is important for Schiphol to be easily accessible. We are always interested in new opportunities to further improve our ability to meet travellers' wishes and needs – and in offering a wide range of services. We attach great value to facilitating collective and clean transport, so car2go is more than welcome at the airport. We are delighted with this partnership, as it will enable us to provide travellers, employees and visitors with an additional transport option.
The expansion makes the possibilities for national and international users of car2go a lot bigger. Schiphol is the second hub – after Stadshart Amstelveen – outside the ring of Amsterdam where customers can start or end their car2go rental.
In Amsterdam, the regular rate of car2go is €0.31 per minute, including insurance, parking and charging costs within the home area. As with other car2go airport hubs, there will be an additional fee at Schiphol of €8.90 per trip.
By opening the car2go parking hub at Amsterdam Airport Schiphol, car2go customers can now start or end their rentals at the airports of 13 cities in Europe. Dutch customers using car2go regularly at home, do not have to go without it during vacation or business trips, whether it is in Austria, Germany, Italy or Spain. However, if using car2go transnationally, the users just have to accept the local terms and conditions.