Aviation Minister visits development of Aberdeen International Airport
Baroness Sugg has visited Aberdeen airport as new development continues. Due to open Q3 of 2019, it has a "particular commitment to making flying more accessible for those with disabilities."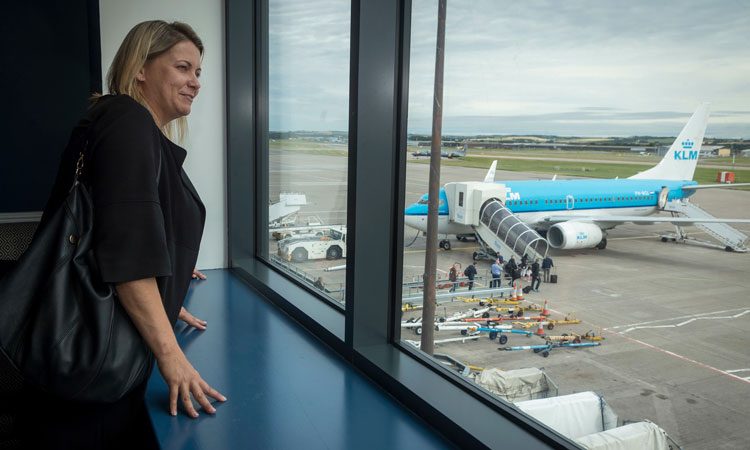 Aviation Minister Liz Sugg visited Aberdeen International Airport to take in the most recent developments in the airport's multi-million terminal transformation project.
The Minister met airport employees and received a tour of the new security search areas, as well as updated retail, baggage reclaim and international and domestic arrivals. She was also updated on the progress of the final phase of the project, due for completion in Q3 2019.
The final phase will see further retail and food outlets, increased space within the departures lounge and the introduction of new restroom facilities, including an adult changing area. 
This spacious new changing room contains a height adjustable bench and hoist, allowing passengers who cannot use standard accessible toilets to use the facilities in safety and comfort. The facilities are earmarked for an official opening next month.
The airport was recently awarded a 'very good' rating from the CAA's latest accessibility report, highlighting the airport's work with local organisations to implement measures to assist passengers with hidden disabilities.
The airport team also highlighted the potential opportunities that could come with the opening of the Aberdeen Western Peripheral Route (AWPR) later this year.  The 36-mile stretch will shave off approximately 30 minutes travel time to the airport from the south of Aberdeen.
Aviation Minister Liz Sugg, said: "Aberdeen airport plays an important role in opening up the Highlands for tourism, trade and leisure travel opportunities, as well as supporting thousands of jobs locally. The recent investment in the airport has significantly improved the passenger experience, which sits at the heart of the Government's aviation strategy. I was particularly pleased to see their commitment to making flying more accessible for those with disabilities through the introduction of the adult changing area, which helped show why the airport deserved it's recent 'very good' rating on accessibility"
George Cowie, Head of Security and Terminal Operations at Aberdeen International Airport led Aviation Minister Liz Sugg on the tour and said: "We're proud to showcase our recent developments with the Minister today and were able to explain how our revitalised airport will improve the overall customer experience, throughout every step of their journey. We explained to the Minister that the AWPR presents an exciting opportunity for us, to encourage potential passengers from the north and south of the city to come to airport for business or leisure purposes. As a region we're going through some exciting regeneration and investment in infrastructure and we are a key part of the jigsaw.  We look forward to an exciting new chapter in the airport, and the north east of Scotland's future."