Queue times continue to be longer than expected at UK border control
Queue times at border control are longer than passengers expect to wait, in recent report by ComRes. As border force is under funded, and passenger numbers increase, the problem is going to get worse before it gets better.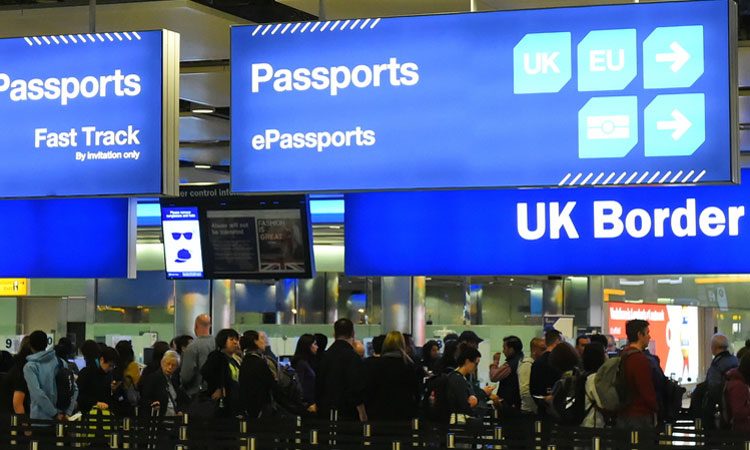 UNDER FUNDED: passengers expect to wait no longer than 12 minutes in a queue at the UK border.
The summer holidays have officially started and there is a fear that queue times the UK border will continue to increase as the number of passengers continues to grow. 
A survey conducted by ComRes revealed that UK and EEA passport holders expect to wait no longer than 12 minutes at passport control, while 25 minutes was considered an acceptable time for non-EEA citizens. 
However, these numbers do not reflect the reality of waiting at UK border control. The survey found that UK and EEA passengers waited 25 minutes (95 per cent of the time), while non-EEA citizens experienced waits of 45 minutes. 
Currently, border control struggles to meet the expectations of the passenger. As summer comes into full swing this difference between reality and expectation is only going to increase.
Passenger numbers have grown by nearly 25 per cent between 2012/13 and 2016/17, while Border Force's budget has declined by 8.5 per cent. This means, that particularly during peak travel seasons, such as the summer holidays, passengers are waiting longer more often.
In July 2017, Heathrow experienced nearly 2,000 instances where the queue at border control for non-EEA citizens was longer than 45 minutes, while queues of two hours or more are a 'once a month' occurrence now. 
Gatwick's figures were slightly better, despite the longest queue of September 2017 being 108 minutes. 
The survey revealed that nearly 10 per cent of Britons who travelled back to the UK last year were kept waiting for more than half an hour. 
This time spent waiting however, is usually hidden in the figures that Border Force publish. The focus on average queue times means that the longest waits can be off-set by the quieter times across the border. Overall this means that the time spent waiting looks as passengers expect it to. 
Chief Executive of the AOA, Karen Dee said: "As we prepare to leave the EU, getting the message out there that the UK is open for business is vital. The welcome we give to the world at the UK border is a crucial part of that. The UK is currently not getting this right: visitors and returning UK residents regularly face long queues. Not only do these queues breach Border Force's own waiting time targets, but it is clear those targets are no longer fit for purpose. Passengers believe that a queue time of only half the current maximum waiting time would be acceptable."