Gatwick to invest £1 billion over the next five years
The airport is gearing up to explore how best to use its current capacity as its rival, Heathrow, seems set to be granted a controversial third runway.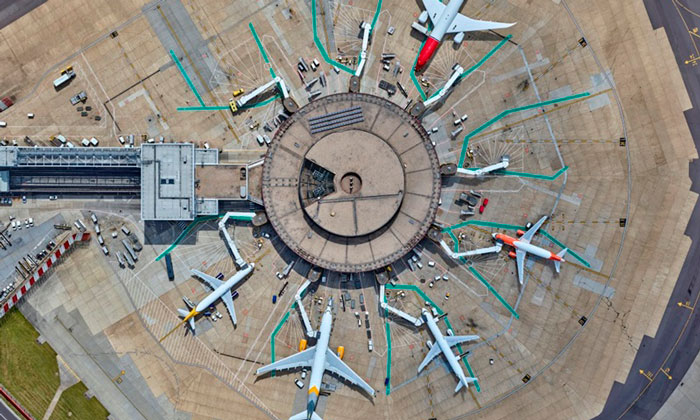 CASH INJECTION: An aerial view of Gatwick Credit: JMilstein
The Chief Executive of London Gatwick Airport has announced it will be investing £1.11 billion over the next five years, with £266 million planned for 2018/19 alone.
Stewart Wingate publicised the decision at the British-Irish Airports Expo in London today (June 13).  Since the airport changed ownership in December 2009 the total investment figure, combined with this new five- year plan rises to £3.14 billion.
The news comes as the airport seems set to be officially snubbed in a debate surrounding a proposal to build another runway at Heathrow. Many supporters have said that Gatwick, for whom it would be a second runway, would deliver the project cheaper and would be a less disruptive location. However, the Government has backed Heathrow and when the House of Commons debate the matter in the coming weeks it is thought likely their position will be confirmed.
Mr Wingate, said: "Gatwick is a major piece of national infrastructure, and our continued growth and ability to attract long-haul airlines is vital for the health of the UK economy, particularly in a post-Brexit world. We are exploring ways to grow our capacity, including developing new systems and processes to handle more passengers, and considering how we use all our existing infrastructure in the future.
"By committing to spend another £1.11 billion, Gatwick can continue to grow sustainably, attract new airlines and offer more global connections, while providing an excellent service to passengers.
"This year we will welcome new quieter aircraft with the introduction of A321s by easyJet and we are developing our infrastructure now, by reconfiguring airfield stands and planning for the construction of a major extension to our Pier 6 facility. These initiatives will support this next phase of growth.
"Looking beyond this capital investment programme, we welcome the Government's support for airports making best use of their existing runways and we will plan for our longer term future by developing a masterplan later this year".
Wide-ranging projects are identified across the airport with a number of projects getting underway this year including:
Pier 6 Western Extension – Phase 1 works start with enabling Pier 5 to handle the A380 aircraft, so that it can move from its current home on Pier 6. This work will also involve the widening and reconfiguration of a taxiway to accommodate the 80-metre wingspan of the A380.
A new domestic arrivals facility, including a new baggage reclaim in South Terminal.
A new mezzanine level extension in the North Terminal departure lounge to accommodate new restaurants.
Completion of the road system and taxiway entrance to the new Boeing aircraft hangar to connect the airfield with the new facility. The new hangar opens next year and will service the growing number of long-haul aircraft operating from Gatwick.
Trial of biometric auto-boarding technology in the North Terminal and extending the roll-out of self-service bag drop across both Terminals.
Re-development of South Terminal hotel capacity.
Completion of the South Terminal long stay car park decking project, providing an additional 1,200 car parking spaces for summer 2018.
Projects to support greater use of electric vehicles, continuing to reduce the airport's environmental impact and supporting our ambition to be the UK's most sustainable airport.
Enabling works for Network Rail's planned upgrade to the Gatwick station.
Investment in joint equipment for ground handlers to use at Gatwick which drives efficiency for airfield and baggage operations.
New reception centre for passengers with reduced mobility in the North Terminal.
Related airports
Related people