Cutting-edge 3D scanning bag drops go live at Sydney Terminal 1
Sydney Airport has followed in Changi's footsteps with the roll out of cutting-edge check-in kiosks that smooth the ride for passengers whilst boosting security with 3D scans and anti-intrusion technology.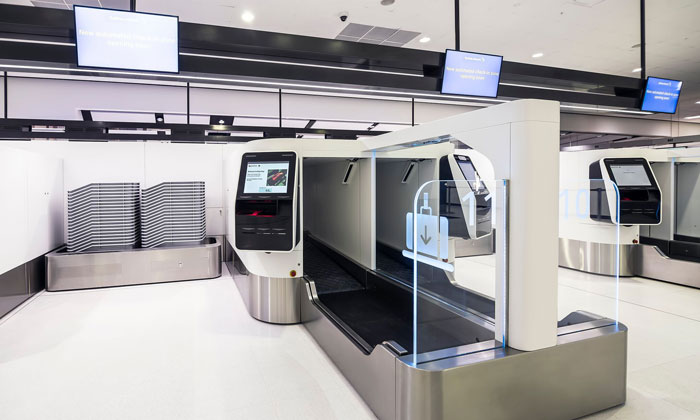 ERGONOMIC AND EASY: ICM's automated bag drop
Sydney Airport has become the latest airport to bring in ICM's Auto Bag Drop units, and more are soon to follow.
Sydney Airport's T1 International is now live with 12 of ICM's Auto Bag Drop (ABD) units and 36 check-in kiosks with ICM's software. This new installation is part of a greater Sydney Airport project that promises to reduce check-in queues and enhance the overall passenger experience, bringing the same benefits to T1 that Qantas domestic passengers already have in T3.
The check-in kiosk software features the same design DNA as the ABD units, creating consistency and familiarity for the passenger across the entire check-in and bag drop process.
The next generation ABD units integrate cutting-edge 3D scanning technology with an ergonomically friendly design. According to ICM, the kiosks ensure real-time safety and security, with around the clock monitoring provided by ICM's Sydney-based support team.
Sydney Airport's roll-out of new ABD units and check-in kiosk software comes after the opening of Singapore Changi Airport's Terminal 4, where 50 of ICM's ABD units went live in October last year. Already in 2018, ICM has announced further roll-out orders at Heathrow London, Paris Charles de Gaulle & Orly, and Shanghai Hongqiao.
"We are delighted to see ICM's self-service bag drop and check-in solutions in use at Sydney's T1 International. Our products continue to deliver exceptional benefits to both airports and airlines, and present passengers with a simpler and faster process for checking-in their bags. It is very rewarding for us to see Sydney Airport embrace the new technology our world-leading products have to offer," said Richard Dinkelmann, CEO of ICM Group.
ICM's ABD units can be found in major airports across the globe including Auckland, London Heathrow, Minneapolis-St.Paul, Munich, Paris CDG & ORY, Singapore Changi and Sydney amongst many others.