An exclusive tour of PRM operations at London Heathrow
International Airport Review reports directly from London Heathrow airport as OmniServ take us on a tour of their PRM operations at the UK hub…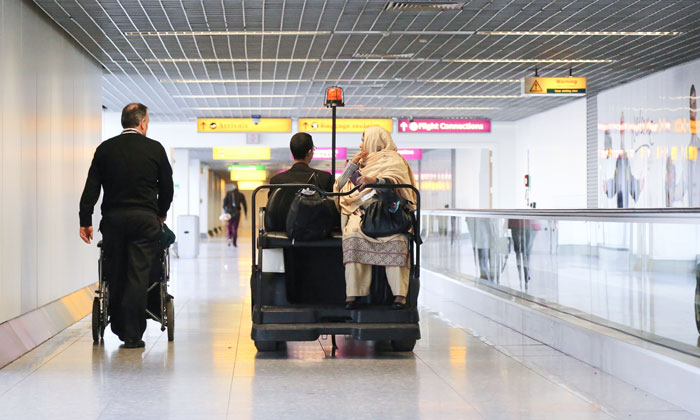 As we discussed in the first part of an extensive focus on PRMs (Passengers with Restricted Mobility), those who require special assistance at airports too frequently find their experience entirely dissatisfactory.
In this article, International Airport Review reports directly from London Heathrow as Marc Buckle, General Manager, Heathrow PRM Services, and Gary Oakes, Terminal Manager Special Assistance – Terminal 5, from OmniServ take us on a tour of their operations at the UK hub.
What is OmniServ?
OmniServ is the UK's leading airline and airport assistance services provider. In total, it has around 2,000 staff based at Heathrow.
At Heathrow, services include passenger flow management, hosting, cabin cleaning, ground transportation, airline check-in, baggage, security, parking and assisting PRM (Passengers with Reduced Mobility) passengers.
By combining new technology and specialised training, OmniServ deploys professional staff where needed to make the airport experience as smooth and enjoyable as possible.
Their latest innovations, rolled out at Heathrow, include:
The iCaddy  – which allows one staff member to move multiple wheelchair users through the airport in one movement
A new customer centric App  – Designed to help PRM travellers start their journey from home and create a bespoke experience dependent on their specific needs
New state of the art buggies – providing the very best customer experience
iBeacon technology – Ensuring  the best possible service and management of their workforce.
There is also further training for all colleagues to better accommodate 'hidden disabilities' (such as Dementia and Autism) to provide the best possible care and compassionate support in the moment.
Why is catering for the PRM becoming so problematic?
Before we truly assess the work OmniServ are doing at Heathrow we must look at why the voice of the PRM must particularly be heard, firstly from a statistical point of view.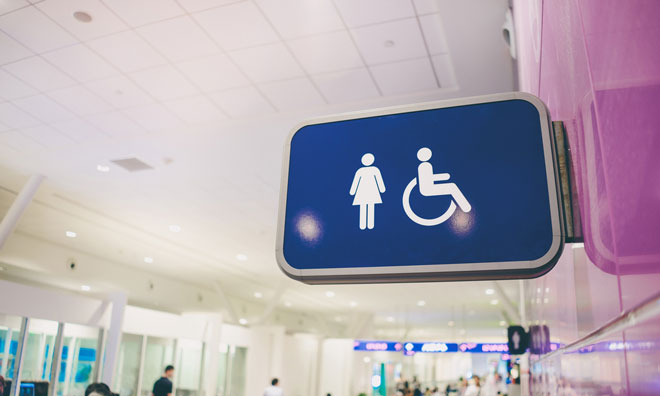 Heathrow reports that it manages the passing through of approximately 1.2 million passengers with restricted mobility every year through the airport. In terms of growth, the year-on-year growth of passengers is roughly an 8 per cent increase, easily outstripping the overall passenger growth figure at LHR. This is emblematic of a global trend. As the PRM demographic becomes more and more significant from a numerical perspective, the passenger expectation for a high quality level of service does not change. This therefore requires more staff, more efficient technology and strategic planning. This is the case at each and every airport.
In essence, the underlying question becomes:
Why should a PRM be made to wait when the rest of us enjoy (in theory) a seamless experience when travelling through an airport?
Heathrow reports that it manages the passing through of approximately 1.2 million passengers with restricted mobility every year through the airport.
This however, is unfortunately too often not realised and the PRM is forced to wait due to an inadequate response strategy in place at the airport.
OmniServ and Heathrow: A case study
Customer service as a dialogue
As I meet the OmniServ team in the Terminal 5 departures area at London Heathrow, Marc and Gary immediately direct me towards an allocated special assistance area. Though empty, the area is manned by four members of staff, all clad in shining magenta outfits that reflect the Heathrow branding – making them unmissable. Smiling, it is their job to fundamentally ensure that each and every passenger that requires special assistance is given that special assistance.
The PRM is often forced to wait due to an inadequate response strategy in place at the airport.
"We are looking to expand this area," Marc explains sweeping a gesture across the area as he goes on to detail.  Our customer growth rate is circa 8% PA and we need to have the right infrastructure to provide the right experience for our customers in this area.
"While it's not that busy right now, often in difficult weather conditions like today, we have waves of passengers that come and go. In half an hour, I'd imagine that this area will be filled."
It is clear that customer service is naturally the priority from the outset and landside – certainly from a staffing perspective – seems very well catered for. In fact, just as I am leaving the zone, a passenger, visibly distressed arrives unfortunately too late for her connecting flight due to a delayed flight from Edinburgh. She is subsequently escorted into the special assistance area and seen to by the purple-clad staff.
"We have excellent relations with both Heathrow and British Airways. If for any reason a PRM were to miss their flight, we can rearrange a rebooking. It's all about creating that dialogue with the passenger and ensuring them that we are doing all that we can to resolve any issues they may be facing. At the end of the day, communication is the answer."
That said, it seems that communication or a lack of is too often the reason why so many PRM passengers feel unwelcome and sidelined by the aviation and airport industry.
A dialogue of voice between passenger and airport or airline is necessary to resolving this issue.
Airside
As we then proceed through the security checks. These are obviously often problematic for PRMs, but each PRM is prepared for the checks prior to going through so as to make the process as seamless as possible.
Once through, I am shown a two-seater buggy – The iCaddy (purple, of course) into which I am then encouraged to take a seat before being driven by another member of the OmniServ crew for we'll say approximately 400m through the busy airside retail section – it's hard to imagine covering this distance with a walking impairment as I wind through the crowds. I finally arrive at what is called the Litchfield Suite.
OmniServ have been working closely with Heathrow to develop iBeacon technology…
The Suite contains a state-of-the-art bathroom facility with shower and a comfortable lounge area with several televisions displaying everything from sport to BBC News 24, many passengers using their time in the Suite to grab some extra sleep. 
Now, this area is exclusively for PRM passengers and offers a pager and shuttle run service to shops, restaurants or to their boarding gates from the area via the buggy facility. Further to this, a pager facility is available that allows for extensive communication between OmniServ and the passenger so an agent can then be sent over to a particular restaurant to pick up a passenger who might have finished eating and transport them to their gate, to use one likely example.
Above all, OmniServ's work provides the passenger with a renewed flexibility to their experience and enables each PRM to get what they want out of the airport.
Essentially, it should be an airport's duty to enable each PRM to profit from their own facilities ameliorating both their own retail value but more importantly the overall experience of the passenger that has chosen their airport.
Adaptability
The flexibility of experience the PRM desires at Heathrow is a flexibility that the airport must also share. With roughly 30% of PRMs that OmniServ deal with 'non-notified' which means that OmniServ have not been pre-warned, pre-flight of their precise requirements, a certain degree of perpetual adaptability is necessary. This level of resilience was well demonstrated during my tour as I was shown the disembarking process.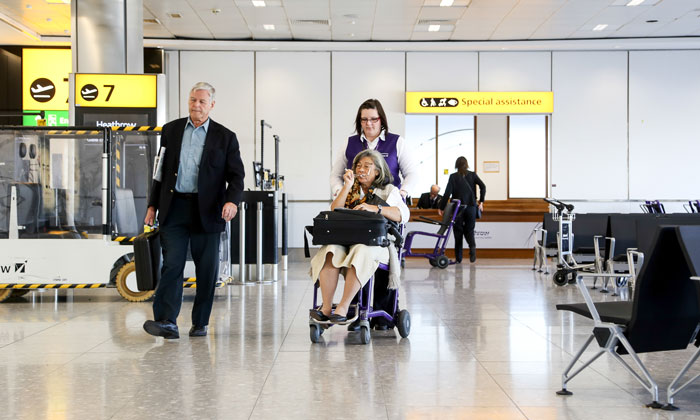 A very foggy day at Heathrow, a British Airways flight arriving with two PRMs was diverted to an adjacent gate at the very last minute. Waiting in the node area, all of a sudden Gary received a communication that the gate had changed and we raced a few metres down to ensure that the wheelchair required was prompt and ready for the plane disembarking. This was an excellent empirical example of the flexibility and adaptability required but not only this, the need for an excellent level of inter-departmental communication.
OmniServ's ibeacon and traffic light communication
OmniServ recognises that staying abreast of the latest technological developments in personal mobility equipment and specialised handling equipment and also in data collecting and personal communications is vital in the constant battle to deliver the best possible service for PRM passengers.
All OmniServ ambassadors carry tablets enabled with the latest apps which allow them access to a centralised information system about passenger flow, queue times, departure and arrival gates, aircraft movements, other operational issues and, of course, PRM passengers (including those who have pre-notified as well as those who have requested assistance on arrival at the airport), in real time. It also hosts a database of frequently asked traveller questions, maps of the airport and its terminals, details about airport facilities and retailers.
Finally, it allows OmniServ ambassadors to access language translation services which means any traveller can be helped, no matter where in the world they come from.
OmniServ have been working closely with Heathrow to develop iBeacon technology to further improve the customer experience.  This technology places thousands of sensors across the Heathrow campus.
OmniServ leverage this technology by integrating it into their colleague handsets.  This in turn provides a Google map view of where all colleagues and customers are at any one time – think of it as the Uber of the PRM world.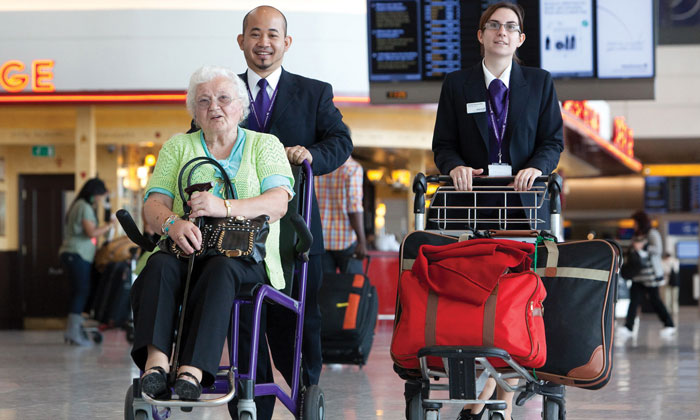 Marc goes on to say :
"This technology places us as an industry leader in this field.  We can now see where every customer and colleague is at any one time."  
This ensures that we can proactively communicate to our customers, whether they be airlines or passengers, regarding location of our colleagues and also ensures that the colleague closest to a 'job' is allocated it – thus making us far more efficient and providing a great customer experience to all.
The future?
Having seen what OmniServ are achieving at London Heathrow in terms of PRM satisfaction levels it perhaps presents other airports with an example to follow. Since taking on the PRM contract in 2010, OmniServ and Heathrow have watched their customer services scores grow from mid table to the best customer service scores in Europe.
As discussed, every passenger regardless of gender, age or physical or mental capability should have the same quality of experience. This in itself does not require an equality of treatment but an equality of satisfaction and opportunity to get the best out of their air travel experience.
OmniServ seem to be providing Heathrow and the majority of its passengers with this quality of service through developments in technology and an overarching ethos that places passenger experience at the forefront of all priorities. 
It is clear that we must ensure that air travel is seamless for all, and International Airport Review fully supports any move to ensure that the voice of PRMs is heard.
If you have something to say on the issue, why not contact our editorial team?