Heathrow marks International Wheelchair Day with high-tech debut
Heathrow showcased wheelchairs can be controlled using smartphones, can travel in convoy through an airport and can be programmed to move themselves to where they are needed, without passengers or attendants.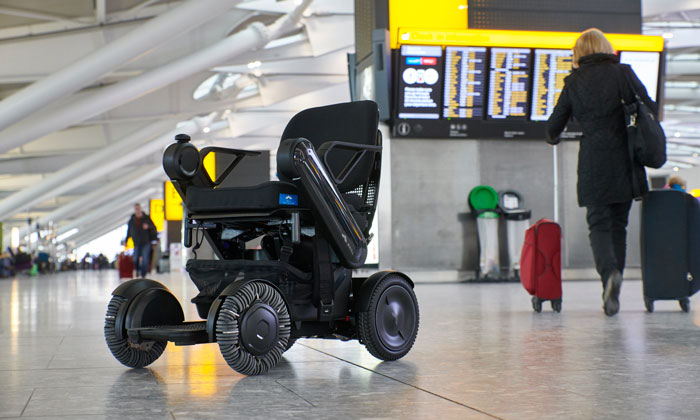 NEW TECH: This is the first time in Europe the chair has been put to use in an airport setting
Heathrow, in partnership with its special assistance service provider OmniServ, has showcased a revolutionary Japanese-designed WHILL high-tech wheelchair to mark the 10th anniversary of International Wheelchair Day.
The WHILL was designed by a start-up company created by a team of engineers from Japanese companies Sony, Toyota, Olympus and Panasonic.
When used in conjunction with beacon technology, mobile devices and other high-tech systems, WHILL wheelchairs can be controlled using smartphones, can travel in convoy through an airport and can be programmed to move themselves to where they are needed, without passengers or attendants.
The Heathrow event was the first time a WHILL wheelchair was put to use in a European airport setting, and featured two WHILL Model C wheelchairs. Guests representing several disability charities, as well as wheelchair users who regularly travel through Heathrow, were able to see and test the new product in action. Heathrow and OmniServ wanted to trial the wheelchairs to see whether they can enhance the airport experience for passengers with disabilities.
Jonathan Coen, Customer Relations and Service Director at Heathrow, said: "At Heathrow, we want to help our passengers feel more welcome and at ease when travelling through our airport and are looking to trial new and innovative technologies that will enable us to do just that. We're delighted to have worked with Heathrow Accessibility Action Group (HAAG) and OmniServ on International Wheelchair Day to showcase the WHILL wheelchair and are keen to learn how these chairs could be used to improve passenger experience in future."
Samantha Berry, who recently joined OmniServ in the newly-created role of Head of Innovation & Regulatory Compliance with a remit to drive service enhancements across the company's People with Reduced Mobility (PRM) operations, said: "OmniServ is committed to delivering the best possible experience for all passengers, and we will continue to evaluate the latest technologies that will help us deliver on that promise.
"High-tech solutions like the WHILL wheelchair leverage digital innovations to give wheelchair users more autonomy. While it might be some time before we see them deployed widely across UK airports, we've already seen successful demonstrations in Japan.
"It sounds like science fiction, but Japan has committed to delivering just this kind of technological advance as part of their promise of making the Tokyo 2020 Olympic Games the most accessible ever for people with disabilities."
Julian Race, a wheelchair user whose father is Chair of LHR Air Transport Group, got the chance to try out the WHILL and was very complimentary about the benefits it offers. He said: "This is an amazing piece of kit which would allow me to be independent at the airport."
WHILL was awarded the CES 2018 'Best of Innovation' Award in Accessibility Tech and was an Engadget 'Best of CES 2018' Finalist. It was also crowned winner of the 2018 iF DESIGN AWARD, a world-renowned design prize, and won the Japan Institute for Design Promotion's Good Design Award in 2016.
Founded in Japan in 2012 and now headquartered in San Francisco, USA, WHILL has raised more than $30m in funding from venture capitalists and has launched into North America and Europe.
International Wheelchair Day, launched in 2008 and now celebrating its 10th anniversary, falls on March 1 every year. It is an annual day of events and activities around the world where wheelchair users celebrate the positive impact a wheelchair has had on their lives.