$30 million Customs and Border Protection facility approved at NY Stewart International
After seeing passenger numbers soar by 62 per cent, Stewart International Airport is set for a major expansion, including a $30 million Customs and Border Protection facility.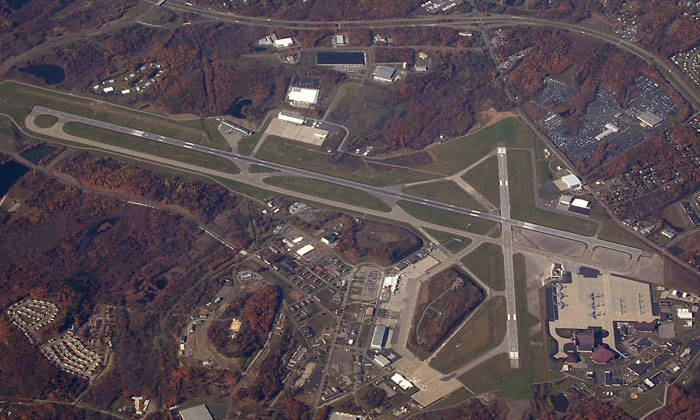 NEW YORK, NEW YORK: Stewart International's name change to reflect its New York location has been approved
Stewart International Airport will undergo a major expansion with the addition of a $30 million permanent U.S. Customs inspection area to handle the airport's significant rise in international passengers over the past year, under a measure approved today by the Port Authority's Board of Commissioners.
Following a breakout 2017 in which passenger volumes at the Hudson Valley airport rose 62 per cent, Port Authority Commissioners also approved giving the agency's Executive Director the authority to proceed with efforts to potentially change the airport's name as part of a rebranding initiative aimed at increasing its appeal as a travel option to the New York metropolitan region, especially for foreign travellers.
Additionally, with the goal of increasing private flight activity at Stewart by as much as 20 per cent, the Board authorised an agreement with Signature Flight Support to build a new hangar dedicated to private planes.
Last year, nearly 450,000 commercial airline passengers used Stewart International Airport, including 141,000 international flyers, up from approximately 275,000 total passengers in 2016. Future enhancements to the airport will include a carport with a solar panel roof covering 450 spaces, with a request for proposal on the project slated to be issued as early as today. The green initiative will create 1.9 megawatts of power that will be used to offset energy costs at the expanded terminal. 
"Economic development is one of the Port Authority's fundamental missions and expanding Stewart International Airport to handle more international customers does exactly that," said Board Chairman Kevin O'Toole.
"Since taking over the airport in 2007, this agency has now invested more than $200 million in the airport's infrastructure. Today's approval further underscores our commitment to giving customers at Stewart a higher level of service, while providing the opportunity for further growth and tourism in the Mid-Hudson Valley and New York metropolitan region." 
Board Vice-Chairman Jeffrey Lynford added: "Expanding the terminal supports Governor Cuomo's vision of an airport that increases flight activity and passenger volume, and provides the level of service and amenities that should be expected of a world-class facility." 
In his annual State-of-the-State address in early January, the Governor called on the Port Authority to approve the investment in a permanent U.S. Customs and Border Protection inspection facility to increase access to the region's world-class destinations and mid-Hudson Valley attractions. The goal was to encourage growing international passenger use of the airport by separating domestic and international operations so the airport can handle both efficiently at the same time. 
The expansion will add nearly 20,000 square-feet of space to the existing terminal, while allowing concurrent domestic and international flight arrivals. The new federal inspection area will provide capacity to screen up to 400 international passengers per hour.
Currently, Stewart lacks a dedicated area to process passengers from international flights, which are handled by using a moveable wall to section off part of the terminal. Construction of a 
The expansion is expected to create 140 jobs on-site and $10.6 million in wages. The total regional impact is expected to be 230 total direct and indirect jobs, $17.5 million in wages and $45 million in economic activity.