Former US Transportation Secretary to lead JFK winter storm investigation
A former US Transportation Secretary who served under the Obama administration from 2009 to 2013, will head up an investigation into the catastrophic impact of a winter storm which caused well over 100 cancellations at New York's busiest airport.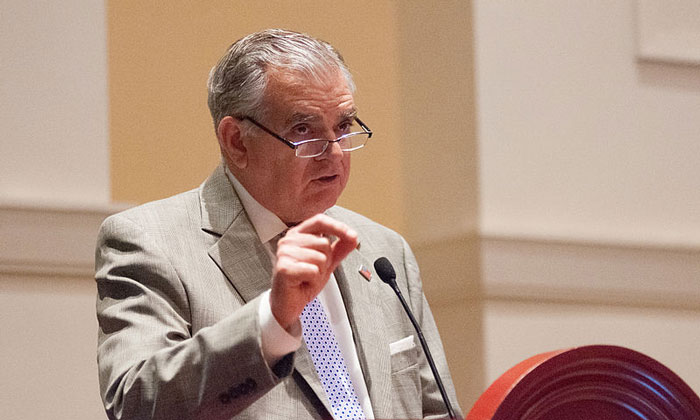 HEADING UP: Ray LaHood Secretary LaHood served as the 16th Department of Transportation Secretary from 2009 to 2013
The Port Authority of New York and New Jersey today announced that former U.S. Department of Transportation Secretary Ray LaHood will lead an independent and comprehensive investigation into the events at JFK Airport during and following the winter storm of Thursday, January 4.
The storm triggered what the port authority described as a 'cascade' of issues at the New York airport, collectively causing more than 500 cancellations and culminating in flooding at Terminal 4 as the result of a burst water pipe on Sunday.
LaHood, who is currently a senior policy advisor at the global law firm DLA Piper, will assemble a team with independent resources and experts. He will examine all aspects of operations including but not limited to the performance of airlines, terminal operators and the Port Authority's airport management. He will investigate all phases of the event. This will include the preparations and contingency planning leading up to the storm, the snow event itself including the closure and re-opening of the airport, all aspects of recovery operations in the days following the water leak that occurred on Sunday, January 7, and baggage handling. The investigation will include the operational aspects, communications and coordination among various parties, and customer impacts among other things. 
Secretary LaHood will begin his investigation next week. He expects to issue his findings and recommendations in a report to the Port Authority in the coming months. He will report any interim findings and recommendations as the investigation progresses.
"The Port Authority is committed to providing the highest standard of service to all travellers, and the series of events following the winter storm this month were completely unacceptable," said Port Authority Executive Director Rick Cotton. "We are committed to understanding where and why failures occurred, and making whatever changes are necessary to assure these failures never happen again." 
"The Port Authority leadership has asked me to lead a comprehensive investigation into the recent events at JFK Airport, looking at every aspect of what went wrong and making recommendations about what must be fixed," Secretary LaHood said. "I look forward to beginning my investigation."