Unexploded World War Two bomb closes London City Airport
Unearthed on Sunday morning during pre-planned work at London City Airport, the ordinance has also caused road closures as Royal Navy officers make the area safe.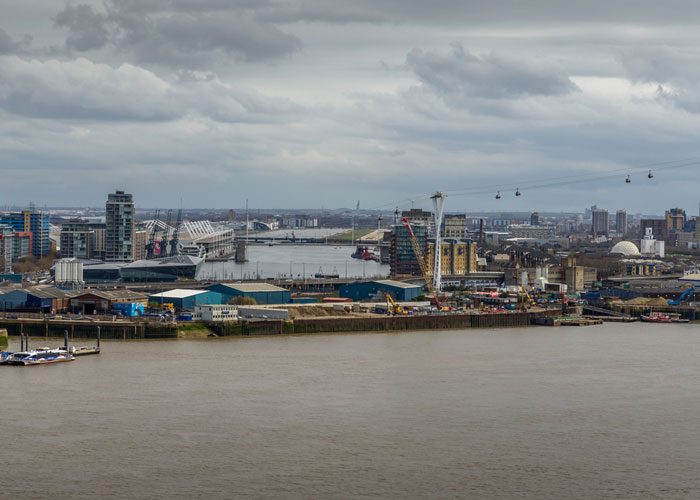 DOWN BY THE RIVER: London City Airport lies on the banks of the Thames.
Up to 16,000 flyers may have their plans changed after an unexploded World War Two bomb was discovered in the River Thames.
The ordnance was discovered at George V Dock early on Sunday morning, according to the Metropolitan Police, during pre-planned work at City Airport.
More than 12 hours after it was found, the Royal Navy set up a 214-metre exclusion zone. Last night, Metropolitan Police officers evacuated properties within the exclusion zone and set up road cordons. 
As part of the measures taken, London City Airport has been closed. The police force and airport management have urged passengers due to fly from the airport today to contact their airline.
Robert Sinclair, the CEO of London City Airport, said: "I recognise this is causing inconvenience to our passengers, and in particular some of our local residents.
"The airport is cooperating fully with the Met Police and Royal Navy and working hard to safely remove the device and resolve the situation as quickly as possible."
City is London's second smallest international airport. In 2017, it served 4.5 million passengers. According to the BBC, 261 arrivals and departures were scheduled today, with 130 cancelled at 8am. A spokesman said cancellations today may affect as many as 16,000 passengers.
The airport is used by Alitalia, British Airways, City Jet, Flybe, KLM, Lufthansa, Luxair, SkyWork Airlines, Swiss International Air Lines, TAP Air Portugal and VLM Airlines. It serves mainly European destinations though British Airways do run a New York service from the hub.
It is London's most central airport, located only 11km from the city.
Currently, it is in the midst of a £400 million redevelopment programme scheduled for completion in 2021. The programme will see two million more passengers use the airort every year by 2025, add 30,000 additional flights to the annual rota, create 2,000 jobs and add £750 million to the UK economy according to the airport.