Hartsfield-Jackson retains world's busiest title for 20th year
The world's biggest airport has retained that honour for yet another year, keeping competition from China and the Middle East at bay.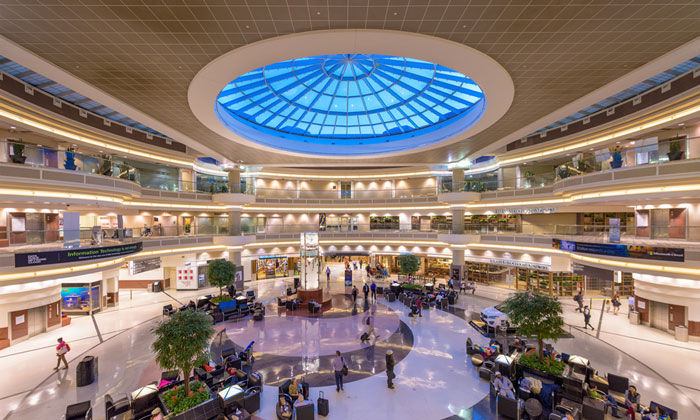 TOP DOG: Hartsfield-Jackson Atlanta International's main hall
Hartsfield-Jackson Atlanta International Airport (ATL) has retained its title as the world's busiest airport – in spite of shrinking a fraction of a per cent.
Pending confirmation from industry trade group Airports Council International, 2017 marks the 20th consecutive year ATL will be named biggest airport in the world after taking the title from Chicago O'Hare in 1997.
It is also currently the only airport ever to reach the 100 million passenger mark in a single year; 2017 is the third consecutive year it surpassed this milestone.
"Hartsfield-Jackson successfully combines efficiency and passenger volume in a way that ensures ATL retains its position as the aviation industry's leader," said Atlanta Mayor Keisha Lance Bottoms.
"That worldwide leadership role enables the airport to maintain its status as the economic engine of the Southeast."
The airport's General Manager, Roosevelt Council, Jr. said: "We set out last year to increase our international passenger numbers and overall cargo totals.
"We are thrilled to see the results of our hard work."
Hartsfield-Jackson's Air Service Development team efforts led to a substantial increase of international passengers travelling to, from and through Atlanta. ATL hosted 12,033,865 international travellers in 2017, a 4.9 per cent increase over 2016's total of 11,475,615.
Cargo development efforts also paid off, as cargo operations increased by 5.66 per cent over 2016.
Overall, ATL hosted 103,902,992 passengers in 2017, a quarter of a per cent less than 2016's total of 104,171,935. ATL also tops the world in aircraft movements, with 879,560 operations in 2017, 2.09 per cent less than 2016's total of 898,356.
Whilst ATL is the busiest airport in the world, its traffic is largely domestic. When it comes to international traffic, it does not eve feature in the top 10. Dubai International holds the honour of the biggest airport for international passengers with most of its 88.2 million passengers flying to or from an airport outside the United Arab Emirates.
Paul Griffiths, CEO of Dubai Airports, said, "It was a very successful year for DXB as we not only achieved robust growth in traffic to solidify our position as the world's number one international airport but also delighted our customers with a range of new and exciting services and innovative products.
"We made passenger journeys through the facility smoother by reducing waiting times – by deploying cutting edge technology to track and manage queues in real time, as well as by enabling the use of Emirates ID at smart gates for UAE residents. The year witnessed the launch of WOW-Fi, the world's fastest free airport Wi-Fi, followed by free streaming movies for our passengers through our partnership with ICFlix. Lastly the Dubai Airshow was a massive success with record orders of $113 billion and a special Gala Dinner made unforgettable by Jennifer Lopez's performance.
"With passenger traffic expected to reach 90.3 million in 2018, our focus in the new year will be on the DXB Plus programme which aims to expand the airport's annual capacity to 118 million passengers through process improvements and use of new technology," Griffiths added.