BEUMER Group wins contract to extend Helsinki baggage handling system
Nearly 10 years on from the original installation of its baggage handling and transfer system in Helsinki Airport Terminal 2, BEUMER Group has won the contract to extend it.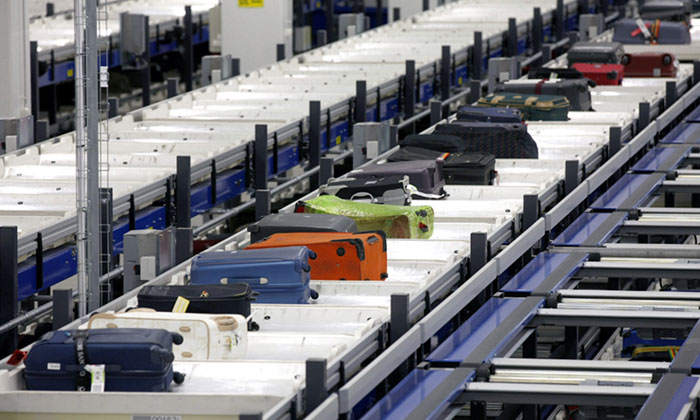 ROLLING ON: The system is an extension to the one installed in 2009 when Terminal 2 opened
BEUMER Group, a global supplier of automated baggage handling systems, has been awarded a contract to extend its system at Helsinki Airport Terminal 2. 
The extension is designed to provide Finland's biggest airport greater transfer capacity, support to its original system and 'flexibility'. BEUMER Group first installed its complete baggage handling and transfer system in Terminal 2 in 2009.
The contract comprises a system based on two energy-efficient LS-4000 tilt-tray sorters, a CrisBag tote-based system with in-tote screening and CrisBelt conveyors, all from BEUMER Group's Crisplant product range.
"The extension of Terminal 2 will ensure that Helsinki Airport maintains its strong competitive position, especially in transfer traffic between Europe and Asia," said Henri Hansson, Technical Director of Finavia Corporation, the operators of Helsinki Airport. "The passenger volumes between Helsinki and Asia have increased steadily for several years now. One of the main goals of Finavia's Development Programme 2014 – 2020 is to increase Helsinki Airport's transfer capacity."
The extension has been designed to ensure Terminal 2 has a full backup system in place throughout the sorting, make-up and dynamic early baggage store (EBS). The sorting process achieves full redundancy with a seamless link between the new and existing systems and the ability to control both systems from a single control room.  For baggage make-up, redundancy is ensured by allowing each pair of sorters to discharge to the same destination chutes.
The integration of BEUMER Group's CrisStore dynamic EBS is intended to allow operators to recall individual items of baggage from any of the 1000 storage positions. This provides increased efficiency by enabling Helsinki to implement future batch-building of baggage in the make-up area. The new EBS will also support the existing lane-based storage which was installed as part of the first CrisBag system.
The extension will provide the high unload capacity needed to support fast and secure handling of transfer baggage. Transfer baggage which has been deemed as having a 'safe' origin will be diverted directly to its destination via the LS-4000E tilt-tray sorters. Transfer baggage where the origin is 'unsafe' will be routed via the new CrisBag system to in-tote ECAC 3-compliant screening. To minimise the number of screening machines, the system also merges the oversize baggage with the in-tote screening system.
Klaus Schäfer, Managing Director, BEUMER Group added: "Helsinki Airport has been using BEUMER Group technology since the T2 system was installed in 2009. The technology has proven to meet Helsinki Airport's high-performance targets. In addition, the operators' familiarity with this technology means that minimal training will be required for them to operate the new extended system."