Passengers' trust and satisfaction with aviation in decline
Data from the third and fourth waves of an 18-month online and phone survey has been released by the UK Civil Aviation Authority.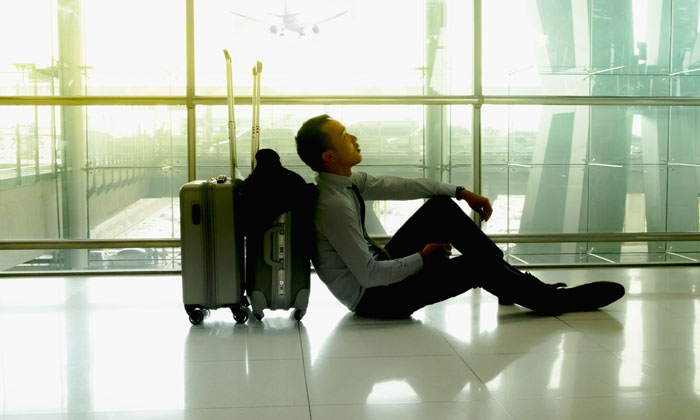 DELAYED DISSATISFACTION: Crowding and long queues at airports and flight delays were the most common problems
The UK Civil Aviation Authority's (CAA) latest consumer tracker research has revealed public trust in and satisfaction with aviation has fallen.
The investigation, carried out by Ipsos Mori on behalf of the CAA, was conducted in waves from 2016. More than 7,000 flyers were surveyed during the final two waves, taking place from February to March and September to October.
An important finding from the research was slowly, but steadily declining levels of consumer satisfaction with flying. Overall satisfaction levels have fallen from 90 per cent in the first wave (in March 2016) to 86 per cent in the latest wave (October 2017). The percentage of those who claim to enjoy air travel also fell – from 57 per cent two years ago to 53 per cent in the latest wave.
More recently, there has also been a decline in people's trust of the aviation industry. The percentage of consumers confident that they would get the service for which they have paid fell by four points between the third and fourth wave (March and October 2017, respectively), from 61 to 57 per cent. The percentage of consumers confident that they would be treated fairly should things go wrong in October 2017 was 44 per cent.
Responding to the publication of the consumer tracker Chief Executive of the AOA Karen Dee said: "UK airports take consumer satisfaction very seriously and we work closely with partners across the industry to make sure passengers have a safe and enjoyable travel experience. It is clear we are getting a lot right and passengers are overwhelmingly positive about flying, with nearly 9 in 10 passengers saying they were satisfied with their experience.
"We are continuing to invest in improving our facilities, with more than £8bn worth of capital investment planned across UK airports in the next five years to enable easy journeys with excellent facilities. Collectively as an industry, we are planning and investing in airspace modernisation, which will deliver swifter journeys and reduce delays in the air.
"Sometimes things do not go as we would like them to and we are committed to ensuring we rectify the situation and prevent similar from occurring in the future. For example, with 67 per cent of passengers dissatisfied with delays at passport control, we are working with Border Force to improve Border Force's service to our passengers. Likewise, we are working with ground handling companies through the airlines that contract them to reduce delays in passengers being able to collect their luggage.
"We will continue to deliver the excellent service people expect from us and work with partners to improve on our great track record."
Restoring satisfaction and trust – CAA's advice
To tackle falling levels of consumer satisfaction and trust, the CAA offered a series of pointers:  
Reducing common problems – the industry needs to do more to reduce overcrowding and long queues at airports, and to consider taking action on disruptive behaviour. 
Common problems (such as delays, long queues and overcrowding) are key drivers of dissatisfaction, with those who experienced these things on their most recent flight 7 per cent more likely to disagree that they enjoy flying (22 per cent compared to 15 per cent of recent flyers overall).
45 per cent of people experienced disruption on their last flight.
Crowding and long queues at airports (19 per cent), and flight delays (16 per cent) were the most common problems while delays at immigration and long waits for luggage were the most dissatisfying (67 per cent were dissatisfied with how delays at immigration were handled and 62 per cent were dissatisfied with the way long waits for luggage were handled). 
18 per cent of flyers have experienced (either directly or indirectly) aggressive behaviour when flying over the past three years.
Passengers who experienced aggressive behaviour on their last flight were typically 9 per cent less satisfied with their last flying experience. 
Delays of longer than an hour impact consumers' level of frustration. 71 per cent would feel very frustrated by a delay of up to two hours, and 37 per cent would question whether they would use the same airport or airline again.
A delay of up to 4 hours would make 79 per cent of consumers consider flying with a different airline or from a different airport next time.
Fixing things when they go wrong – The industry must keep consumers better informed and catered for when things go wrong, and get better at handling complaints.
56 per cent of those surveyed were not satisfied with the information provided to them when things go wrong. 69 per cent were not satisfied with the arrangements made to look after them. 
18 per cent of those with grievances consider formally complaining, but almost half of these (46 per cent) don't end up bothering. The main barrier to formally complaining is the belief that it will take too much time and effort (stated by 55 per cent of those who considered making a formal complaint but did not go ahead with it) – something true of both airline and airports' complaints processes and Alternative Dispute Resolution (ADR) – a second tier complaint handling mechanism. 
Less than a third of people are satisfied with the complaints handing process, but more are satisfied with Alternative Dispute Resolution processes.* In the third wave (March 2017), 27 per cent of those who complained but did not escalate to ADR were satisfied, compared to 55 per cent of those who did escalate to ADR.
Improving assistance for all passengers with disabilities – The industry must get better at providing assistance for all PRMs and helping them to understand what they can expect.
In October 2017, 10 per cent of disabled passengers were dissatisfied with the assistance they received. 
Those with hidden disabilities (61 per cent of all disabled respondents) have a worse experience of assistance and are more pessimistic about their experiences of flying improving in the future. 
60 percent of those requiring assistance would choose their departure airport based on the assistance available, but only half of this group feel well informed about the levels of assistance available at different airports.