Jamie Oliver brings flagship restaurant The Diner to Gatwick
The second ever Jamie Oliver's The Diner to open at Gatwick Airport, a homage to great American comfort food.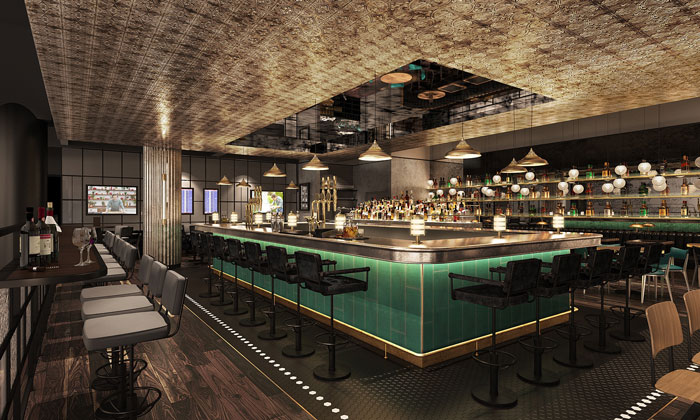 Jamie Oliver's The Diner is set to open this August at Gatwick Airport, only the second outlet for the concept, following the flagship branch in London's Leicester Square. At 627 m2 the new arrival will be one of the largest restaurants at Gatwick serving 278 covers.
Jamie Oliver's The Diner is a homage to great American comfort food, serving up honest home-cooked dishes in a relaxed and vibrant setting.
Dishes on offer will include:
Super Food Breakfast: Poached free-range eggs, baby spinach, super grains and pulses, smashed avocado, toasted super nuts and seeds
Naughty Chocolate Pancakes: Chocolate chunk pancakes, caramelised banana and honey-toasted pecans
Jamie's Insanity Burger: Prime beef patty, free range maple bacon, Jamie's kickin' bourbon burger sauce, Sparkenhoe cheese and flash pickles
Jamie's Super Corn and Quinoa Salad: Charred corn, quinoa, avocado, feta, alphonso mango, baby plum tomatoes, garlicky lime dressing and crispy maple bacon
The Diner will also have a 'grab and go' deli section for any passengers wanting to take food away with them. Passengers will be able to pick up a super food wrap, super food salad or Jamie Oliver inspired burrito, selecting from a choice of pulled, smoked meats, slow-cooked beans, wholegrain rice or quinoa, avocado, low fat yoghurt or Jamie Oliver's secret chilli sauce.
Jamie Oliver said:
"I'm chuffed to be opening a new diner at Gatwick Airport South Terminal. Airports can be pretty crazy places so we're creating the perfect space to chill out with some good food, and maybe a drink or two, before you start your holiday. Everyone is welcome, no matter how long you stay.
"We're totally upping the game in airport food. It's all about the diner food you love, made with incredible, sustainable produce. There's going to be plenty of delicious healthy dishes, as well as some naughty ones that I've tried my best to keep in check, but each one is guaranteed to taste delicious!"
Gatwick Airport's Head of Retail Rachel Bulford said:
"We are excited to be continuing the long-established relationship between Jamie Oliver and Gatwick Airport; Jamie's Italian opened in 2012 and is still the only UK airport branch. 
"We are delighted that Gatwick is again working with Jamie to be the first to launch the brand new flagship concept; The Diner.
"We are seeing increasing numbers jet off to US destinations from Gatwick, last month alone this was up 35% and we expect this passion for the US to also inspire our passengers' eating choices at the airport."