Gatwick's sustainability strategy recognised with accolade
In recognition of Gatwick Airport's quest to become one of the world's greenest airports, International Airport Review has awarded airport staff with the trophy for Environmental Awareness in the inaugural International Airport Review Awards.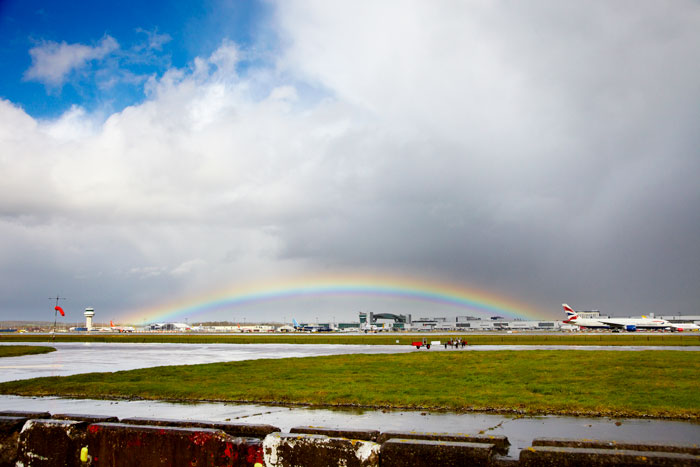 GREENFIELD: Gatwick has an extensive list of environmental accomplishments.
Sustainability has played a central role in Gatwick's transformation ever since the airport came into new ownership in 2009 and the airport has been working hard on a clear, publicly-stated aim of becoming the UK's most sustainable airport and one of the greenest in the world. 
Launched in 2010, Gatwick Airport's sustainability strategy has been the driving force behind the objectives, with ambitious targets set for 2020.
Since the strategy was launched, the airport's passenger traffic has grown from 31 to 44 million annually, yet Gatwick's environmental footprint is the same or smaller than in 2010, making this growth close to neutral environmentally.
On receiving the award, Chris Woodroofe, Gatwick Airport's COO, said: "This award is the result of years of hard work by staff across the airport, from the airfield and terminal teams to our Corporate Affairs, Environment Health and Safety and Engineering departments who all ensure we deliver on our targets every day."
In the last 18 months Gatwick has introduced a series of notable innovations – including world firsts – and secured some prominent achievements, including:
Waste
Gatwick is the first airport in the world to have the capability of disposing of Category 1 airline waste on site and converting it – and all other organic waste – into energy to heat other airport facilities. The airport is also moving forward with its responsibility for sorting waste in-house to maximise the recycling rate – boosting it from 52 per cent (2016) – the highest for any UK airport – to 60 per cent this year, with a forecasted 70 per cent in 2018.
Carbon
Gatwick Airport Ltd has recently been certified carbon neutral, achieved by purchasing 100 per cent certified renewable electricity.
In 2016 Gatwick also become one of a handful of organisations to hold triple certification to the Carbon Trust Standard for reducing carbon, water use and waste management and is the first airport in the world to have joined the RE100 coalition – a corporate leadership programme which aims to accelerate moves to a low carbon economy.
Air quality
Despite Gatwick's growth, the airport is operating well within EU annual limit values for air pollutants.
Key air quality initiatives include introducing the first UK airport taxi agreement to reduce emissions by 75 per cent per journey by 2020 by using electric or hybrid vehicles, and rolling out the UK's first 100 per cent electric car-sharing service and fixed Electrical Ground Power availability at all airport stands throughout core operating hours.
Water
Gatwick Airport has cut water consumption by 24 per cent since 2010 and by 45 per cent per passenger. This has been achieved through leak prevention and facilities upgrades to washrooms and catering facilities.
Biodiversity
The airport has retained the Wildlife Trusts' Biodiversity Benchmark certification for three straight years. Gatwick funds a full-time Ecologist and a Ranger to maintain the award-winning approach to stewardship of the woodlands and meadows on the airport estate.
Noise
An Independent Arrivals Review was commissioned to alleviate the problems that local communities reported in relation to noise from aircraft arrivals. Eleven of 23 recommendations have been completed including:
Four of the five largest airline operators – which accounts for 90 per cent of the airport's A320 flight arrivals – expect to modify their entire fleets by the end of 2017. Gatwick will also impose higher charges to A320s not modified from January 2018 onwards
The altitude for the existing continuous descent approach was raised from 6,000 to 7,000 feet to reduce noise further.
Chris continued: "This award is the result of years of hard work by staff across the airport, from the airfield and terminal teams to our Corporate Affairs, Environment Health and Safety and Engineering departments who all ensure we deliver on our targets every day.  
"We are immensely proud of what we have achieved in this field, but recognise that there is more to do if Gatwick is to become the most sustainable airport in the UK, which is our ultimate goal."
The International Airport Review Awards were launched to celebrate excellence in the industry. Over 130 entries were received with over 77,000 votes cast from the global airport community.
One of the comments from the judging panel about Gatwick's entry was: "Gatwick Airport's impressive list of environmental initiatives and subsequent achievements is indicative of the focus they place on minimising the impacts of pollution. The airport should be commended for its outstanding work in finding viable solutions to cut emissions and eliminate dependence on non-renewable energy."
Jonathan Russell from International Airport Review, said: "It is fantastic to see Gatwick forging ahead with their sustainability efforts. As the winner of our prestigious Environmental Awareness Award 2017, it shows the industry, and wider economy for that matter, how sustainability can successfully go hand-in-hand with running an efficient operation. We hope other leading global airports can learn from this and look at Gatwick as a model case study for their own future development plans."
More about Gatwick Airport's sustainability strategy can be found here.
To read more about our other 2017 Award winners, click here