Passengers at Britain's five biggest airports rate their security experience
More than 20,000 flyers responded to a questionnaire carried out by the British Government with Gatwick landing on top.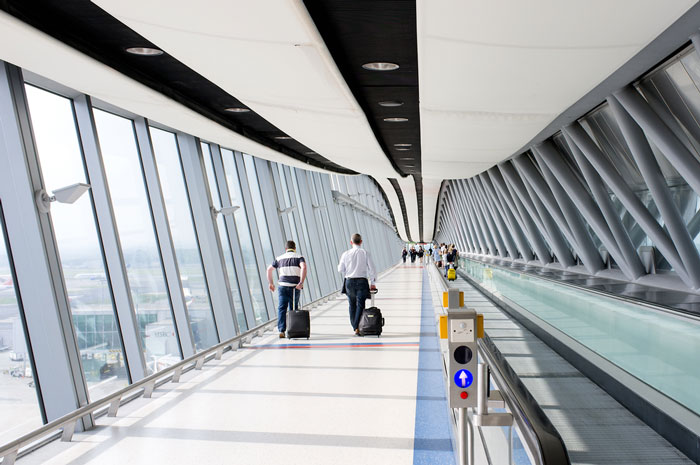 SOARING AHEAD: Gatwick leads the field, followed by Heathrow
The passengers answered a set of four questions about their security experience at Heathrow, Gatwick, Manchester, Stansted and Luton.
They were asked if they were satisfied with their experience, how long they had waited, what they were least satisfied with and how strongly they agreed with the statement: "Any
inconvenience caused by the security screening was acceptable".
Responding to the Department for Transport's publication of the CAA Passenger Survey's data on the experiences of security screening at selected UK airports in 2016, Chief Executive of the AOA, Karen Dee said:
"The vast majority of passengers are satisfied or very satisfied with their security screening experience at UK airports. That shows that airports' hard work to improve security screening experiences and meet ambitious maximum waiting time targets is paying off.
"Providing the best possible experience throughout a passenger's journey is a top priority for airports and it is clear that passengers are seeing the benefits of this.
"While nine in ten passengers believe it is acceptable that security screening may cause inconvenience, airports will continue their investment to ensure the process is easy and quick, enabling passengers to get to their destination as smoothly as possible."
In the end, Gatwick proved a conclusive favourite, with 89 per cent of passengers either very satisfied (60 per cent) or simply satisfied (29 per cent). Passengers perceived their waiting time as the shortest, 83 per cent reporting a queue of five minutes or less. The average was four minutes. Conversely, in Stansted 34 per cent of passengers reported a wait of 10 minutes or more. However, the report caveats these figures in saying that flyers tend to over report their waiting times and that the true figures were likely a degree smaller.
Waiting times at the airport have been on a downward trend over the last eight years making it the only airport to have a lower average wait time than it did in 2009.
When they were asked what they were least satisfied about, 87 per cent could not chose a field – again, the highest out of any of the five largest airports. In response to the question is "any inconvenience caused by the security screening acceptable", 96 per cent either agreed or strongly agreed.
Heathrow was next in line in terms of overall satisfaction. They pipped the average by 2 per cent at 87 per cent claiming they were either very satisfied (54 per cent) or satisfied (33 per cent). Average queuing times have been on a steady climb since 2014 to 6.8 minutes placing it third beneath Gatwick and Luton.
The report said that passengers at Heathrow reported queuing (4 per cent) as the least satisfactory aspect of security screening, followed by slow speed of screening process (3 per cent), staff attitude/politeness (2 per cent), restriction of liquids (1 per cent) and removal of shoes (1 per cent). Ninety-one per cent said they agreed or strongly agreed in response to the question over inconvenience.
The smallest airport in the UK's top five with 14.5m passengers gracing its terminal every year. It fell below Gatwick and Heathrow for customer satisfaction with 83 per cent of respondents claiming they were satisfied or very satisfied with their experience at screening. The perceived queue time reported by flyers has been steadily in decline from an average of 8.4 minutes in 2013 to 6.1 minutes in 2016.
As with Heathrow, queuing was the customers' biggest bugbear at 4 per cent. This was followed by slow screening processes (2 per cent) and the purchase of liquid bags (also 2 per cent). More than three quarters of respondents said that they had no specific cause for complaint.
The proportion of passengers who strongly agreed or agreed that "Any inconvenience caused by the security screening was acceptable" has remained at 91% since 2015, the highest percentage since the survey began in 2009.
Of the respondents, 79 per cent were very satisfied or satisfied with their experience at Manchester's security checkpoint. The aspect of security screening passengers were least satisfied with was queuing (10 per cent),slow speed of screening process (6 per cent) and staff attitude/politeness (4 per cent). The majority (69 per cent) of passengers at Manchester airport did not identify a least satisfying aspect. 
Perceived queuing time has gradually increased over recent years to surpass 10 minutes in 2016 for the first time. In comparison to 2015, there were fewer respondents reporting queue times of 0 minutes as well as 1-5 minutes.
The proportion of passengers disagreeing or strongly disagreeing with the statement that "Any inconvenience caused by the security screening was acceptable" was higher than all previous years (7 per cent). 
The lowest performer of Britain's five biggest airports, 77 per cent of passengers fell into the satisfied or very satisfied bracket – 8 per cent lower than the average. Most of the dissatisfaction came from queuing (11 per cent), organisation (5 per cent) and processing speed (4 per cent).
The airport also had the longest average perceived waiting times, though this has decrease substantially since 2015. The average was 10.8 minutes. The report adds: "Estimates of actual queuing time, published as part of the Service Quality Rebate scheme, suggest that the queue times have fallen, with Stansted meeting its targets in every month of 2016.