Wizz Air and Menzies Aviation perform fully electric turns at Budapest Airport
These turns reinforce Menzies, Wizz Air and Budapest Airport's commitment to reducing the carbon footprint of their operations.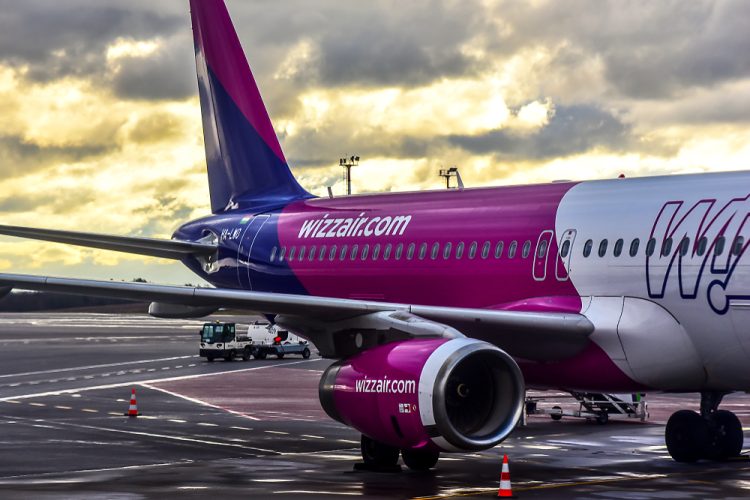 Wizz Air's green turns.
These turns reinforce Menzies, Wizz Air and Budapest Airport's commitment to reducing the carbon footprint of their operations, and to supporting wider efforts in the aviation industry to reduce CO2 emissions.
Wizz Air, Europe's fastest growing and most sustainable airline globally[1], together with Menzies Aviation, the leading service partner to the world's airports and airlines, this week announced it is performing fully electric turnarounds at Budapest Airport.
The 'green' turn at Budapest Airport has been made possible through the airports' provision of charging infrastructure necessary for electric equipment, with all energy from renewable sources. It is further supported by Menzies' 'electric first' approach which includes a commitment to 25% electric GSE globally by 2025. Menzies' use of electric baggage tractors and belt loaders, passenger steps with solar panels, ground power unit, a pushback, potable water and lavatory units is enabling Wizz Air to depart from Budapest Airport safely while improving energy use and operational efficiency.
Electric turns reduce carbon emissions from the ground handling process by around 80% per aircraft when compared to using diesel-powered equipment. Currently, Menzies Aviation provides fully electric turns for two Wizz Air aircraft simultaneously at Budapest Airport.
Yvonne Moynihan, Corporate and ESG Officer at Wizz Air said: "We are the first airline at Budapest Airport to perform fully electric turns, thanks to our partnership with Menzies Aviation and the company's commitment to electric ground support equipment. It demonstrates another step in our target to further reduce our CO2 intensity by 25% by 2030. Our Budapest based aircraft are all-Airbus A321neo, delivering significant environmental performance and enabling us to fly with the lowest carbon intensity in Europe. We also understand the importance of indirect emissions reduction and welcome Menzies Aviation's investment to switch from diesel-powered to electric equipment. As Budapest Airport's largest operator, we are delighted to continue working with our local partners to find new solutions that help us reach our targets collectively as an industry."
Katy Reid, Head of Sustainability & Corporate Responsibility, Menzies Aviation, said: "Sustainability is a top priority for Menzies, as we continue to grow our business and find ways to improve our operational efficiency. We are setting science-based targets to reach net-zero across scope 1, 2 and 3 by 2045. We are taking action by switching to electric GSE where possible and using alternative fuels. Ongoing collaboration with partners, such as Wizz Air and Budapest Airport, will be vital to achieving this ambition. We are proud to have made significant strides, with 41% of our GSE equipment in Europe now electric, and look forward to working closely with industry partners, including suppliers, airlines and airports to advance more environmentally friendly operations."
Mike Carlson, Budapest Airport 's Chief Financial Officer, stated: "Carbon neutrality is one of our key strategic objectives, and we encourage our partners to achieve it too. It is Budapest Airport's responsibility to provide accessible, environmentally friendly infrastructure, including various technologies and solutions, and we expect our partners to support our sustainability initiatives. As an airport operator, we are doing a lot to ensure that the airport operates as sustainably as possible. We have reduced our direct emissions from operations by 65% in ten years. There are already more than 100 electric ground handling vehicles performing their duties at the airport every day, with 43 charging parking positions available to charge them."
Wizz Air operates 14 aircraft in Budapest, all Airbus A321neo narrow-body aircraft that offer significant environmental advantages, including nearly 50% reduction in noise emissions, 20% in fuel consumption and 50% in nitrogen oxide emissions. In the financial year 2023[2]  Wizz Air achieved its lowest ever carbon intensity of 53.8 grams, which is also the European aviation industry record.
[1] According to CAPA – Centre for Aviation Awards for Excellence 2022 and 2023
[2] 01 April 2022 – 31 March 2023