Glasgow Airport to become UK's first Connected Airport Living Lab
Glasgow Airport launches a new partnership to create the UK's first Connected Airport Living Lab, with a key focus on testing innovative technologies to improve the passenger experience, freight management and decarbonisation.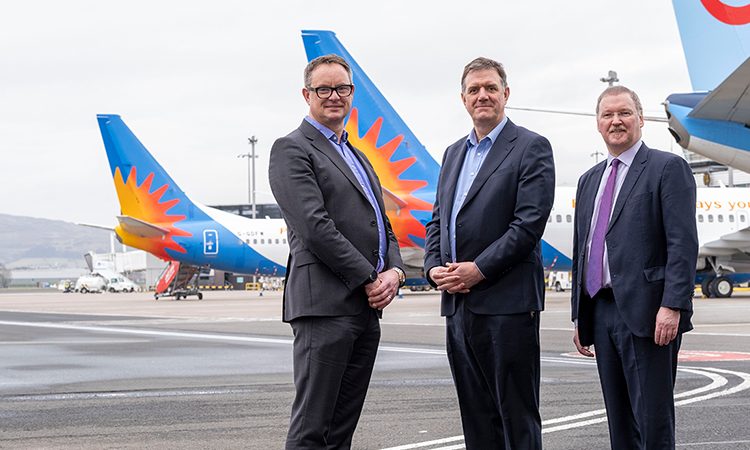 Credit: Connected Places Catapult
Connected Places Catapult has announced a new multi-year partnership with Glasgow Airport, to create the UK's first Connected Airport Living Lab. The partnership will produce a series of demonstrations and trials of innovative technologies at the airport as the transport hub continues to regrow passenger numbers in tandem with delivering on the commitments outlined in its Sustainability Strategy.
This partnership will put Glasgow Airport at the heart of testing a diverse range of innovations aimed at addressing challenges facing the aviation sector. The 'Connected Airport Living Lab' will play host to technologies, systems and processes designed to enhance passenger experience and freight management. It aims to boost productivity and will accelerate decarbonisation of ground and air operations, including the electrification of flight, the use of hydrogen, automation data analytics and multi modal connected surface-level access.
The partnership will also support existing collaborations in the region, including the airport and Catapult's ongoing involvement with CAELUS (Care & Equity – Healthcare Logistics UAS Scotland), which is working with NHS Scotland to build the first national drone network that can transport essential medicines, bloods and other medical supplies throughout Scotland, including to remote communities.
Central to the Connected Airport Living Lab will be a holistic vision of the airport as a highly innovative net zero place, that plays an important part in developing the city-region's skills-base and full economic potential. The Catapult will use its global reach to highlight international examples of airports successfully integrating amenities such as university campuses, entertainment venues and even vertical farms into their offering.
The Catapult is directing millions of pounds of Innovate UK funding into the collaboration, which sees Glasgow Airport named as the UK's first Connected Airport Living Lab. The five-year partnership will pioneer the approach and plans are in place to roll out the model to other airports as it succeeds.
Andy Cliffe, Chief Executive Officer of AGS Airports, which owns Glasgow Airport, said: "New technologies have the power to transform the experience of everyone who interacts with the airport. As passenger numbers continue to recover after the pandemic, we want to develop a more inclusive passenger experience and as Scotland's largest cargo airport by freight value, there is an opportunity to grow the volume of imports and exports moving through Glasgow. With those opportunities, making Glasgow Airport the UK's first Connected Airport Living Lab will put us at the forefront of new developments that can make journeys and freight movements smoother."
Councillor Susan Aitken, Leader of Glasgow City Council, said: "Glasgow is a hub for the next generation of skilled workers, supporting the implementation of cutting-edge technologies. We want to upskill the future workforce to deliver new greener forms of flight alongside the decarbonisation of airport operations. Ultimately this Living Lab is a step towards us reaping the benefits of a thriving innovation economy in Scotland as we progress towards our goal of becoming the most inclusive, productive and green city region by 2030."
Paul Wilson, CBO at Connected Places Catapult, said: "Airports are changing from being just transport hubs on the edge of cities, to becoming hives of innovative economic activity. As such, they have huge potential to support skills development, job creation and regional growth. By establishing the Connected Airport Living Lab at Glasgow Airport we are concentrating our efforts to support innovation that is truly inclusive, delivering direct benefits to people and businesses in the region."