Reverse vending machines installed at CSMIA to aid recycling
This latest sustainability measure will reduce waste, lower carbon emissions and incentivise plastic recycling in the airport's fight against zero landfill waste.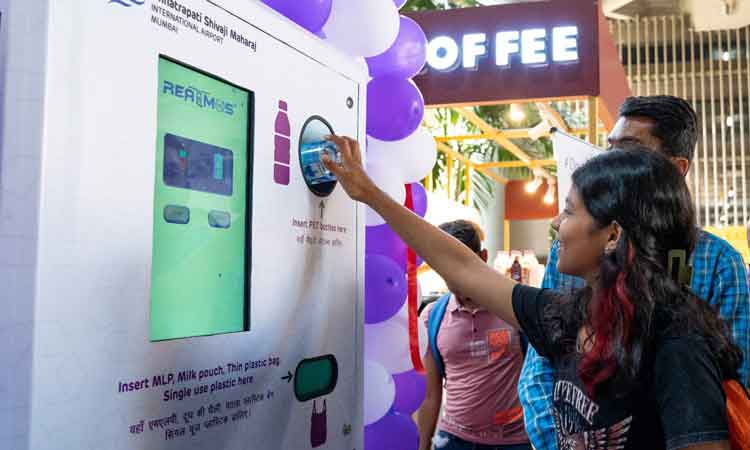 Mumbai's Chhatrapati Shivaji Maharaj International Airport (CSMIA) has installed Reverse Vending Machines (RVM) to encourage passengers and the airport community to recycle plastic bottles.
This new addition will facilitate CSMIA's commitment to incorporating sustainability in all aspects of their business and to achieve zero waste to landfill by the reducing and recycling of waste.
This initiative aims to spread awareness of recycling of single use plastic waste. The added advantages would be a reduction in indirect emission of carbon in the PET bottle manufacturing process, which is part of CSMIA's drive to net zero carbon emission by 2029.
The airport emphasises the need to reduce, reuse and recycle. Set into two phases, phase one of the project sees three RVMs installed at Terminal 2 and three more will be installed at Terminal 1 in the second phase. The machine, each of which has the capacity to accept and compress 450 bottles per hour, can compress about 70% of the waste so that it can be easily transported, thus saving key resources, emissions and cost liable for transportation and logistics.
In 2019, CSMIA initiated a plastic ban in all its logistics and operations including retail, Food & Beverage and partner airlines processes. Implementation of this initiative made CSMIA 100% single-use plastic free. Moreover, in the longer term the RVMs will help reduce carbon emissions by approximately 125 tCO2e annually, with about 85 tons of allowed PET water bottle waste being recycled.
The RVMs are user-friendly and easy to operate through an interactive 16 inch touch screen. Furthermore, the machines have a unique feature of rewarding the user recycling PET bottles with Zingbus, Myntra, Swiggy coupons and many more options. To avoid use of paper in printing, coupons offer will be shared with RVM donors through SMS.
The machines are also patented and spill-proof as they only accept empty plastic bottles.
Speaking about this milestone at the airport, CSMIA's spokesperson commented: "At CSMIA we take pride in our values, customer focus and passion for excellence, all this by keeping sustainability as our central goal. Over the years we have implemented various green initiatives be it with regards to carbon neutrality, utilisation of solar energy, recycling waste and generating organic compost, releasing a sustainability report as per the GRI standards, among many such initiatives. Having already initiated a plastic ban in 2019, installation of RVMs is an addition to aid reduction of resource consumption, waste reduction, indirect carbon emissions, and every action in our fight against zero landfill waste."
Related airports
Related regions