CSMIA T2 recertified as PLATINUM rated Green Existing Building Project
As a nod to Chhatrapati Shivaji Maharaj International Airport's continued sustainable efforts, the airport's Terminal 2 has been recertified as a 'PLATINUM rated Green Existing Building Project'.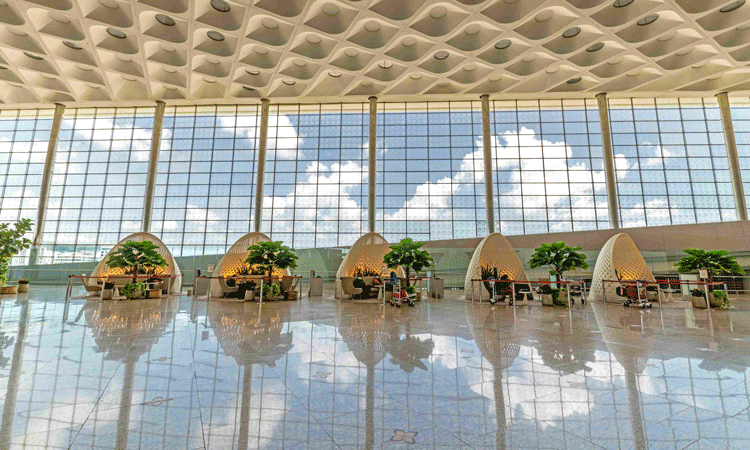 Credit: CSMIA continues to prioritise green practices in its Terminal 2 day-to-day operations.
Mumbai's Chhatrapati Shivaji Maharaj International Airport, also known as Mumbai International Airport (BOM/CSMIA) has yet again proved its mettle with the recertification conferred to Terminal 2 (T2) as a 'PLATINUM rated Green Existing Building Project' for the period from 2021 to 2024 by the Indian Green Building Council (IGBC). The recertification comes as the acknowledgment of the continued efforts by CSMIA to sustain the superior operational performance, maintenance, and occupant wellbeing features at the airport for the second consecutive time. After achieving the last title in the period 2016 to 2019, CSMIA has continued to consistently demonstrate its commitment to prioritising and enhancing its green practices in its day-to-day operations for a sustainable tomorrow.
Over the years, CSMIA has redefined the green processes at the airport by undertaking sustainable operations targeting key features such as water efficiency, energy efficiency, health and wellness practices amongst others. These developments bring in operational efficiency while also using innovative technology to address the challenges under environment management. Among the series of green initiatives undertaken at CSMIA, some of the key features honored by IGBC are as follows:
Onsite solar energy generation of 53,10,141kWh with nearly a solar energy share of 6.6  per cent of net energy consumption
Retrofitting of existing lighting fixtures by LED fixtures for all external lights resulting in a reduction in load contributed to reduced energy utilisation at the airport, resulting in the consumption of approx. 6.5 million units per annum
Replacement of belt driven centrifugal fans with EC fans in Air Handling Units (AHUs) improve the overall energy efficiency, reduce energy consumption and significant reduction in maintenance time
Installation of IoT-based sensor for temperature monitoring with the Wi-Fi enabled temperature sensors at multiple strategic locations across T2 to capture cold and hot pockets. It also allows for real time precise monitoring and control of the entire building temperature and cover the pockets not catered to by the Variable air volume (VAV) systems.
CSMIA offers a holistic approach towards sustainable operations and has carried out various initiatives under environment management. The IGBC Green Existing Building O&M is the first rating programme developed in India where the rating is focused on the sustained performance of buildings. With consistent efforts, CSMIA has been able to save approx. 13 million units of energy per annum by the implementation of energy conservation measures and has reduced around 2MW load on the grid. Meanwhile, under the zero-water discharge policy, CSMIA has the STP to treat the water and use treated water for the cooling tower, as well as for horticulture purposes. CSMIA has a capacity of 26L of rainwater tanks and 229 rainwater harvesting pits across the terminals for recharge of ground water table to ensure water efficiency. Whereas with the consistent adoption of latest technology, CSMIA aims to move towards achieving 100 per cent energy requirement fulfilled through renewable energy in the coming years. Some of the core focus areas include carbon management system, carbon neutrality, renewable energy installations, wastewater recycling, effective waste management system enhancement in renewable energy capacity, which are not just in alignment with the pillars of the IGBC rating criteria but also meet the global standards of sustainable practices proposed by renowned organisations across the world.
As an ISO 50001:2018 (Energy Management System) certified company, CSMIA is committed to optimising energy consumption with multiple endeavors by the airport which cover pertinent aspects of sustainable operational practices. The efforts go beyond mechanical excellence and is also extended to different legs of the operations including training and sensitising the CSMIA staff and team, as well as the internal and external stakeholders on regular basis about energy efficiency and the allied green and sustainable practices. With these green processes, CSMIA aims to create an efficient, safe, and healthy environment for its passengers and safeguard the environment for sustainable development in the aviation industry.