MIA launches pre-scheduled TSA screening times
Miami International Airport has welcomed TSA checkpoint screening time with a free reservation service for passengers travelling with American Airlines.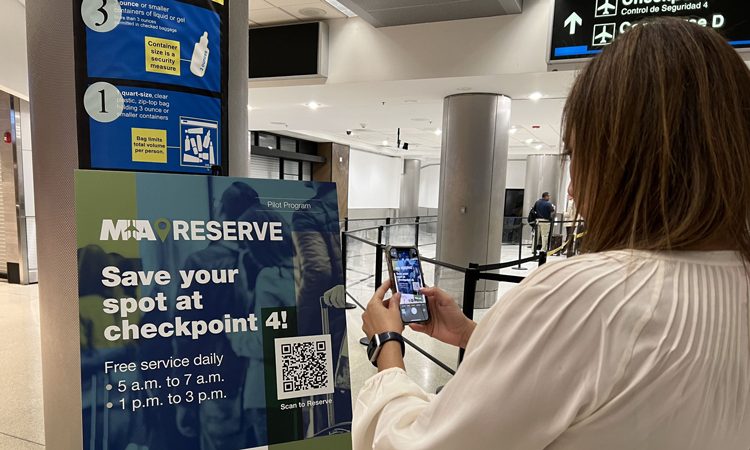 Credit: MIA
American Airlines passengers flying out of Miami International Airport (MIA) can now schedule their TSA checkpoint screening time with MIA Reserve a free reservation service.
"We are excited to partner with American Airlines and Pangiam on this six-month pilot programme for MIA Reserve, which could pave the way for even shorter checkpoint wait times at MIA," added Ralph Cutié, MIA Director and CEO.
During the six-month pilot programme that began on 15 September 2022 with security technology firm Pangiam, software and consultancy company Copenhagen Optimization, secure identity platform CLEAR, and American Airlines, reserved screening times are available daily to American Airlines passengers at MIA's TSA Checkpoint 4 from 5 a.m. to 7 a.m. and from 1 p.m. to 3 p.m. Reservations are limited and can be scheduled up to 72 hours before a flight. It is recommended that passengers reserve their spot early to secure their preferred appointment time. Appointments are available up to 60 minutes before domestic flights and up to 90 minutes before international flights.
1. Sign up at MIA Reserve up to 72 hours before your flight or when you arrive at MIA
2. Select American Airlines as your airline and enter your destination, flight number, full name, number of people in your party, and contact information to reserve your spot, and then you'll receive a QR code by email to use when you arrive at your scheduled MIA Reserve time
3. Once at MIA, remember to check your bags or complete any additional check-ins before your appointment time
4. Go to Checkpoint 4 near Door 7 and show the checkpoint staff your MIA Reserve QR code so they can direct you to your lane
If a passenger didn't pre-schedule an MIA Reserve time before arriving at MIA, they can still make a reservation by using their smartphone to scan the QR code on the MIA Reserve signs at Checkpoint 4 and then setting up an appointment.
A grace period of 10 minutes per appointment allows MIA Reserve customers to arrive at the queue line any time within the 10-minute window after their appointment time. Anyone arriving more than 10 minutes past their appointment time must enter through the regular queue lanes. Checkpoint wait times may vary by date and time, and expedited service is not guaranteed.
Passengers travelling with a group may book on behalf of the other passengers in their travelling party by specifying the total party size during the reservation process. The maximum group size eligible to enter under one appointment is 10 passengers.