Katowice Airport launches new aircraft maintenance hangar
Katowice Airport's has inaugurated services at its newly expanded third aircraft maintenance hangar on 7 July 2022.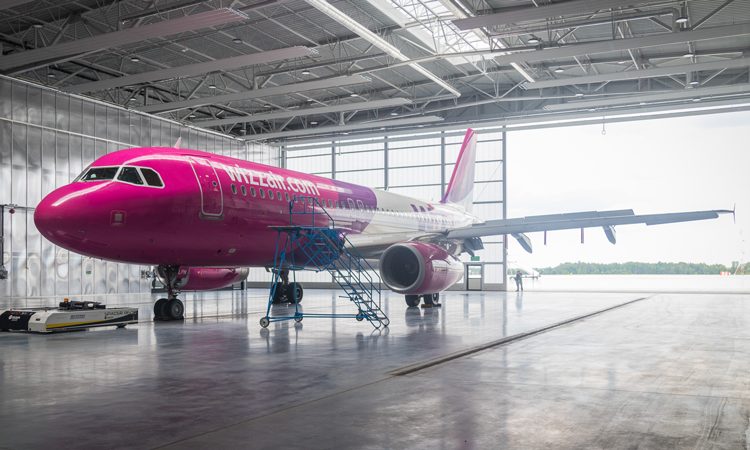 Credit: Katowice Airport (KTW)
On 7 July 2022, the third aircraft maintenance hangar was put into service at Katowice Wojciech Korfanty Airport (KTW).
The expansion of the aircraft maintenance base at Katowice Airport was divided into two tasks. The first one consisted of the construction of a new 6.4 ha aircraft apron with nine stands for medium range aircraft the size on Airbus A320/Boeing 737 which are referred to as C-Code aircraft. This task was completed at the end of the first quarter of 2022.
The second part included the construction of the third hangar. The project began in the second quarter of 2021 and took twelve months to finish. The new hangar is the biggest building of its kind at Katowice Airport; it has an area of over 9.2 thousand m2 and a cubage of over 122,000 m3. The new hangar is 17.6-m-high, the main four-winged gate is 88-m-long. The essential part of the building consists of two bays, each capable of holding an Airbus A321neo. There are numerous storage rooms, tool rooms and workshops, e.g., a paint shop, located in the building. In addition, the building has rich social and office facilities. The third hangar is leased by Wizz Air.
 Artur Tomasik, the President of the Board of Upper Silesian Aviation Group (GTL SA) commented: "I am proud that – despite the biggest crisis in the aviation industry – our determination and consistency let us successfully finish this project, one which is important for the development of Katowice Airport. The third hangar means new jobs, it's the next step in the process of diversifying the infrastructure and creating a multifunctional airport at Katowice Airport; it also strengthens the synergy between business and education, because students at the Silesian University of Technology are being educated to work for companies specializing in aircraft maintenance. Despite a truly difficult time for the aviation industry, it was possible to carry out this investment, one which was worth over zł 110 million gross and consisted of the construction of the third hangar and an aircraft apron in front of it, thanks to the experience and professionalism of the entire GTL SA team, the professionalism of contractors, as well as trust of our Company's shareholders, and the support of PKO BP bank, all of whom I wish to thank."
Robert Carey, the President of Wizz Air said: "Katowice Airport is where Wizz Air's history began. Our first flight took place from Katowice to London-Stansted (STN) in 2004. Since then, the airline has handled over 270 million passengers and expanded its fleet to 157 Airbus A320, A321ceo and A321neo aircraft. Thanks to a young and modern fleet, passengers flying with Wizz Air have the lowest fares, while leaving the smallest environmental footprint per passenger-km.
"We have successfully co-operated with Katowice Airport for 18 years now. We appreciate the professionalism and experience of Katowice Airport and GTL SA, thanks to which this impressive investment was carried out, in spite of the pandemic. For Wizz Air, it means next opportunities to grow. We believe that the launch of the newest hangar, in which Wizz Air will have aircraft maintenance performed, is the next step in strengthening co-operation between our companies, and it says a lot about our involvement in Katowice."